I've had several people ask me about planning colour for tricky coats. Cats in particular can have very varied coats. Isla is certainly a 50mg viagra retail price beautiful cat but she is also a very tricky cat to paint. Lilac is a colour that can vary wildly in different lighting conditions, from warm lilacs and pinks, through creamy colours to greys and even blues. She's sitting on generic viagra lowest price a warm, cream, sheepskin blanket with a lovely orangey tiger stripes backdrop behind her. All in all a lovely colour challenge.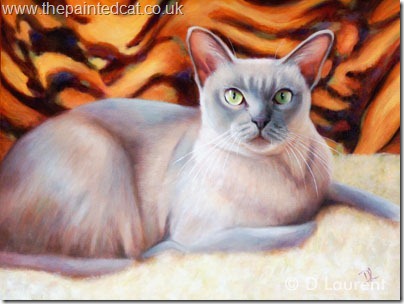 Isla

16×12 Oil on canvas
SOLD
I knew painting her would be difficult so to get her colour right I did some quick colour mixes. I'm using a red, lily lcos cialis online green and blue to give me a range of colour from darks to lights with plenty of greys. When I have several different mixes finished I let them dry before making my colour selections. Here are a couple of my colour charts for this painting.
I'm using ultramarine blue, chromium oxide green and three different reds, alizarin crimson, red iron oxide and cadmium red. The red iron oxide gives me soft warm greys, buy viagra online purchase the cadmium gives pinkish greys and the alizarin crimson gives me lilac greys. So now I know which greys I need because I have my colour mixes to refer to.
I took my time and let the painting develop slowly. It's easy to get carried away and make a voyforums buy viagra online disastrous colour choice, especially when the colour and tones are subtle and complex. Much better to do it slowly. Here's a close up of the finished painting.