A Painting In Progress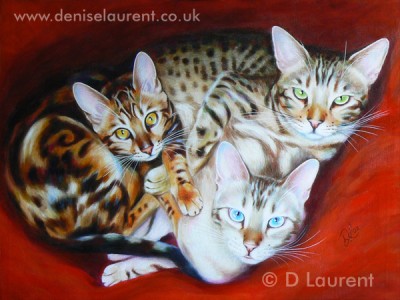 Bengal Sampler
22×16 inch acrylic on canvas
The Initial Ideas
Hemi, a brown spotted boy, Shelby, a snow marble girl and Rally, a brown marble boy, belong to Amy and Tyler Cross. How lucky they are to have three such beautiful and yet such different Bengals. I did a series of sketches as there were several ideas for positioning the three of them together. Then a more detailed sketch of the pose that Amy had picked showing how it might look once it was painted.
The Painting Process
This will be a 22×16 inch acrylic painting on canvas. I started by sketching the three of them loosely onto the canvas.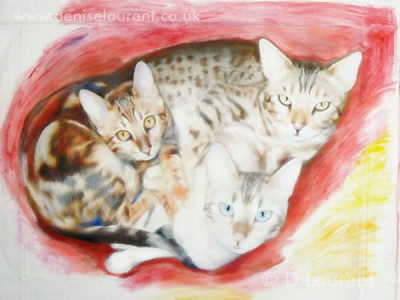 The under painting is developing, the cats have a bit more form and the first layers of background are starting to go on.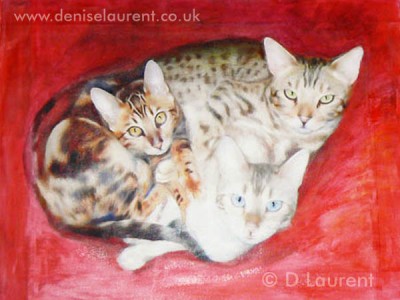 Now the background is laid in and I'm starting to develop the cats themselves, especially their eyes.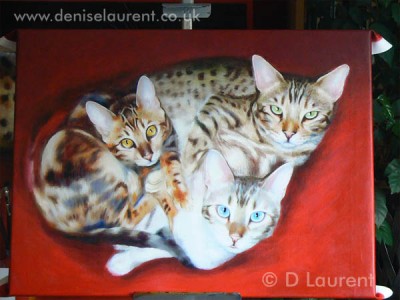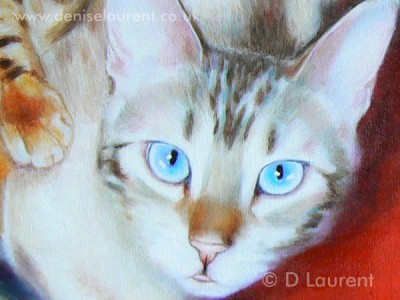 In this close up of the canvas you can see the underpainting is pretty much complete. Now I'll finish the painting by adding several more layers of paint, strengthening the shapes of the cats and their markings and developing the cushions they're laying on.
Then there's a period of fine tuning, emphasizing the shadows and tweaking the colour across the painting. Then the final touch, whiskers!
The Finished Painting
And here is the finished painting. It's many layers later and I've been gradually building up the colour in each of the cats, developing their fur and adding the shine on their coats.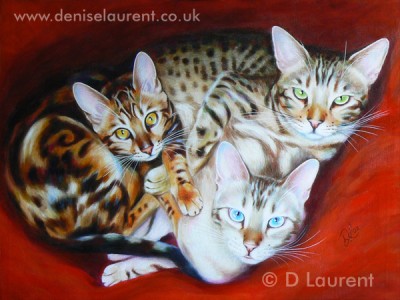 Bengal Sampler
22×16 inch acrylic on canvas
And here are close up shots of the canvas….