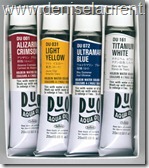 Working with water soluble oils is a joy. I've been painting with them for years now, they're very easy and simple to use.
Good quality water mixable oils are just like other oil paints except for the additive that makes them water soluble. They look, feel and handle the same way. The difference is you can wash your brushes with water instead of solvent, and thin them with water, so no nasty or dangerous fumes.
The Advantages
The advantages in terms of lack of fumes is obvious, especially if you have children or animals around.
Water mixable oils can be thinned with water for some interesting watercolour style painting techniques.
You can get water mixable linseed oil, fast drying medium and other mediums to allow you to work in a normal oil painting fashion.
They can also be mixed with traditional oils too. As long as the paint is mixed and you don't add more than the recommended amount, you can still clean up with water. This is usually around the 20 – 30% traditional oils to water mixable oils.
You can even mix them with traditional oils and work with solvents in the traditional way. If you feel the need to get the solvents out and want to mix some of your water mixable oils with your standard ones in a solvent based painting you can do that too. The 'mixable' element doesn't stop you using them with solvents.
The Paint I Use
I use Holbein Aqua Duo from Jackson's here in the UK, but available in other countries too. A superb range of high quality water mixable oils. There's around 80 or more colours, including some traditional pigments like the cadmiums and the wonderful cobalt violet, one of my favourites! They are rich in colour and wonderfully buttery and luscious to use. I thin them with water or use their water mixable linseed oil when I need thinner, creamier paint. That gives your more of a traditional oil painters 'feel' while painting than thinning with water I find. Good for working in layers or drawing fine lines. Aqua Duo will give you paint thick, juicy brush marks straight from the tube. Lovely creamy paint for blending and layering when mixed with a little water or linseed oil and some unique watercolour style techniques when thinning with water. Perfect!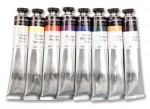 I also have some of Jackson's new range of water soluble oils, Jackson's Aqua. These are good too and a fair bit cheaper than the Holbein Aqua Duo range. A great brand to start out with. If you don't spend as much on the paint you'll be less precious about squeezing it out and really playing with it.
This is a great video by Jerry's Artarama that compares oils and water soluble oils so you can see for yourself. It uses Lukas Berlin range which they stock. Another great brand. I used them years ago until the supplier stopped importing them. Luckily I found Holbein Aqua Duo!
I'll be adding more tips for using water soluble oils to the blog soon.