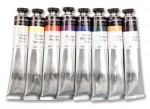 Last year I wrote a piece about using water soluble oil paint as several people had asked about using them. They are easy to use, high quality and solvent free. I love the Holbein Aqua Duos  and Jackson's range of water mixable oils, Jackso
But someone else asked me;
"What if you have some ordinary oils but you'd still like to paint solvent free, can you?"
Well yes you can and here's how…
Solvents are commonly used to thin oils for the under painting. So use acrylics for the under painting instead.
Use solvent free mediums like linseed oil with your oils
Use a water mixable mediums with your oil paint.
Use a water mixable white as a mixing white.
Use a good brush cleaner like Masters Brush Cleaner. It'll clean all your painting brushes, acrylic, water mixable oils AND oils. I bought myself some to clean up my water mixable oils and I soon found it would clean normal oil paint out of my brushes too. It even cleaned a couple of my old acrylic brushes that were trashed by my previously less than successful attempts at cleaning!
That got me thinking, if I can clean up normal oil paints with this soap and I can mix normal oils and my Aqua oils then I don't need to worry about solvents at all!
So you can paint in ordinary oils and STILL clean them under the tap. It takes 2 or 3 washes to get them properly clean, but it works and doesn't involve solvents.
So you can still paint with oils and avoid solvents! :-)
Happy painting!