Another tit painting. This Great Tit is flying in to the bird cafe, coming out of a beautiful blue sky. He's painted in oils on an 8×8 inch panel.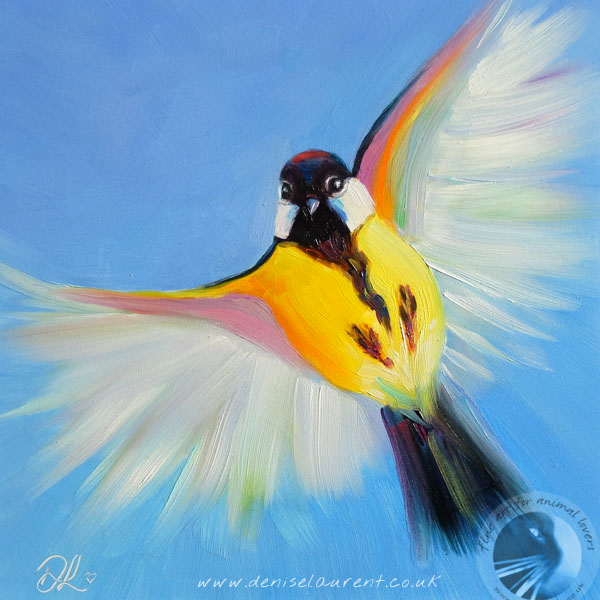 Spring is here and I've been working on my window boxes. This is Mulberry, a brown spotted Bengal cat, sleeping in a hanging basket. Now, I know cats love odd places to sleep and they have a thing for baskets and boxes, but this is taking it to the next level!
Luckily my three prefer the sofa. :-)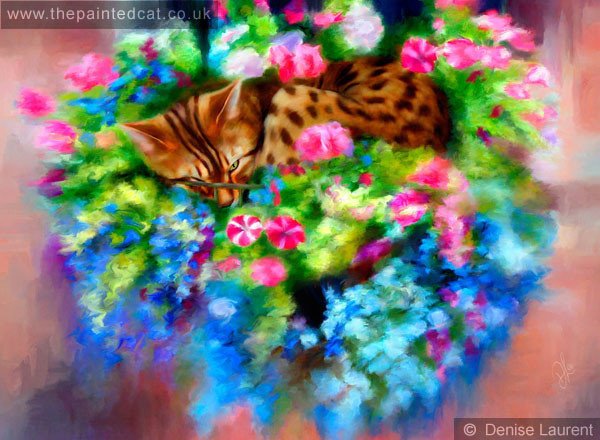 This painting is sold but you can get a print here…
This is a small painting of a Great Tit. There are so many Great Tits yelling their heads off today. It's definitely spring and the birds are busy thinking of love. I like the cheeky look in this birds' eye. :-)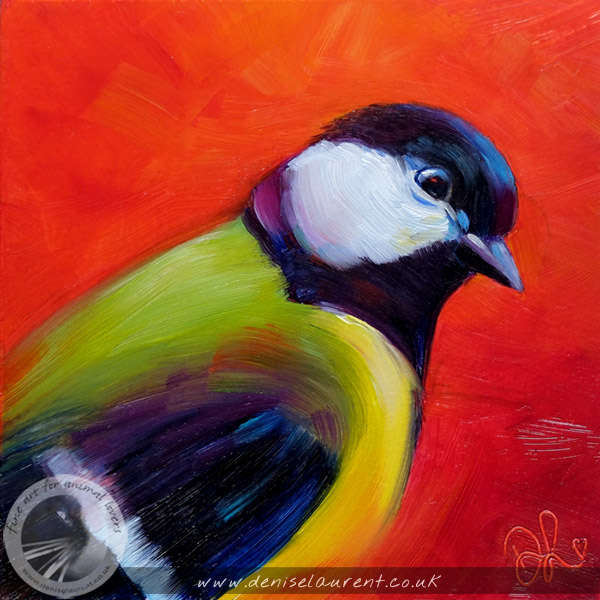 Meet Claude, a gorgeous pheasant who regularly comes to the garden to help himself to the bird food. But who could object when he's just so handsome with all those iridescent feathers? This is a commissioned painting, the idea was to capture him in action tackling the feeder.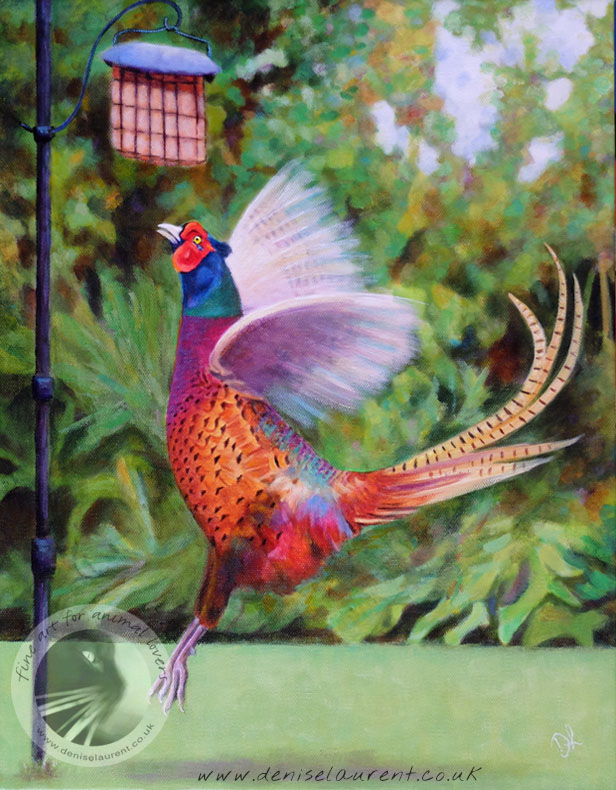 He is a 16×12 acrylic painting on stretches canvas. The photo doesn't show it but there are iridescent colours in his feathers in blues, greens and purples, gold and coppers.
A flying bird brooch. She is pink and blue with swirls of gold through her feathers.
She is approx 2.5 inches from wing tip to tail feathers.
She has a silver plated pin on the back and comes in a gift box.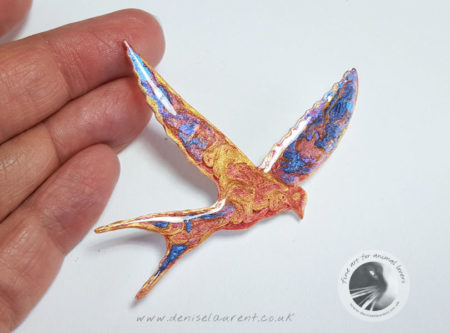 She's in the etsy shop
A great tit painting. I'm thinking of calling it The Local Cafe. :-) Snowy weather but the birds come for their grub at the feeder and can do a bit of house shopping while they're there, checking out the bird boxes for the spring season. :-)
This is an 8×8 inch acrylic painting on panel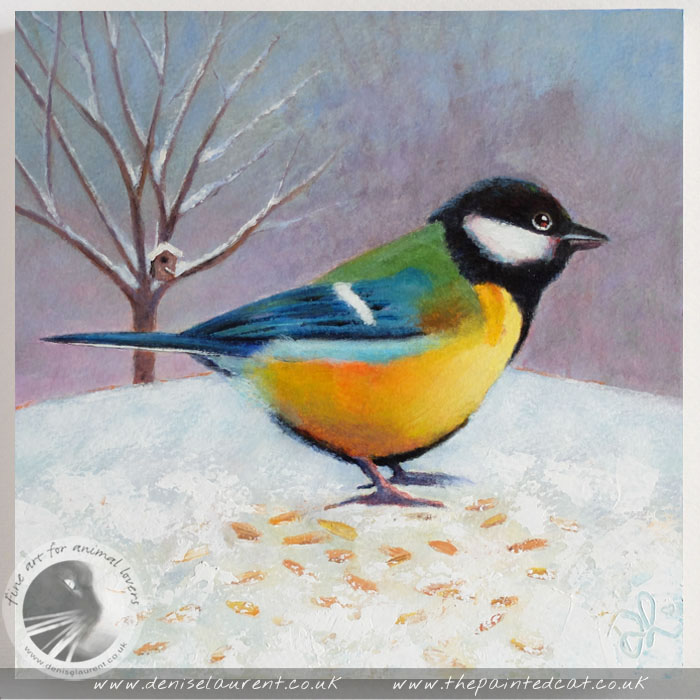 I will be exhibition at the Feline Art Exhibition at the National Cat Centre in Sussex In April. This is one of the paintings going to the show.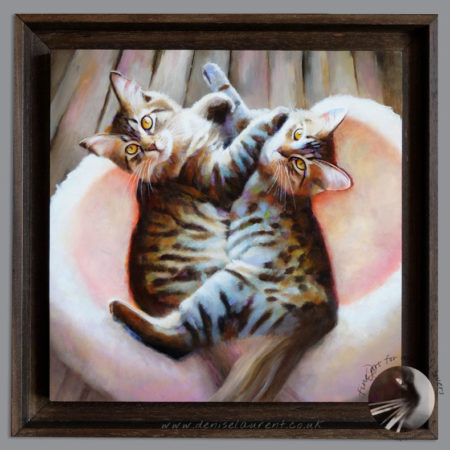 The Society Of Feline Artists is holding a new feline art exhibition at Cats Protection in Sussex as part of Cats Protection's 90th Anniversary celebrations. S.O.F.A. has always supported Cats Protection with yearly donations and the charity will benefit from each sale made at the show. So this is a great way of buying some art and helping cats at the same time.
The show will run from the 28th of April to the 7th of May 2017 at the National Cat Centre.
The Feline Art Exhibition
Cats Protection Visitors Centre,
National Cat Centre,
Chelwood Gate,
Haywards Heath,
Sussex
RH17 7TT
Here's a new hare painting, Little Spring Hare. This one is off to the #twitterartexhibit TAE17 UK – a charity art auction to raise money for Molly Olly's Wishes in Stratford upon Avon 1-19 April 2017.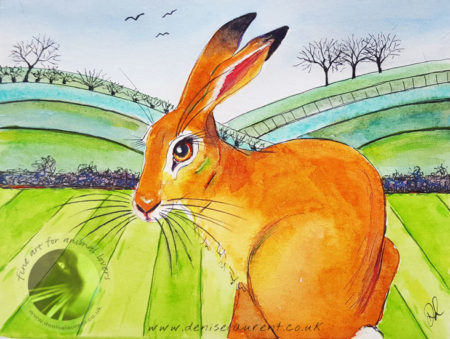 Another exciting post. This is an international collaboration. I've been working on a painting of Burre, a gorgeous Burmese cat who lives in Finland. I've painted him as a star cat walking through the dark, starry Finnish night. Once he was finished last year he went off to his new home in Finland to hang on the wall.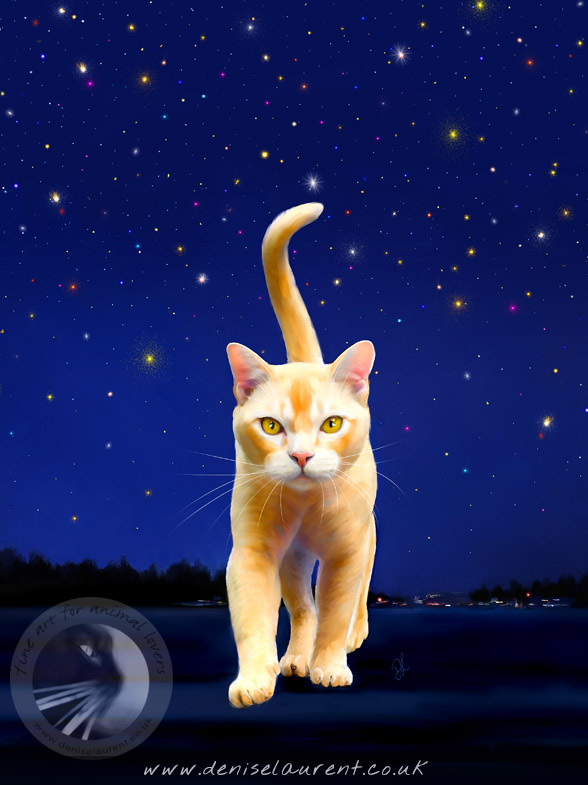 But a photo of him went to Kapsch Cases in Croatia to be used on a new cello case for his owner's cello. And here is a photo of the finished cello case with the model himself posing in front of it. :-)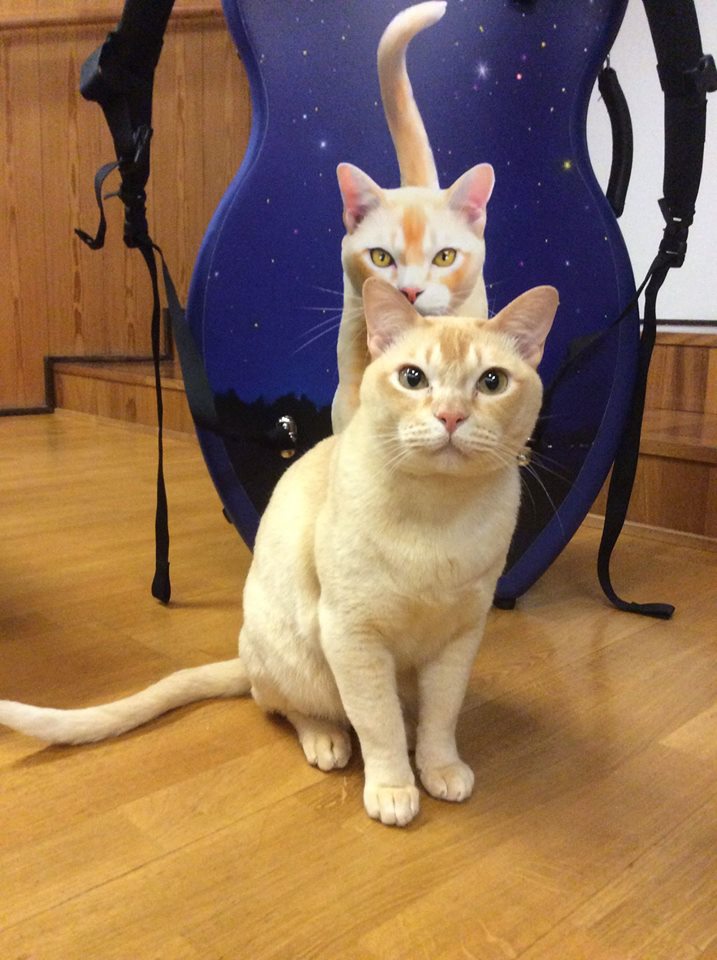 Very exciting! Musician Greg Sover is using my crow painting 'Coming In To Land' on the back of his new album cover Songs Of A Renegade. I'm thrilled that he chose it, what do you think?
You can find the album on itunes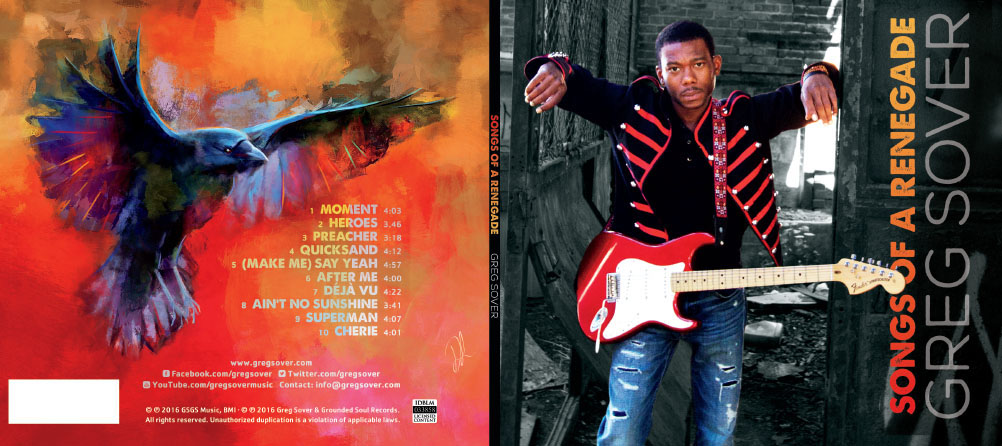 Or the web site here https://www.gregsover.com/