A starling hunting worms in the grass. I love starlings and I love their wonderful iridescent feathers. This one was at London Zoo and yes, I should have been looking at tigers, but I was watching the starlings. :-)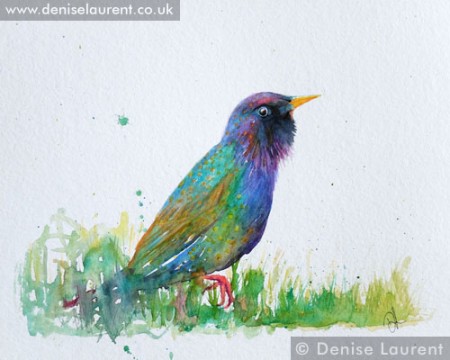 He's painted in watercolour on Cornwall paper with some iridescent blues and golds to bring out those beautiful feathers.
Another of my pigeons in action series. This pigeon is doing a banking turn as he comes in to land on my window ledge. I think of their wings smearing the sky as they land and I wanted to try an get that feeling in a painting.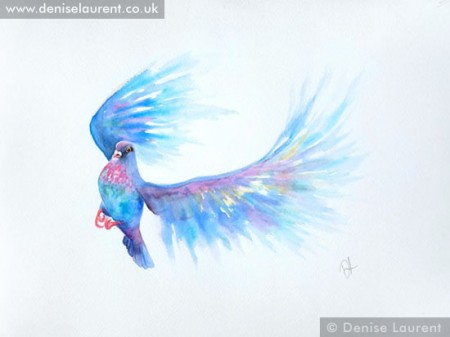 I love goldfinches. There are so many here in Central London, you hear them singing from high above and watch them flying in groups from tree to tree. So pretty and such lovely singers too. If there's a sweet song in the air and small birds perched on the tv aerials. you can bet they're goldfinches.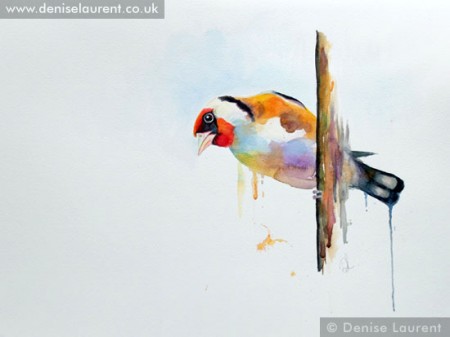 This one is perched on a post checking out a feeder. He is painted in watercolour on Saunders Waterford watercolour paper.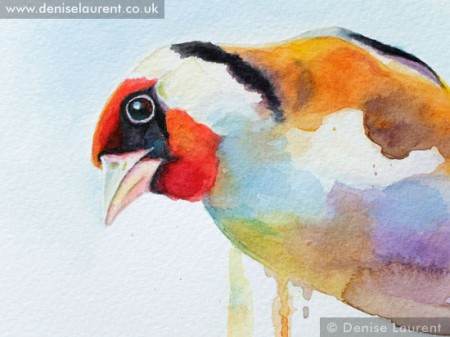 Black Faced Sheep are a common breed in the UK and they are very fine looking sheep. I wanted to capture her dark face with lots of deep reds and purples and contrast it with her fleece, full of golds and yellows.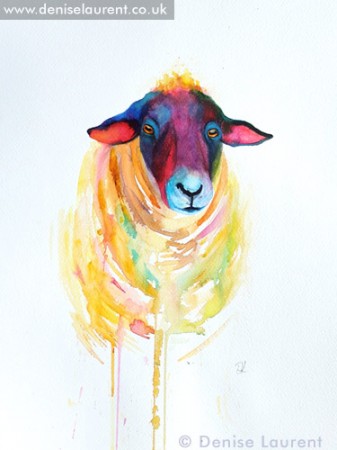 The fleece on her neck was thick and with the light behind her it looked like a crown of fire on top of her head. Painted on 18×14 inch Fabriano Artistico rough watercolour paper, I love the texture in this paper.
This is my boy Harry showing off his fabulous whiskers. He's such a handsome boy! I love his profile and those amazing yellow eyes but I wanted to capture his whiskers, so I went for this rather unusual angle. I love the colour, he always looks good in red.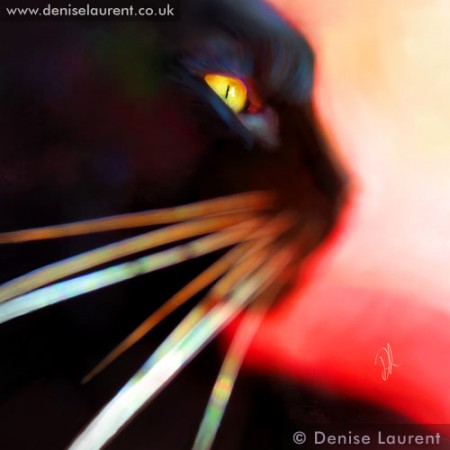 I saw these two pigeons in the park while I was feeding the robins. They were having an argument and one pigeon effectively punched the other with his beak! I guess it's the only way to get your point across forcefully if you're a pigeon. :-)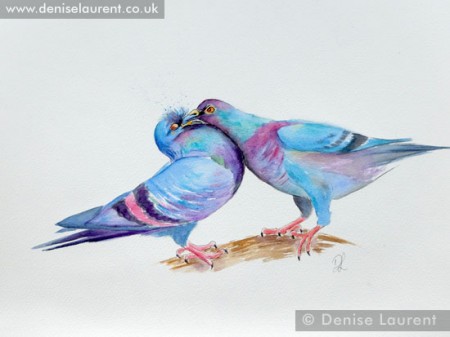 I loved the cross expression on his face! I think that's called getting beak slapped.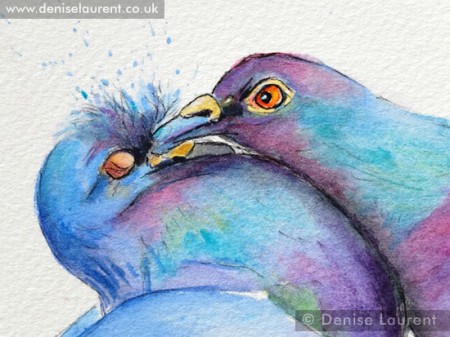 It's a 16×12 inch painting in ink and watercolour on Saunders Waterford watercolour paper.
A robin portrait in watercolour. He is a regular visitor in the gardens here and has just had a nest full of fledglings. Such a lovely sound, all those baby robins singing in the hedge. He and the wife have been coming for food to help feed the family and I've been able to watch them close up. A real privilege.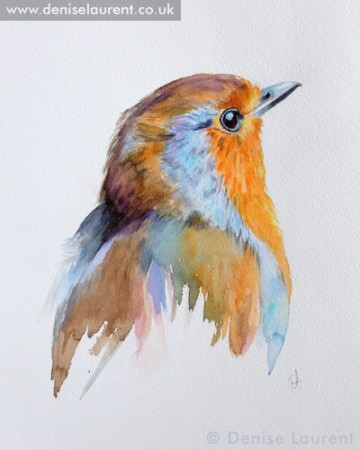 Some little sketches of Blue tits. they come most days to the feeder on the window. These two sat in the tree ouside and seemed very fluffy. I think they must be new fledglings.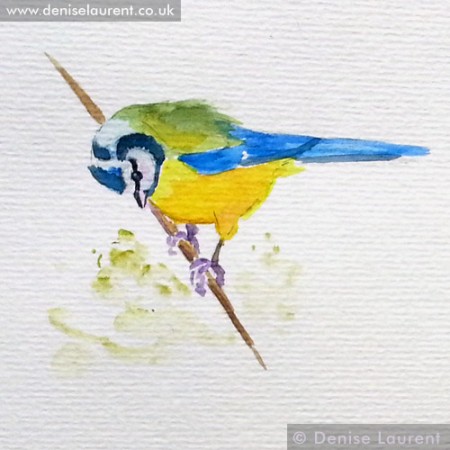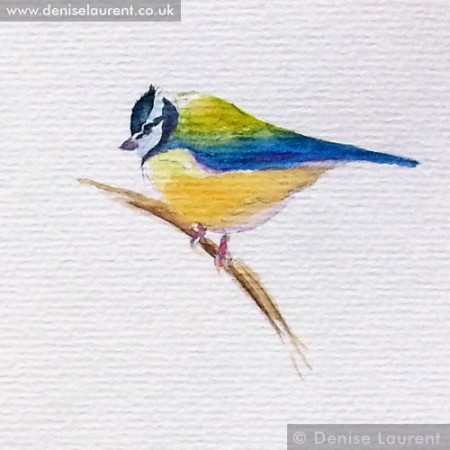 This is a watercolour sketch os a Waldrapp Ibis. Amazing looking birds.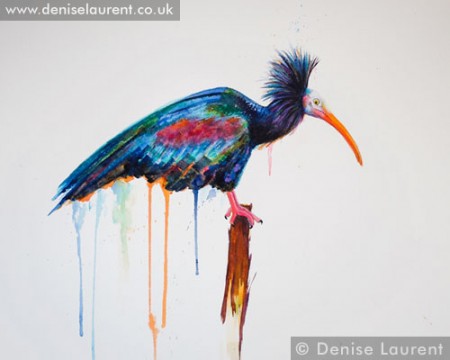 I love his hat. :-)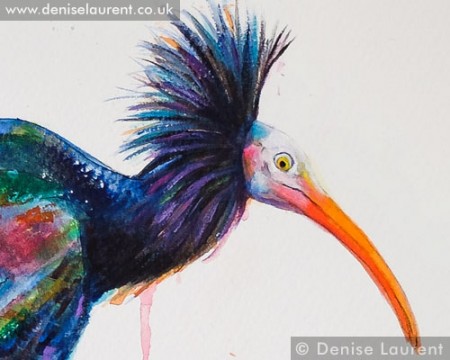 I've been drawing a whippet. I love this pose and I'm thinking of painting it so I wanted to try it out as a drawing first. Which isn't something I do very often. But I really wanted to sketch him. I love those long legs. He makes me think of Pippi Longstocking. :-)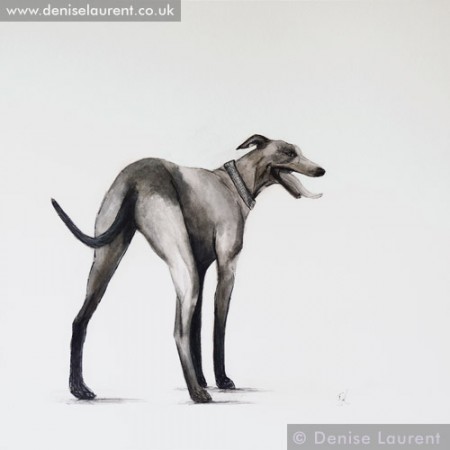 This is drawn on 40 x 40 cm Fabriano Pittura paper using ink, watercolour and pastel.