A little blue hen. I hope to do a series of different chicken characters. They have such wonderful faces and are such fiesty birds. She is painted on Fabriano paper in watercolour.
Here she is framed and ready to go to The South Galleries in the Royal Star Arcade Maidstone.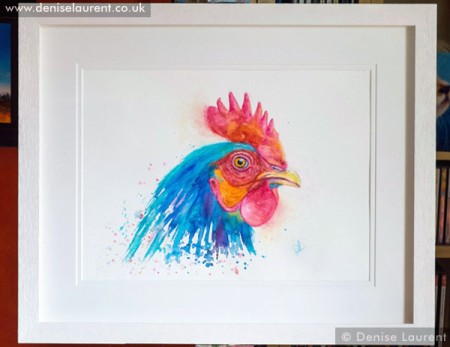 This is an Indian Runner Duck doing what comes naturally. They are unusual ducks, they stand very upright and they don't waddle along like other ducks, they're in much more of a hurry and they run.  She's painted in watercolour.
A hare sitting in the grass. Hares are a favourite subject of mine and I do love the colours in this boy. And those eyelashes! They have the most beautiful eyes! He is painted in watercolour on Fabriano paper.
Another black faced sheep in watercolour. They are beautiful sheep, and I love that thick colourful fleece too. She is painted in watercolour on Fabriano paper.
A new chicken painting. A pretty pale golden girl looking curious. She's painted in watercolour on Fabriano Artistico paper.
Life has been a bit chaotic recently and I haven't had as much time to update the blog. One reason for that is the London show of the Society Of Feline Artists is underway at the Llewellyn Alexander gallery in Waterloo. The show looks wonderful and is on until the 19th of September. Do go along and see some amazing work by more than 50 artists.
Whisker Face is one of the paintings in the exhibition.
A little watercolour of a black faced sheep. This is a small one, about 9×7 inches. I think I might do another much larger one. I love the colours and the way they've combined in her fleece.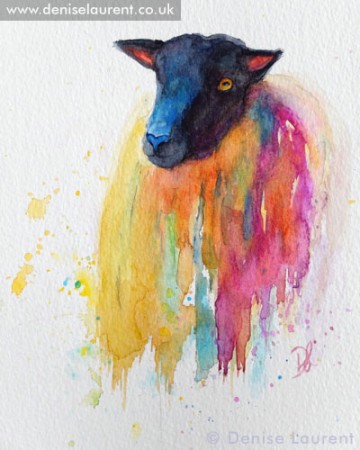 A new robin watercolour painting.He's painted on Artistico rough watercolour paper, I love the texture on the paper.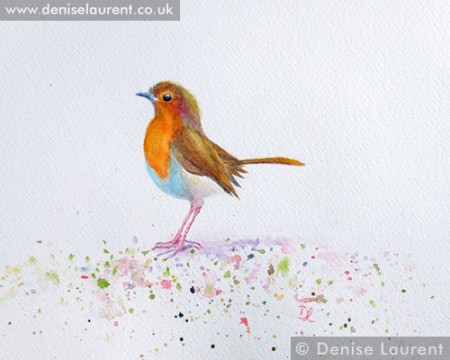 I like his feet :-) …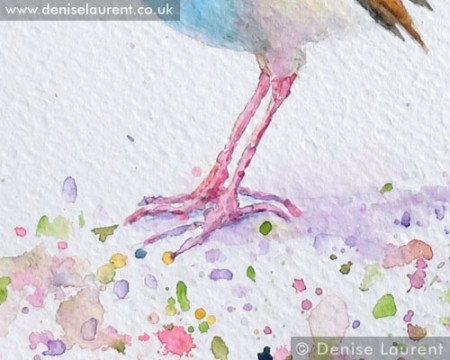 This is a Splendid Starling, also known as the Splendid Glossy Starling, very well named isn't he? Spectacular colours in those feathers. This one lives at London Zoo and when I visited in spring he was very busy building a nest. I sat and watched him for quite a while. He was able to get so much straw in his beak at one go! I was impressed with the effort and I'm sure the nest must have been a work of art. His colours are all blues and greens with a touch of iridescence on wings and that amazing orange breast.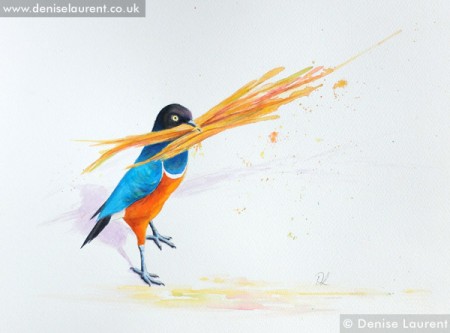 Painted in watercolour on 16×12 inch Saunders Waterford watercolour paper.
A starling hunting worms in the grass. I love starlings and I love their wonderful iridescent feathers. This one was at London Zoo and yes, I should have been looking at tigers, but I was watching the starlings. :-)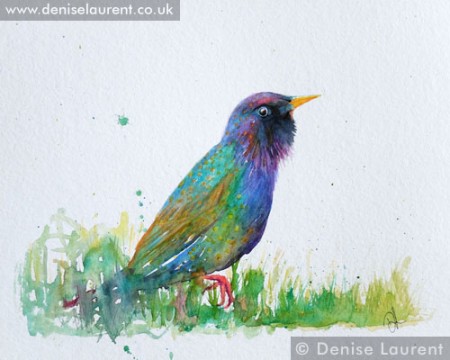 He's painted in watercolour on Cornwall paper with some iridescent blues and golds to bring out those beautiful feathers.