Christmas Cards
A selection of A6 Christmas cards are available. Featuring cats, dogs and other animals.
They are printed on white, satin or mat, fine card and come complete with envelopes.
Buy 3 sets and get a fourth free.
The Cat 2014 Cat Calendar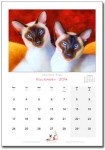 The 2014 Cat Calendar. Twelve different cats to add colour and feline fun to each month. The calendar is A4, 8 x 11 inches in size. There are 12 pages, 1 page per month, each featuring one of my cat paintings, as well as a cover and a back. It's wire bound so it's easy to hang on the wall and change the pages.
Limited Edition Studio Prints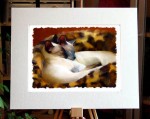 Limited edition studio prints are printed by me, by hand, here in the studio and then shipped to you. They're printed on high quality, acid free, fine art watercolour paper using archival pigment inks. Each image is signed, titled and numbered in pencil. Chose them mounted in an off white mount or unmounted. I can sometimes do them framed too.
Beautiful Bags
Beautiful bags are hand made and have one of my paintings printed on canvas and hand stitched into the bag.
Available by special order.
Notebooks
I love carrying a notebook with me in my bag, useful for notes, sketching, phone numbers, all sorts. So I decided to make my own notebooks. Here they are The Bengal Notebook and The Siamese Notebook, The Maine Coon Notebook and The Black Cat Notebook.
Open Edition Prints and Cards
A selection of my animal art paintings are available as open edition prints and cards. All printed and delivered by Fine Art America.


There are several options to choose from, notecards – singles or in packs, prints on fine art paper – chose the type of paper you want and even get it framed. Prints on stretched canvas – chose ready to hang or rolled in a tube, and prints on acrylic panels.
Original Paintings For sale
See the available paintings in paintings for sale. You can also buy work direct from the galleries  cats, dogs and other animals.
New Paintings
The newest work is usually goes up on the animal art blog first. Or in the Fresh Paint gallery. Do email me if you'd like something you've seen on the blog. Paintings do sell straight from the blog before they get a chance to make it as far as the galleries.
Framing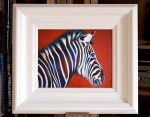 Many of the paintings show examples of what they look like framed. I can frame the paintings for you so they arive ready to hang on the wall. If you'd like a particular colour or style of frame I can show you what my framer has in stock and help you find a frame that suits your decor. Do contact me to find out the costs of the framing and how much the painting will cost to ship.
Shipping
A quick word about shipping paintings. Unframed paintings will ship for free worldwide. I ship by courier outside the UK or by courier or special delivery inside the UK. Framed paintings incur a shipping cost depending on weight, size  and destination.  Email me for an idea of framing and shipping costs.
Commission A Painting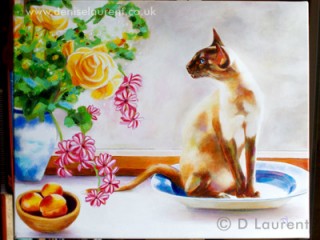 If you'd like to commission a special portrait I can work from your photographs to create a painting for you. Have a look at the commissions section includes pricing, details of how I work and a gallery showing some recently completed commissions too.