Now you can get your feline fix all through the year with 12 different cats to add colour and feline fun to each month. The calendar is A4, 8 x 11 inches in size. There are 12 pages, 1 page per month, each featuring one of my cat paintings, as well as a cover and a back. It's wire bound so it's easy to hang on the wall and change the pages.
Each cat painting is approx 5×7 inches or 5×5 inches. It's beautifully printed on high quality mat photo paper using archival inks, so once the month is past you can trim the paintings out and frame your favourites!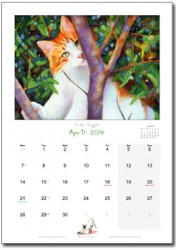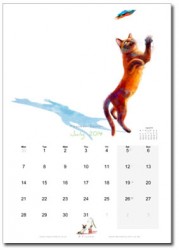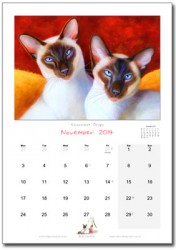 Paintings included are; Baby It's Cold Outside, Old Blue Eyes, Rebel Yell, Tree Hugger, Knitting, Sweet Dreams, Feather Dancer, Do You Think You're Hard Enough? Feather Hunter, Little Fishy, Chocolate Drops and The Dog Did It! See a larger image of all twelve months.