A new starling painting, Splashy Starling. It was raining but he was full of the joys of spring, parading around in his mating plumage.Very fine he looked too, all those iridescent colours in his feathers.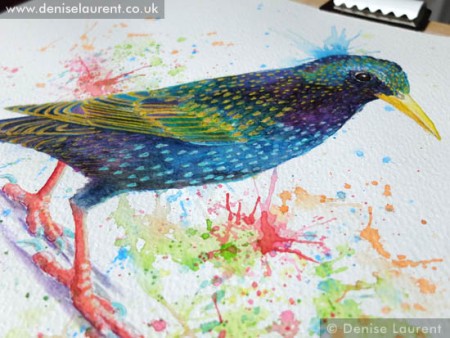 This is a Splendid Starling, also known as the Splendid Glossy Starling, very well named isn't he? Spectacular colours in those feathers. This one lives at London Zoo and when I visited in spring he was very busy building a nest. I sat and watched him for quite a while. He was able to get so much straw in his beak at one go! I was impressed with the effort and I'm sure the nest must have been a work of art. His colours are all blues and greens with a touch of iridescence on wings and that amazing orange breast.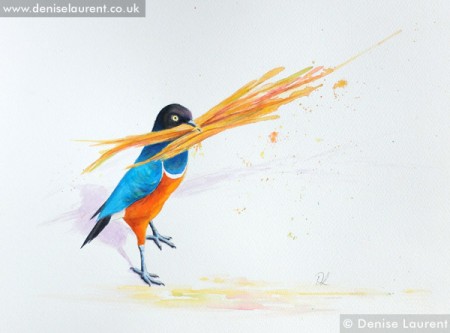 Painted in watercolour on 16×12 inch Saunders Waterford watercolour paper.
A starling hunting worms in the grass. I love starlings and I love their wonderful iridescent feathers. This one was at London Zoo and yes, I should have been looking at tigers, but I was watching the starlings. :-)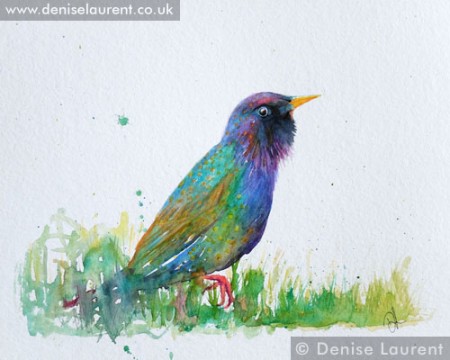 He's painted in watercolour on Cornwall paper with some iridescent blues and golds to bring out those beautiful feathers.
I have finally managed to make a print from my Young Starling painting! It's taken me a long time to wrestle it into submission but I've now got the very first print out of the printer. Available in the animal art gallery.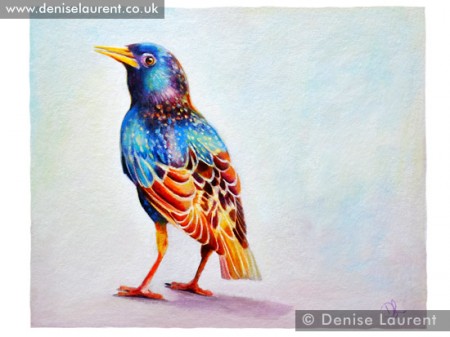 Starlings are such gorgeous birds, those iridescent feathers shining in the sun! I watched a small flock of starlings at Camden Lock in the summer, picking up scraps that the tourists by the canal. It's a lovely place to be on a hot sunny day for both humans and birds.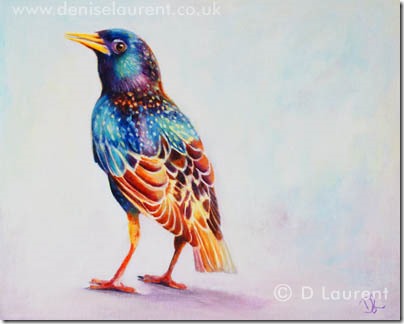 Starling

30×24 cm acrylic on paper
This starling was a juvenile who seemed to be part way between his brown baby plumage and his fabulous adult coat. He was a glorious mix of colour.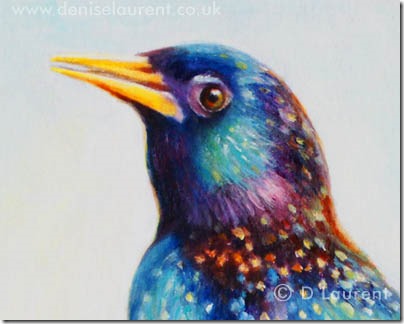 We used to think of them as pests here in London, years ago. There were so many starlings and house sparrows in those days, yelling nosily in the trees with big flocks of starlings flying overhead in the evenings, heading for their beds. We thought they'd always be there. But we were wrong. We lost our sparrows and starlings and the skies were silent for many years. It's true, you don't know what you've got until it's gone.
Recently the starlings have started to come back to the centre of the city and we've even see a small flock living not too far from the house. They're back and it's wonderful to see them again. Maybe the house sparrows will be back one day too.