A tiger profile. I love this strong head, it makes you realise how large and powerful tigers are. It would be a tragedy if we drove them into extinction. She is painted in watercolour and inks on 20×14 inch Fabriano Artistico paper, which has a lovely texture.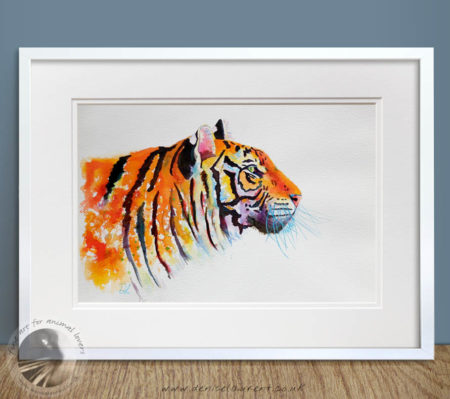 I am not just making jewellery, I am doing a lot of painting too. This one is tiger out for a stroll. I love this head on view of him, you really see what a powerful cat he is as he strolls along the bank.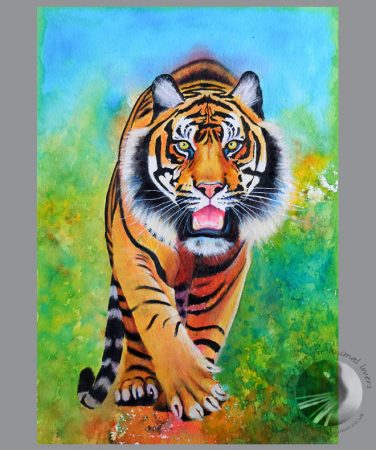 He is painted in watercolour and inks with a touch of thicker acrylic paint, on 20×14 inch Fabriano Artistico paper, which has a lovely texture. He comes in a 24×18 inch double mount.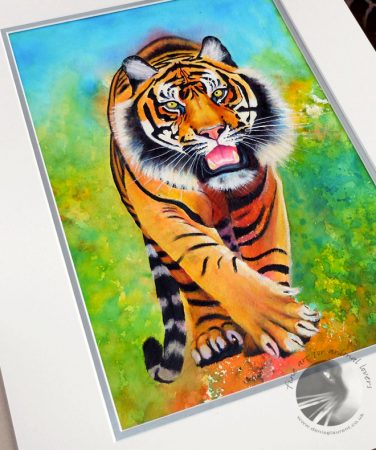 A tigress soaks in the cool water of a forest pool under the trees.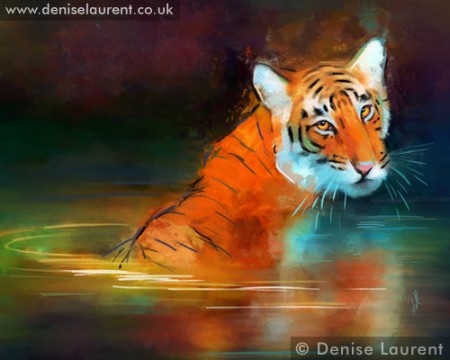 The Premier of China, Wen Jiabao has publicly stated that he is committed to saving the wild tiger. However, his government is allowing trade in tiger skins from tiger farms and skins taken before poaching was outlawed. This trade is acting as a smokescreen for skins taken by killing wild tigers. If China does not stop this trade, the wild tiger is doomed.
We are getting ever closer to 40,000 signatures for PLEASE sign the petition.
This painting, a tiger taking a cool dip in a forest pool, I painted for the Environmental Investigation Agency, a charity who, among other things, campaign for species in peril around the world. See more about their tiger campaign.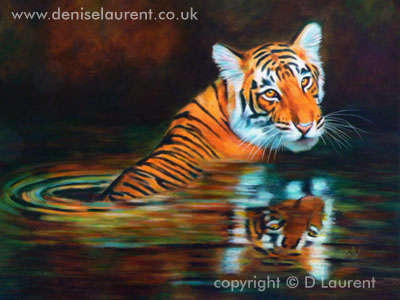 Bathing Tiger
20×16 acrylic on canvas
This painting will was auctioned on the 2nd of October 2007 at the Mall Galleries in aid of the EIA.