This is one of my pieces for the Society Of Feline Artists show in London in September. A black, red and gold walking cat in resin and pigments.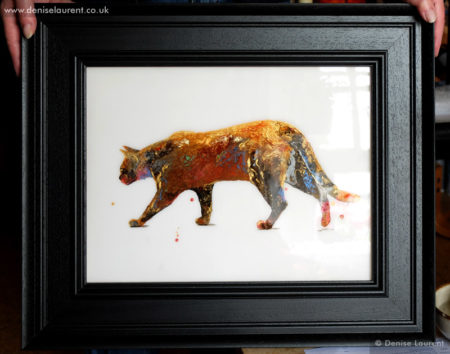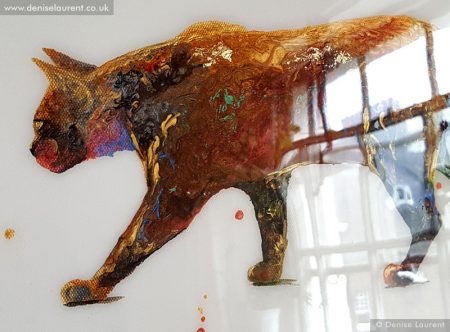 The show is on from the 25th August to 16th September 2016 at the Llewellyn Alexander Gallery, 124 – 126 The Cut, Waterloo in London.
A new watercolour painting of a running frenchie having a good time on the beach. I think I'll call it A Run On The Beach.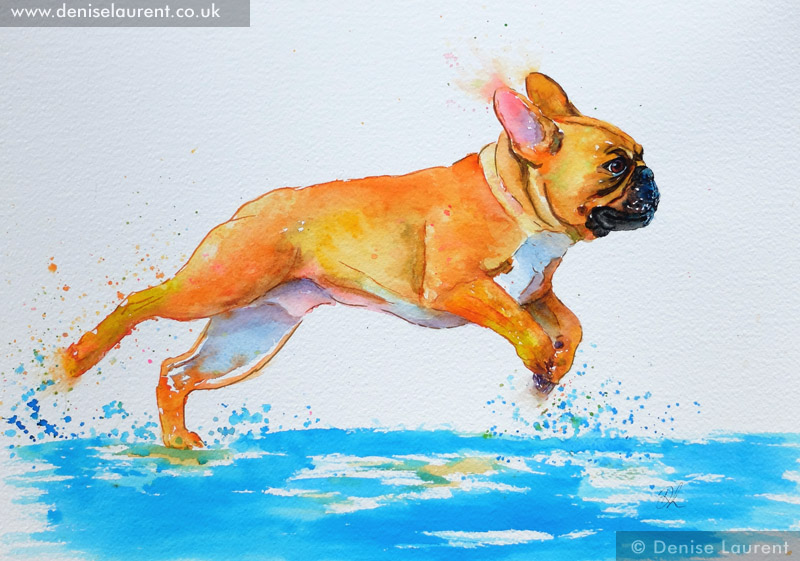 My new resin piece is a hare by moonlight. He sits in the grass with a huge pearly moon behind him. I have some new metallic pigments and I wanted to use them in this piece. I like the way they look in his coat, the rusty colour in his body is gorgeous.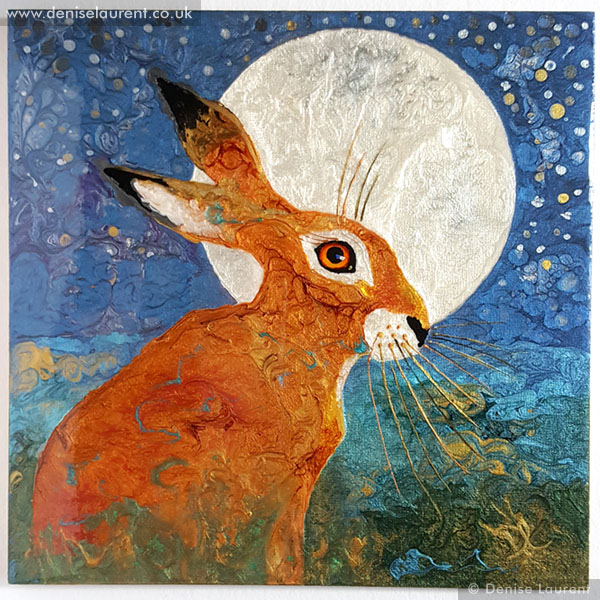 One of the new golds has an almost mirror like finish along his ears.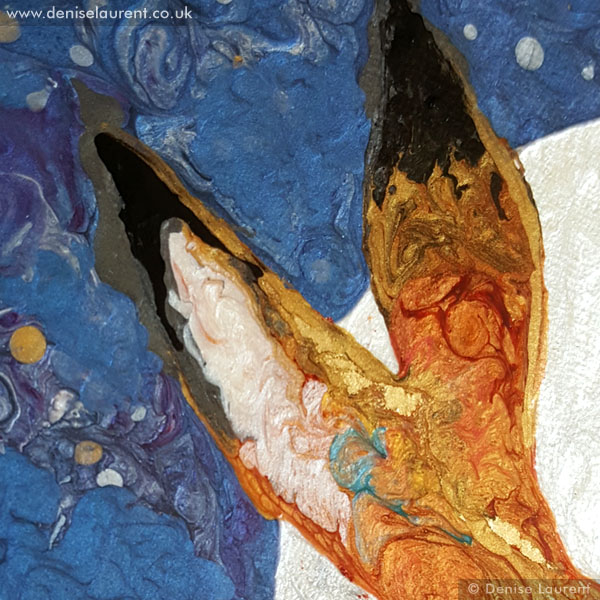 You can see the lovely glass like finish of the resin.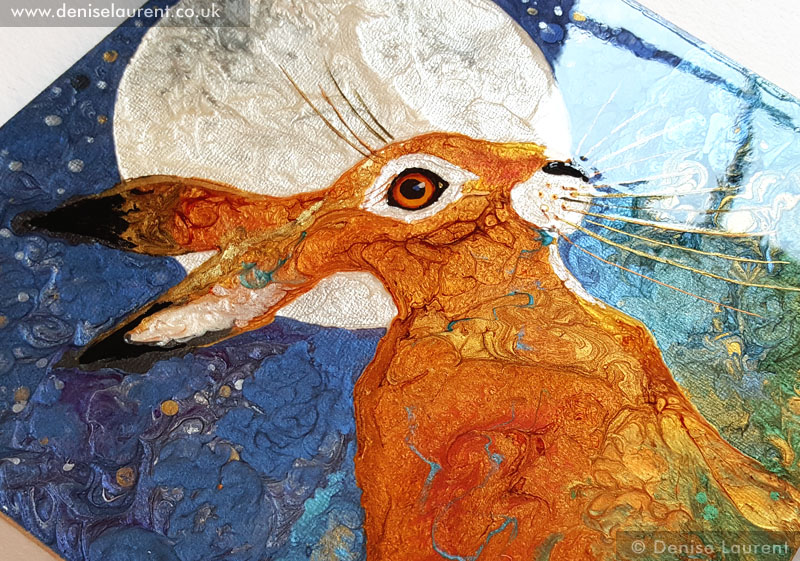 He is an 8×8 inch resin painting. Sold.
A new painting, this black cat has been painted using resin. This is the same process I use for my jewellery and I wanted to try a cat portrait. He has come out rather well I think. I love the way the resin looks like poured glass and the way the gold sparkles through him. He is an 8×8 inch painting on panel in a black floater frame. He's sold.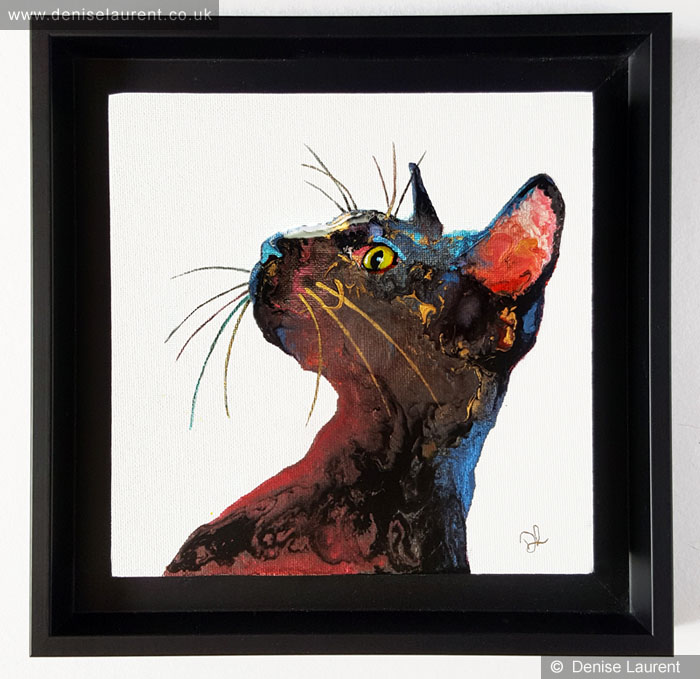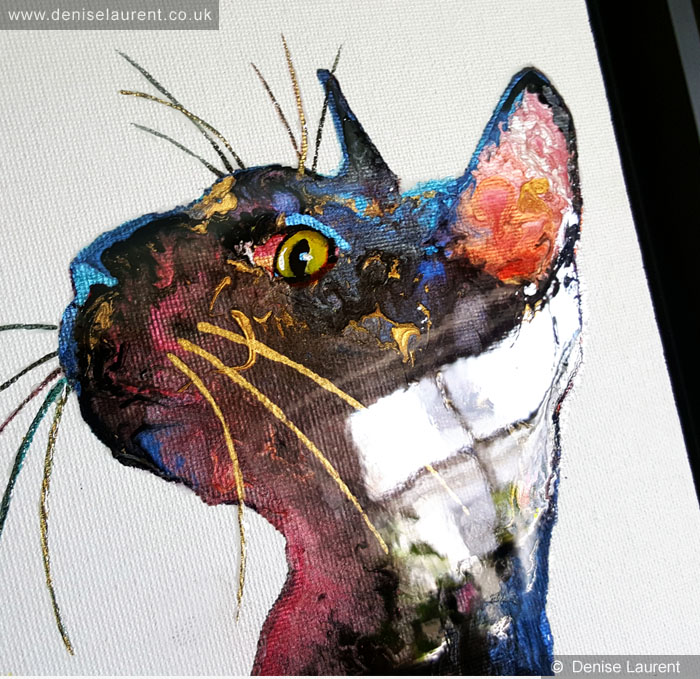 A hare hopping through the fields is a sign that spring is on it's way. This hare is painted in watercolour and paint pens on Saunders Waterford 16×12 inch paper. His whiskers are gold, lilac and teal.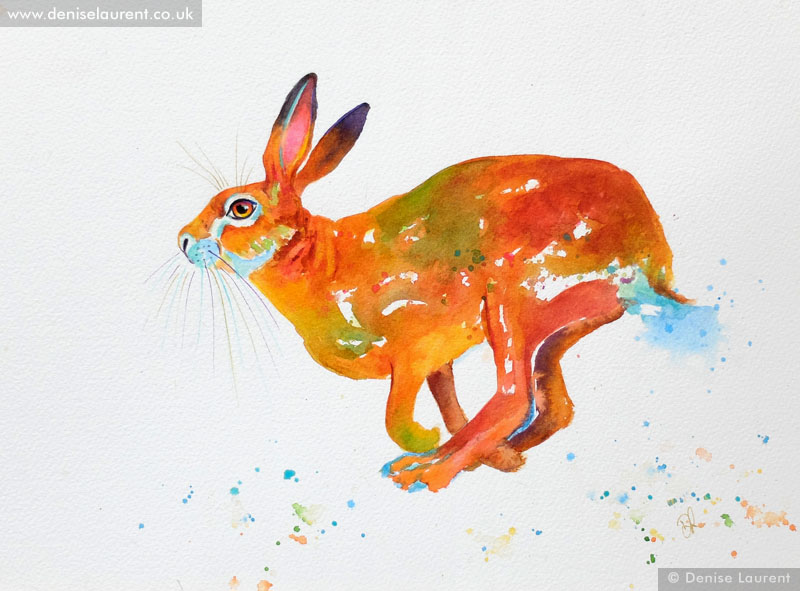 Meet Reino, a very handsome red oriental cat. I just loved painting him, all those beautiful shades of red against a red background and reflected in a wooden floor. I was in painter heaven. :-) He is a 12×12 inch oil painting on canvas, sold.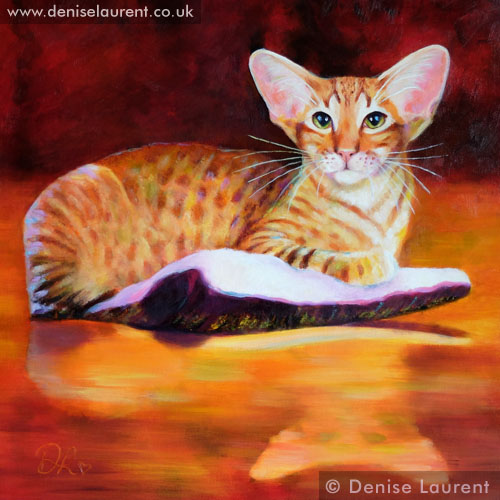 Oh those ears and whiskers! I had fun with this boy, he is painted with liquid paints and paint pens on 16×16 inch Fabriano paper. Or I should say scribbled with liquid paint and drip pens in hot colours, red, orange and yellows with teal and green whiskers. A really colorful character. :-)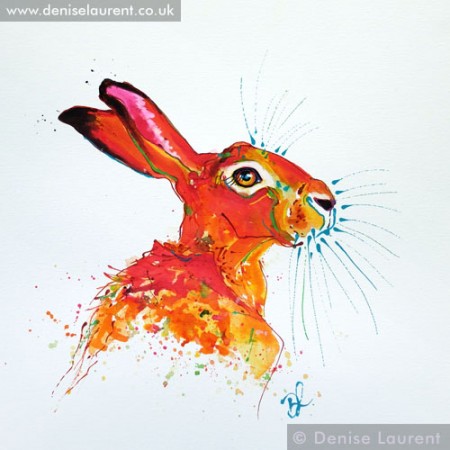 Another of my leaping cat paintings, I love trying to capture cats in motion. This is Seppo, a very lively sphynx, he is chasing after a feather toy and making the most enormous leaps to catch it. he really loves this game and is very good at it. :-) He is a black cat but it was a warm sunny day, so I wanted a red undercoat for him. He is painted on 22×14 inch Fabriano Artistico paper. Once I'd finished him I thought he looked like a mythical Egyptian cat trying to catch the sun.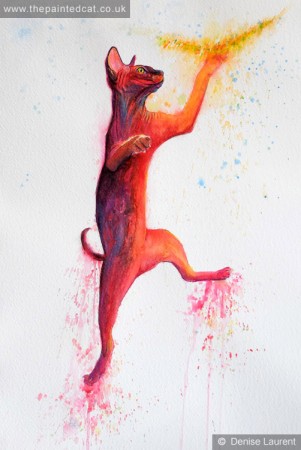 This is a painting I've been working on for several months. Gerry came to me for a birthday present for his wife and now that she has it I can show you – Happy birthday Wendy!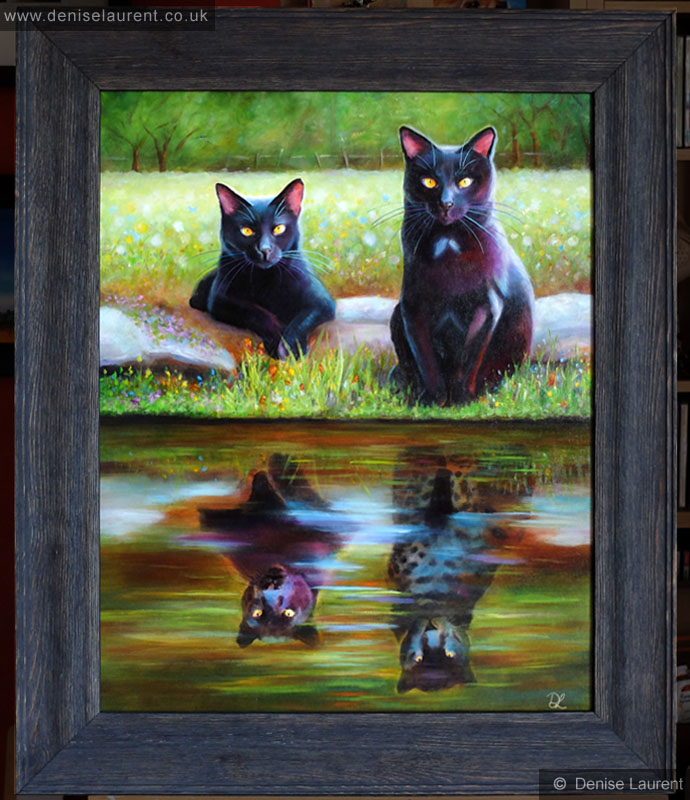 Their two cats are quite the hunters, Big Cat brings in fir cones, apples, live grasshoppers, huge spiders (live! eek!), mice and small birds, all alive, and frogs that Gerry releases back into the river. He even brought in a huge koi that a passing heron had dropped. Small Cat defends the house from any live animal that comes near and it soon becomes a dead animal, which he proudly displays in a line. But he never interferes with Big Cat's live offerings. What a pair! :-)
So the idea was born to capture their inner selves in their reflections. Leopards seemed appropriate for such an enterprising duo. It's a 20×16 inch oil painting.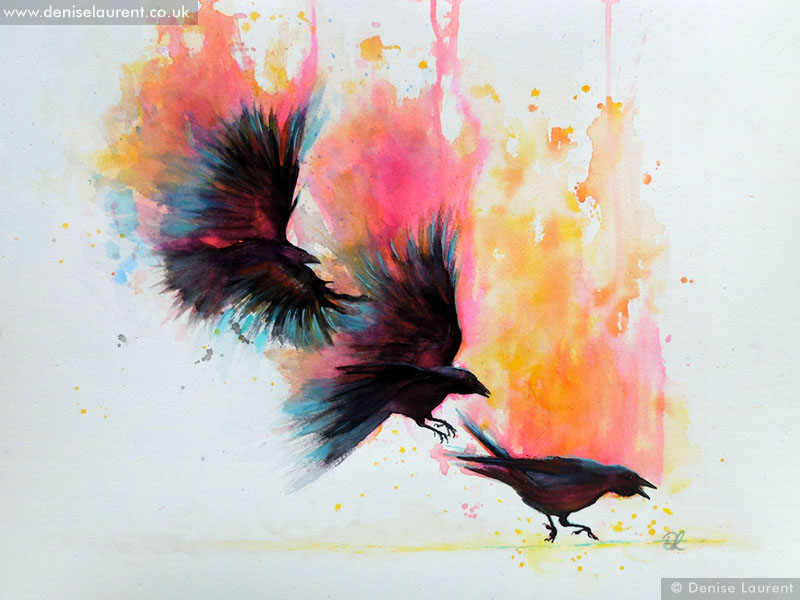 One day in my local park and I noticed a family of crows, The Gracks, flying around and coming down to land at a particular spot. I wondered what they were up to so I stayed put and watched them for a while. Was it food I wondered? But no, I realised that this was a game! The crows would take off, circle for a while and then all three would chase down the wind and attempt to land at the same spot. They did it over and over, shrieking and cawing as they came, I swear they were laughing. I think these were lessons in fast landings for the kids. Crow school does look like fun.