This is Dooku a handsome chocolate tabby oriental, staring at something that's just splashed into the pool. I love that profile and his wonderful colouring with the light coming from behind him. He is a very elegant cat.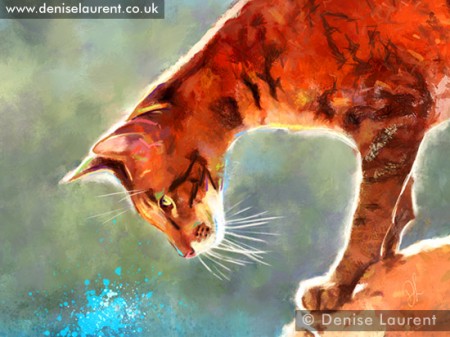 A new siamese! About time I did some more siamese work! This is an old favourite of mine. I've sketched this pose before but finally I've done something with it. The model is Kennedy who reminds me so much of Sass, a siamese who stole my heart many years ago.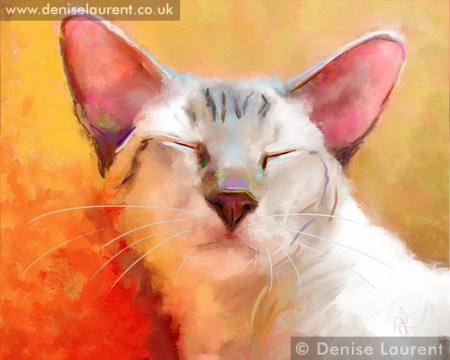 Chihuahuas may be small dogs but they're full of energy. This little dog is jumping for joy. Racing around, full of the joys of spring with the sun on her golden coat and many puddles to jump in. What more can a little dog ask for? :-)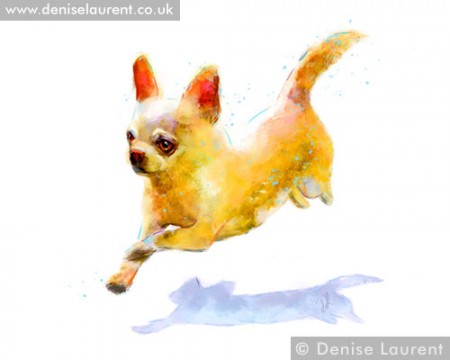 This is Zonda printed as a 16×16 inch aluminium print. I love these aluminium prints! They look stunning and the colours come up so beautifully under the glossy finish. With the hidden fittings on the back it seems to float on the wall. It looks amazing.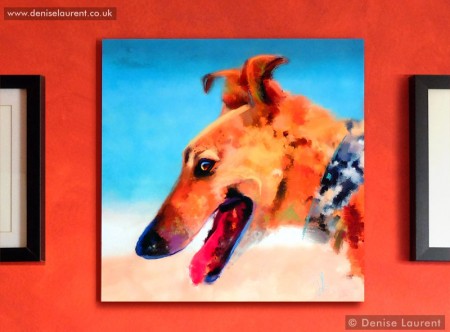 It's printed on an aluminium Dibond base and laminated with a fine, glossy, UV film.   It's strong but surprisingly light weight so it can hang on the wall easily.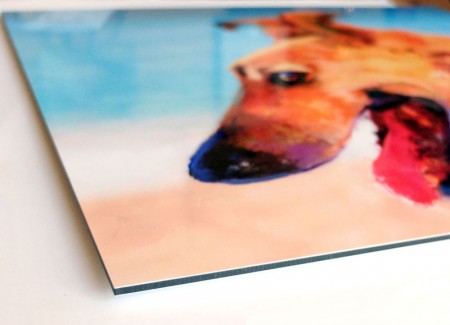 The edges of the print.
This is Rose, a gorgeous Highland Cow. She was peering out from behind a cart on a snowy winter's day and I loved the expression of friendly curiosity on her face. I was going to keep it to a white background but I added some soft turquoise snowflakes as well. It was snowing on the day and I think the colour suits her.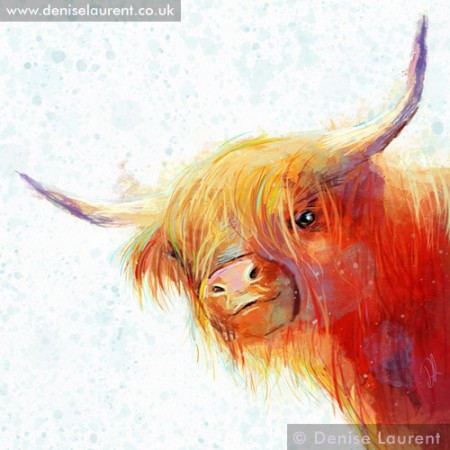 Prints available in the gallery.
This is one of the Christmas commissions and I loved painting him. Meet Kimble, a red kite.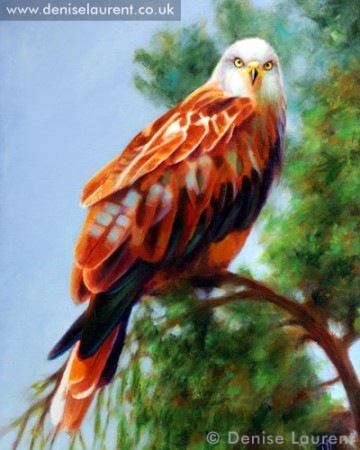 He's an amazing bird and a regular visitor to the garden. He often sits in the trees for a break in his busy day. He comes so often they've named him Kimble.
He is a 16×12 inch acrylic painting on stretched canvas.
A tigress soaks in the cool water of a forest pool under the trees.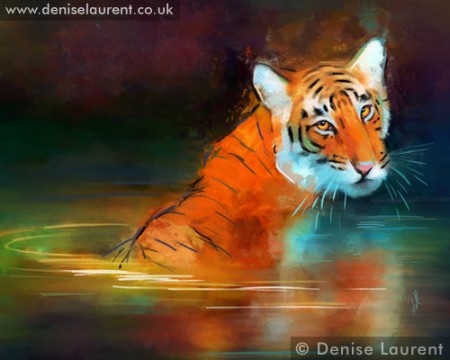 This lovely Highland lassie is Goldilocks. Highland cows have great character and it comes through, even though half the time you can't see their faces for their hair. This girl is feisty, a great Mum and very protective of her children. She is not a lady to be trifled with! :-)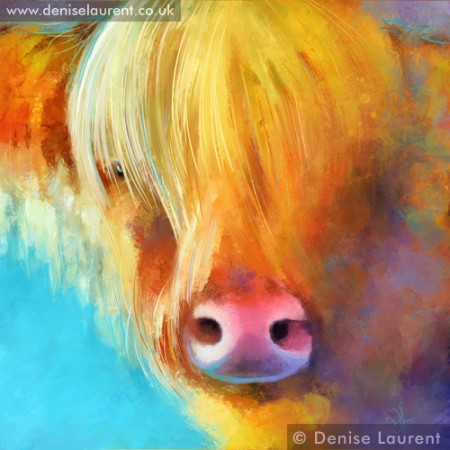 I wanted to explore the colour in her coat, from autumn shades through to sun kissed highlights in her hair. I've painted her before but this time I wanted to try her a little more abstract.
Prints available in the gallery.
I met this little guy this summer. Such a cute character! As he looked over his shoulder at me I could imagine him thinking… 'Did you say food?'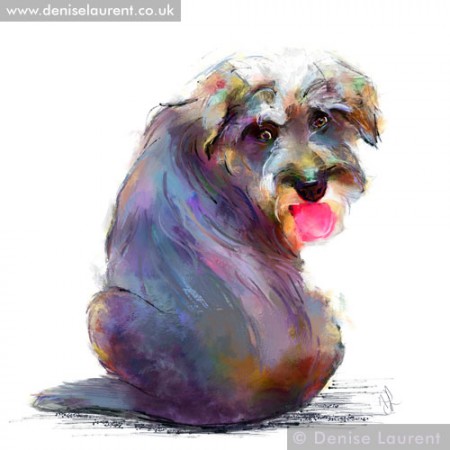 It was a gorgeous sunny day and, despite being grey, his coat reflected so many colours. The blue greys of the pavement, lots of lilac tones in the shadows and with the summer  sunshine behind him he was lit up with warm yellows and golds.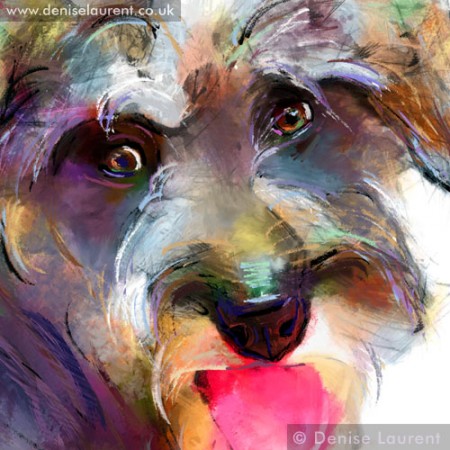 But it was the expression in his eyes that really made me want to paint him. :-)

Prints are available here…
Rocky the Rockhopper penguin diving beneath the waves. I adore penguins and for this painting I really wanted to get a feeling of the water itself, the space he's flying through with such ease. When you watch penguins under water they move so amazingly well, like bird shaped torpedoes.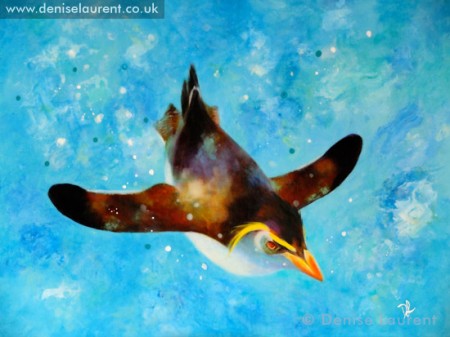 Flying Beneath The Waves
16×12 inches acrylic on board
Sold
So the idea started with trying to capture him 'in flight'  under water. Once Rocky was painted I wanted to add some extra dimensions to the painting. I started by adding drops of acrylic paint to form bubbles. I let them set fully as nice distinct drops and then I added several layers of clear acrylic gels so that Rocky really appears to be under water.
I also used some photo luminescent crystals in the paint so that Rocky would glow in the dark. As light levels fall they glow blue. It's very hard to photograph though.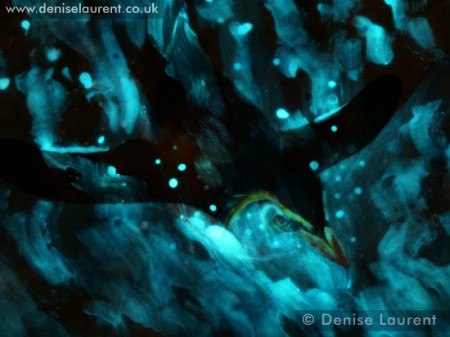 I loved painting this one and I loved rocky so much I would happily have kept him. But he's already gone to his new home.