I had fun with this one. :-) I wanted to do a big hare with thick juicy paint. I like this standing pose with the light coming from behind him and his shadow in front of him. He's painted with thick acrylics using a knife and a brush on a 24×24 inch stretched canvas. I enjoyed it so much I'm tempted to do another large painting soon.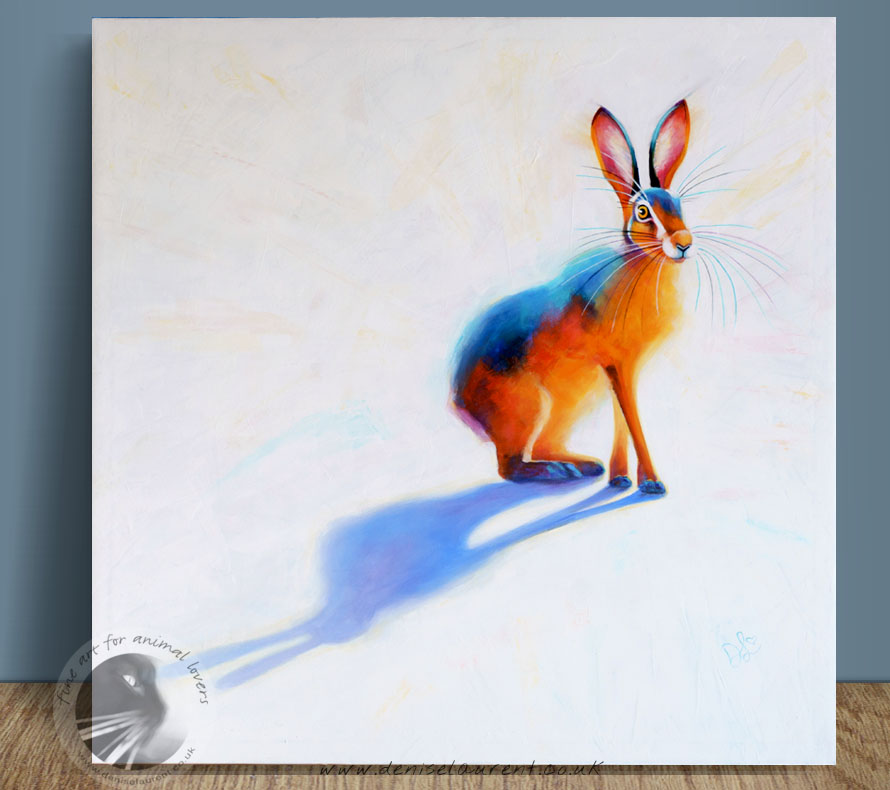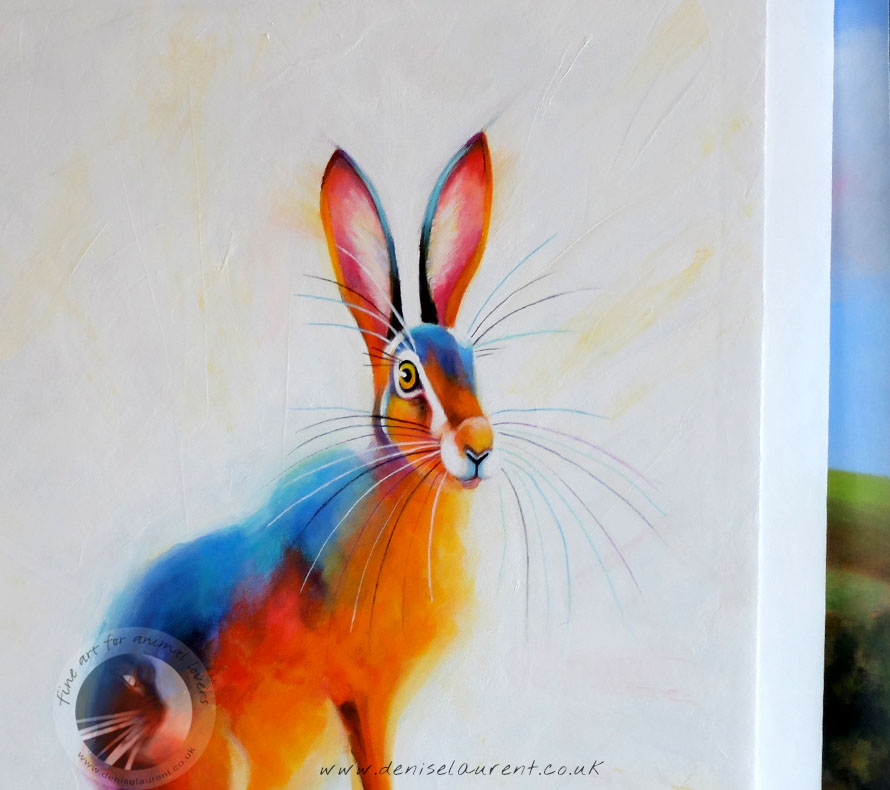 A big red Maine Coon cat sitting in the sun. I do love painting big ginger fluffballs! This lad is full of colour with pinks, yellows and greens in his coat and teal whiskers.He is painted in watercolour and paint pens on 16×12 inch Fabriano paper.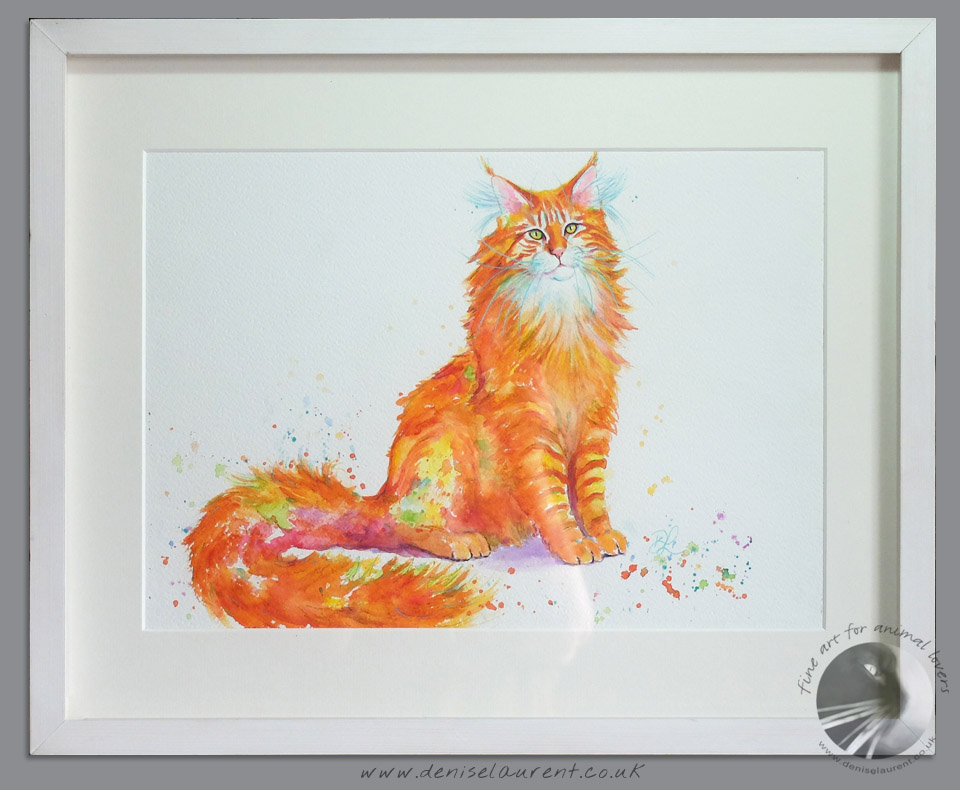 He comes in a 20×16 inch single mount and a shabby chic frame. The frame is a box frame in wood, lightly painted white and distressed to create a shabby chic style. It's has acrylic glass to make it safe to ship
A unique handmade pheasant brooch. A running pheasant with iridescent feathers of blue, green and pink on his chest, reds and gold up his tail and silver legs.
He is just over 3 inches long from beak to tail feathers.
He has a silver plated pin on the back and comes in a gift box.
A beautiful spotty bengal cat. He's painted in watercolour with paint pens and some metallics too. After all, a bengal needs a touch of glitter in his coat. The photos don't show it but some of the his fur has metallic copper watercolour in places and in certain light it gives a beautiful shimmer. He is painted on a sheet of 40x30cm Cornwall paper in watercolour and paint pens.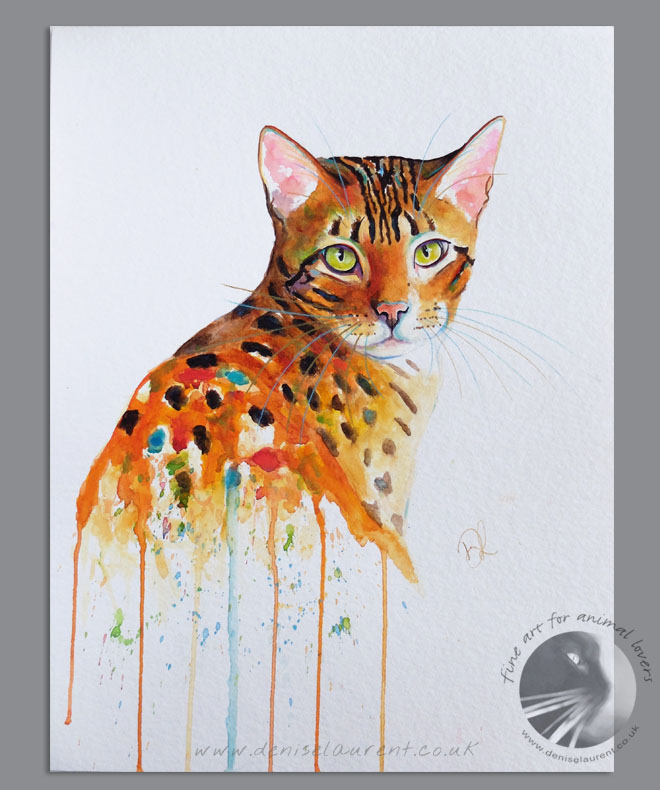 Two beautiful tabby maine coon sisters curled up together in their basket. They are painted in oils on a wood panel and framed in a stained oak wood floater frame.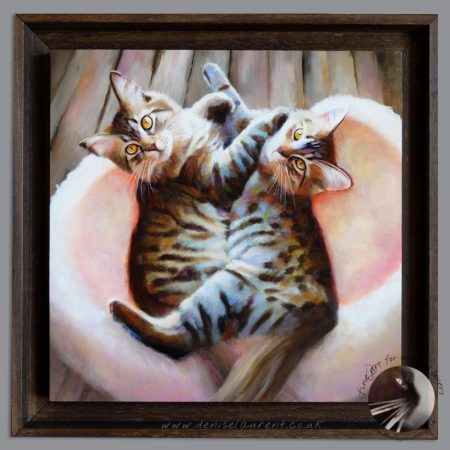 A 12×12 inch oil painting on panel framed in a stained oak floater frame.
A sparrowhawk is such a beautiful bird with those gunmetal blue feathers and that fierce orange eye. Very beautiful. He is painted on Fabriano Artistico 12×9 inch paper in watercolours with some paint pens too.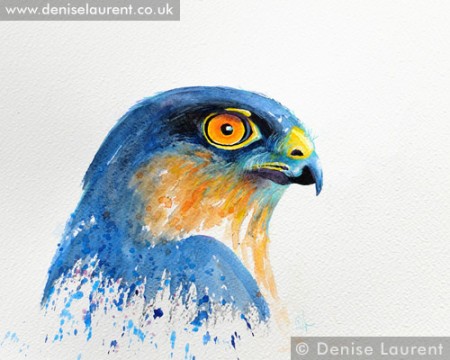 He comes in a 14×11 inch double mount, ready to frame.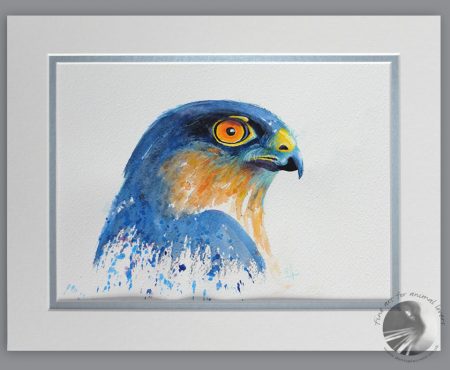 A walking cat in resin. He is black, red and gold with touches green and blue in him and swirls of gold running through his coat. The resin is right across the piece giving a poured glass effect and the metallics in him really sparkle in the light. He changes from a dark cat to a bright golden cat depending on the light, almost as if the painting breathes in sunlight.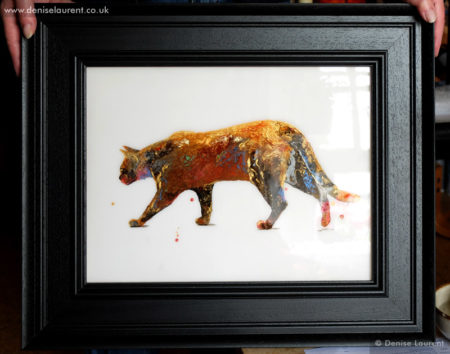 He is an 16×12 inch resin painting on a canvas panel in a black wood frame.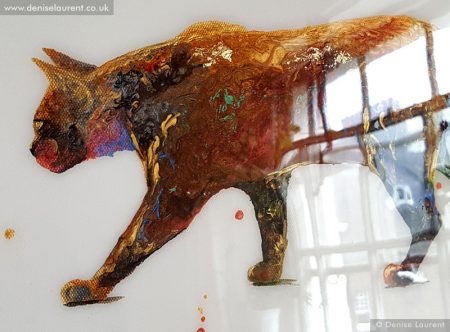 A new painting, this black cat has been painted on a red and gold ground using resin and pigments. This is the same process I use for my jewellery.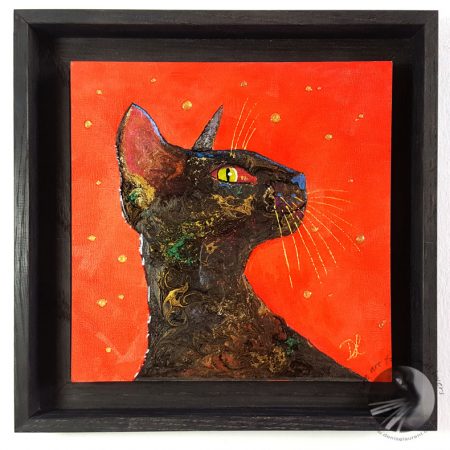 I love the way the resin looks like poured glass and the way the gold sparkles through him. He has touches of green and blue through him. The gold dots in the background are also resin and stand out from the red ground.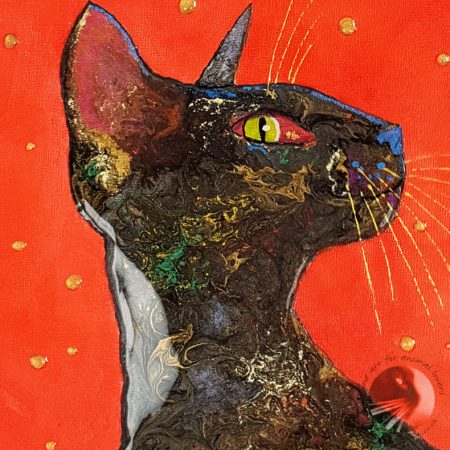 He is an 8×8 inch painting on panel in a black floater frame.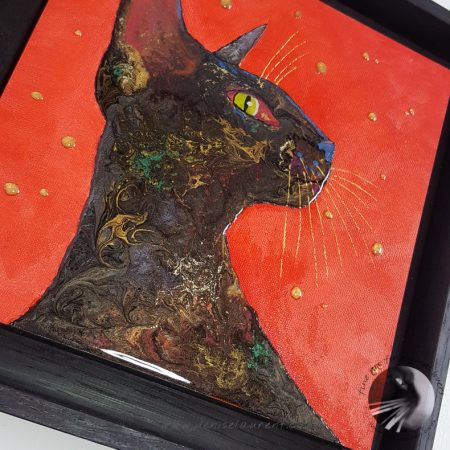 This is Whisky a beautiful scottie dog. Despite being black he's painted with lots of colour and a few metallic watercolour paints too. There are reds, greens and even electric blue in his coat. When the light catches him just right he sparkles.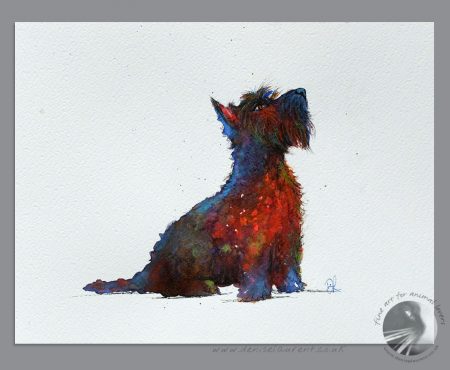 He's painted in watercolour, metallic watercolours and paint pens on 12×9 inch Fabriano paper.