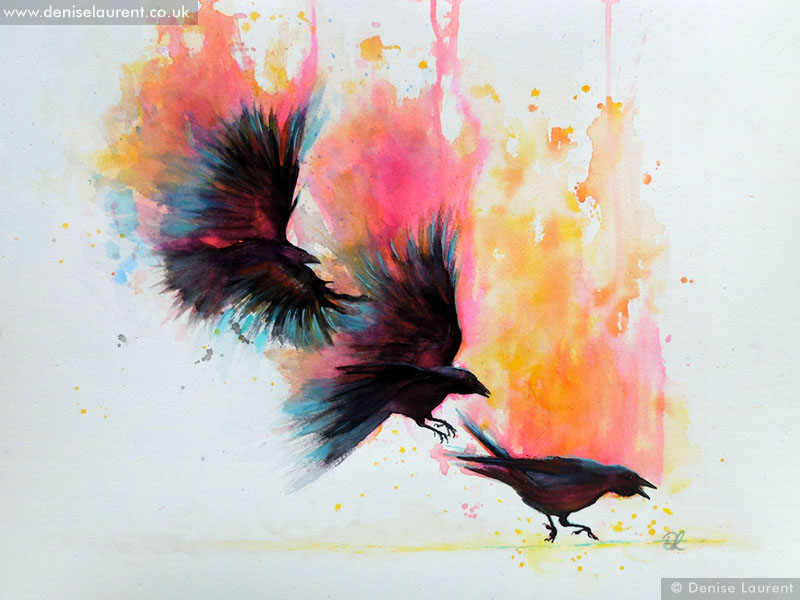 One day in my local park and I noticed a family of crows, The Gracks, flying around and coming down to land at a particular spot. I wondered what they were up to so I stayed put and watched them for a while. Was it food I wondered? But no, I realised that this was a game! The crows would take off, circle for a while and then all three would chase down the wind and attempt to land at the same spot. They did it over and over, shrieking and cawing as they came, I swear they were laughing. I think these were lessons in fast landings for the kids. Crow school does look like fun.
This is Hennes, a gorgeous Selkirk Rex. He's painted in watercolour with ink, paint pens and some metallics too. The photos don't show it but some of the blues and violets in his fur are metallic and in certain light they give a beautiful shimmer.
He's about 12×10 inches on 16×12 inch Sanders Waterford paper.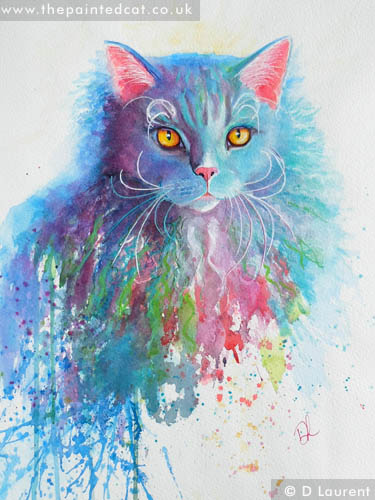 The Gracks are a family of crows who live nearby and I often see them in the local park. Usually they keep their distance from humans but in summer, when the kids are growing up fast, they bring them down into the park to forage. There's usually only one adult to keep an eye on the youngsters (and a careful eye on us humans). I imagine the other bird is taking a well earned rest! The kids do what all kids do, squabble and beg for food and run around having fun and the adult intervenes occasionally and tries to keep them working on their lessons, scavenging for food in the grass.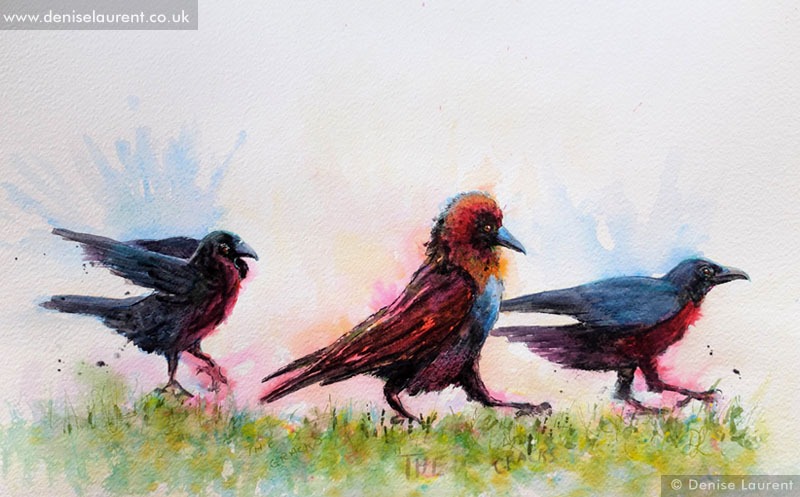 They are in the Bird Gallery.
I haven't done a Bengal cat in a while so I really enjoyed painting this  beautiful spotty cat. He's painted in watercolour with paint pens and some metallics too. After all, a Bengal needs a touch of glitter in his coat.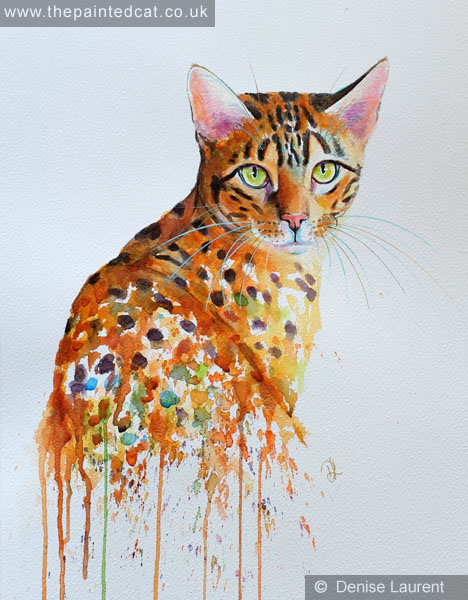 He's about 16×12 inches on 20×14 inch Fabriano Artistico paper. He is in the Cat Gallery.
A new hare print available, One In The Eye, a pair of boxing hares leaping through the grass.
A sparrowhawk is such a beautiful bird with those gunmetal blue feathers and that fierce orange eye. Very beautiful. he is painted on Fabriano Artistico 12×9 inch paper in watercolours with some paint pens too.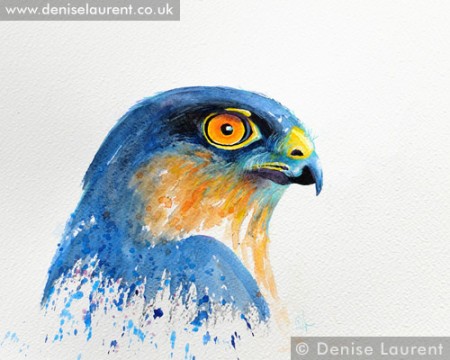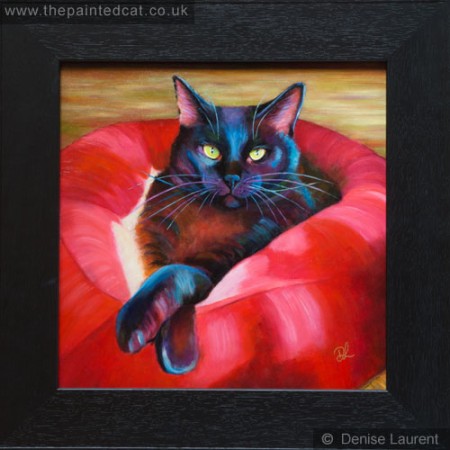 This is a new oil painting, Harry, who is a little on the plump side in his fat pink cushion bed. He loves it! So I called this one Plumptious. It's on show at this years Society Of Feline Artists Exhibition at the Llewellyn Alexander gallery, Waterloo, London until the 18th of September.
There are lots of wonderful paintings on display. Do come along and have a look. The gallery is just across the road from the Old Vic Theatre.
Another snow leopard, this time in water media with lots of messy splashing around and loads of colour. I love her profile and thought I'd add a splash of pink and gold vanishing out of the picture. I'm imagining an exotic bird beating a hasty retreat!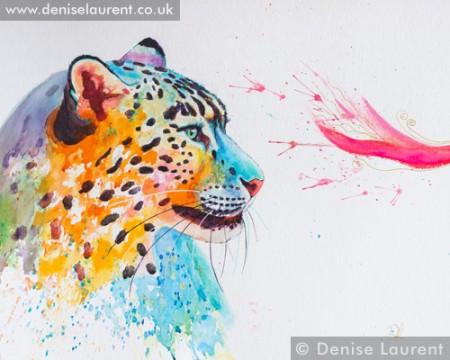 She is quite large, she's painted on 22×16 inch Cornwall paper in watercolour, inks, and paint pens. Here's a close up of the surface….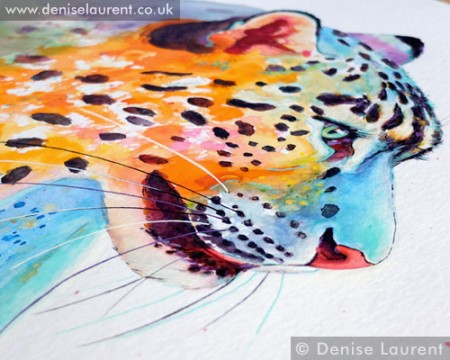 I've just about finished this new painting of a snow leopard Mum and her cub in profile. It's a 12×12 inch oil on canvas board. The last snow leopard I painted had warm fur against a cold blue green backdrop so this time I wanted to reverse that and try cool grey/lilac/blue fur against a soft, warm background. Now they just need varnishing.