I am not just making jewellery, I am doing a lot of painting too. This one is tiger out for a stroll. I love this head on view of him, you really see what a powerful cat he is as he strolls along the bank.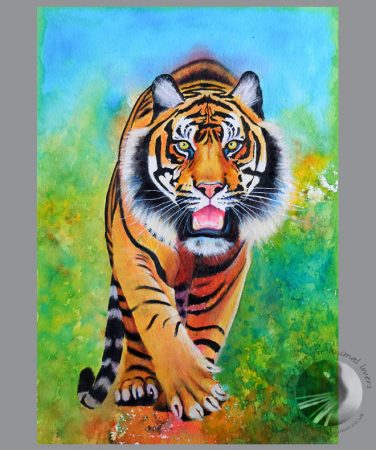 He is painted in watercolour and inks with a touch of thicker acrylic paint, on 20×14 inch Fabriano Artistico paper, which has a lovely texture. He comes in a 24×18 inch double mount.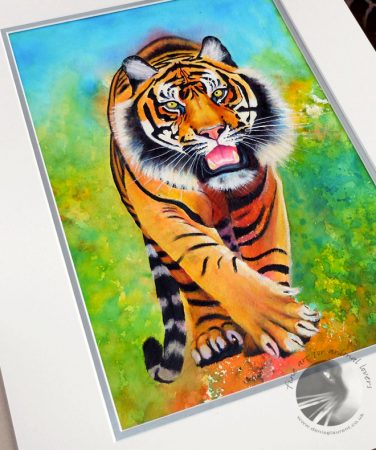 A unique handmade wolf brooch. This wolf is howling to his pack. He stands on a dark rock with swirls of copper through it. He has a coat of dark blue, like a midnight sky, with gold running though his fur.
He is just under 2 inches from nose to tail and just under 2 inches high.
He has a pin on the back and comes in a gift box.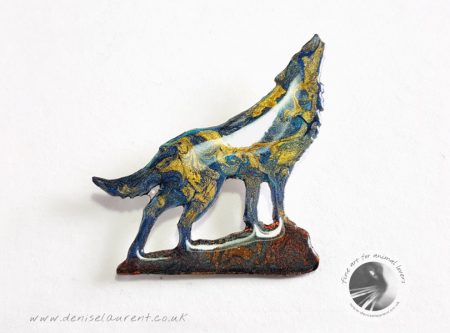 He is in the shop here.
A unique handmade pheasant brooch. A running pheasant with iridescent feathers of blue, green and pink on his chest, reds and gold up his tail and silver legs.
He is just over 3 inches long from beak to tail feathers.
He has a silver plated pin on the back and comes in a gift box.
A new border terrier Christmas card. Toddy is fast asleep. He's exhausted from 'helping' to wrap presents and he's dreaming of Santa. What will he bring him I wonder?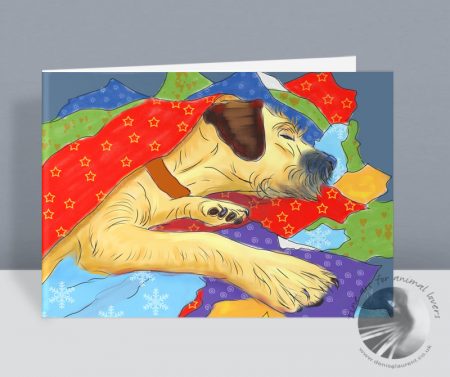 This is one of my pieces for the Society Of Feline Artists show in London in September. A black, red and gold walking cat in resin and pigments.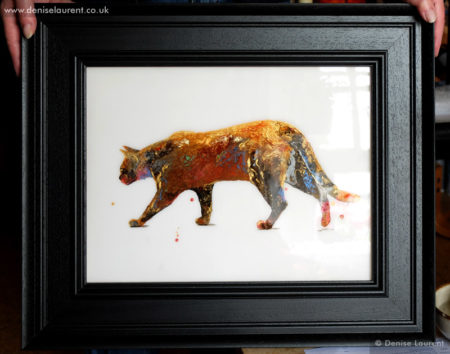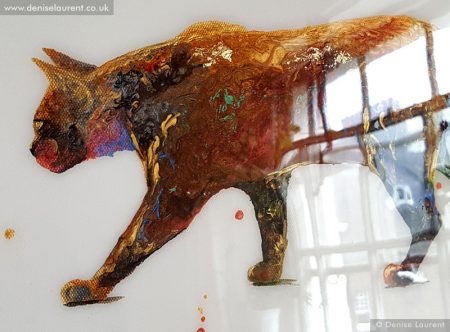 The show is on from the 25th August to 16th September 2016 at the Llewellyn Alexander Gallery, 124 – 126 The Cut, Waterloo in London.
A new watercolour painting of a running frenchie having a good time on the beach. I think I'll call it A Run On The Beach.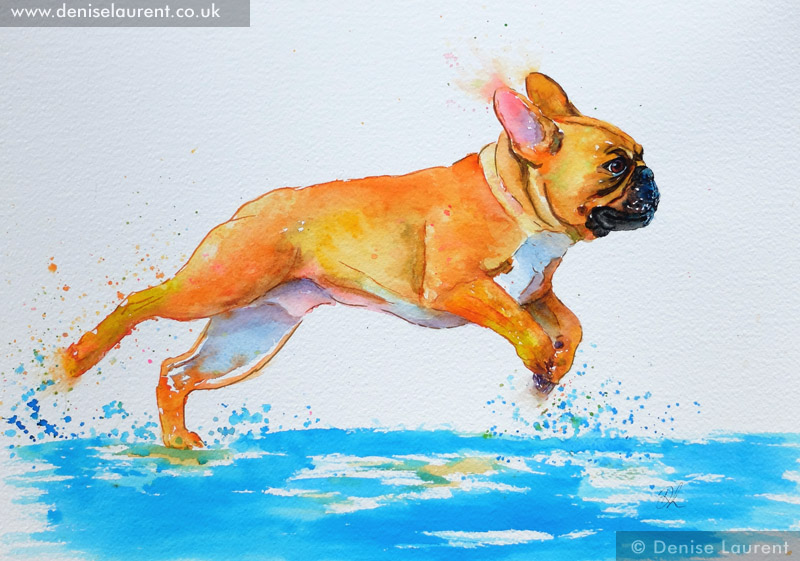 My new resin piece is a hare by moonlight. He sits in the grass with a huge pearly moon behind him. I have some new metallic pigments and I wanted to use them in this piece. I like the way they look in his coat, the rusty colour in his body is gorgeous.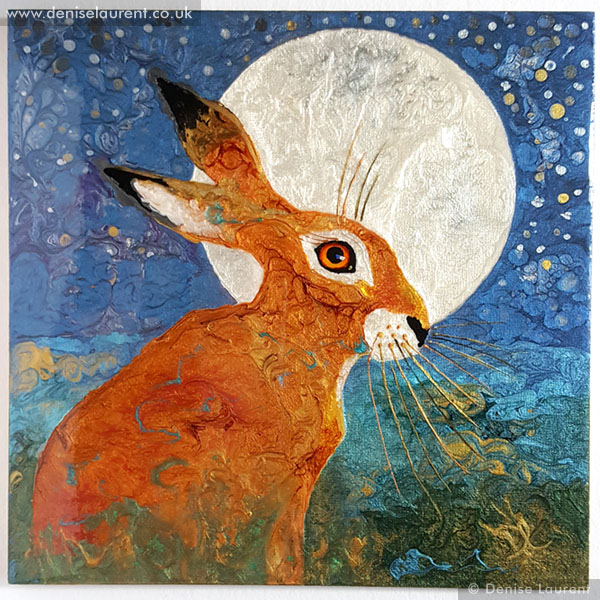 One of the new golds has an almost mirror like finish along his ears.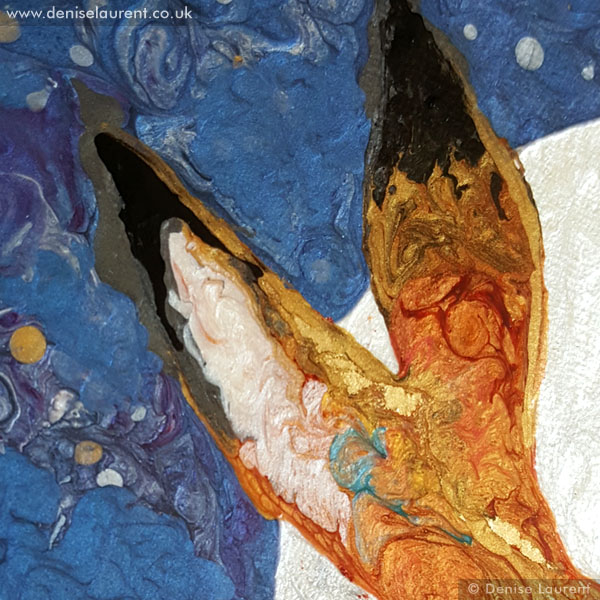 You can see the lovely glass like finish of the resin.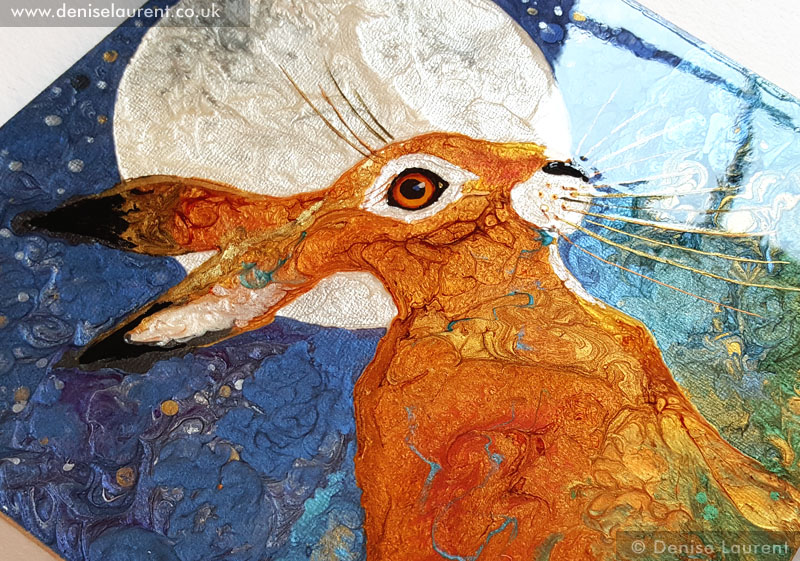 He is an 8×8 inch resin painting. Sold.
A new painting, this black cat has been painted using resin. This is the same process I use for my jewellery and I wanted to try a cat portrait. He has come out rather well I think. I love the way the resin looks like poured glass and the way the gold sparkles through him. He is an 8×8 inch painting on panel in a black floater frame. He's sold.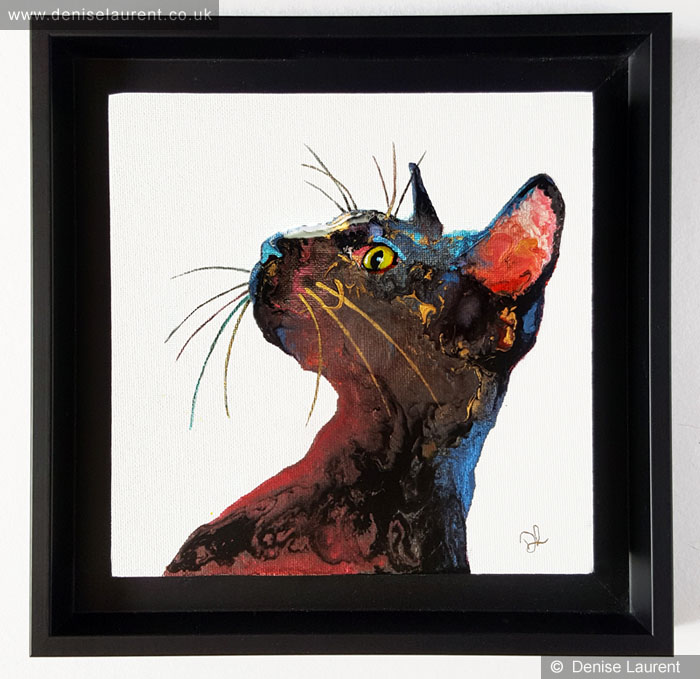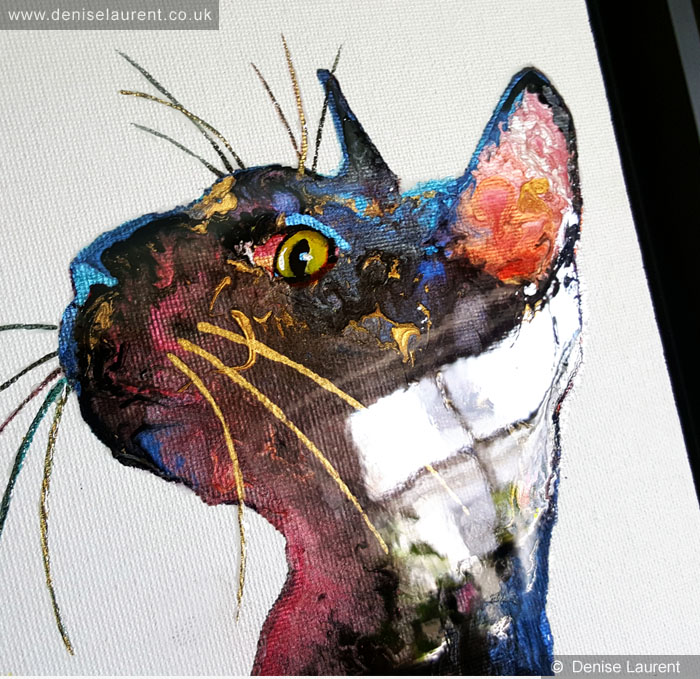 A hare hopping through the fields is a sign that spring is on it's way. This hare is painted in watercolour and paint pens on Saunders Waterford 16×12 inch paper. His whiskers are gold, lilac and teal.