Rocky the Rockhopper penguin diving beneath the waves. I adore penguins and for this painting I really wanted to get a feeling of the water itself, the space he's flying through with such ease. When you watch penguins under water they move so amazingly well, like bird shaped torpedoes.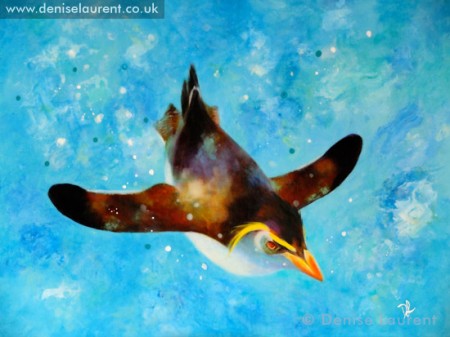 Flying Beneath The Waves
16×12 inches acrylic on board
Sold
So the idea started with trying to capture him 'in flight'  under water. Once Rocky was painted I wanted to add some extra dimensions to the painting. I started by adding drops of acrylic paint to form bubbles. I let them set fully as nice distinct drops and then I added several layers of clear acrylic gels so that Rocky really appears to be under water.
I also used some photo luminescent crystals in the paint so that Rocky would glow in the dark. As light levels fall they glow blue. It's very hard to photograph though.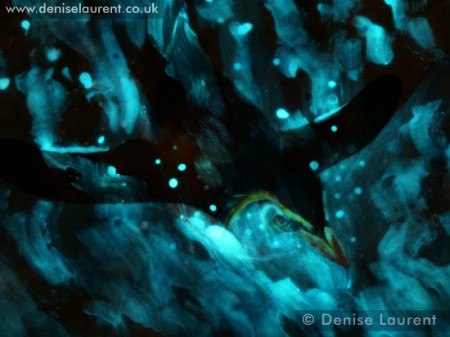 I loved painting this one and I loved rocky so much I would happily have kept him. But he's already gone to his new home.
Elli, a brown Burmese cat. I love the way she's holding her head, the look in her eye and the colours in her coat.
Prints are ready now in the Cat Art Gallery
.
A black cat stands and looks back at us over his shoulder. I like this cheeky pose, this is my boy Harry in his slimmer days. I thought I'd call it 'Black and Proud' because black cats are so often overlooked in rescue centres. It seems so unfair that they find it so hard to get good homes!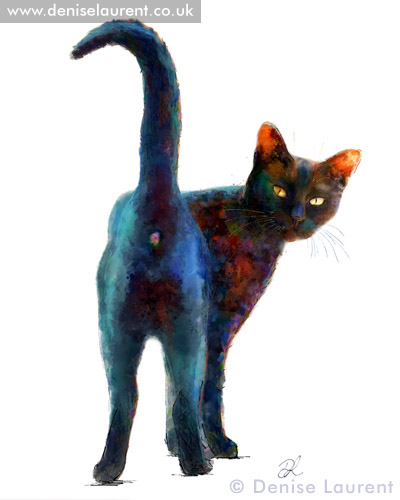 Black cats are beautiful, truly they are the domestic panther in our homes. Anyone who lives with a black cat will find themselves blessed both by their beauty and their wonderful personalities. Harry himself was rescued from the snow one winter and we have never regretted inviting him into our lives.

Prints are available in the cat gallery…
A new hare limited edition print. I love hares and I wanted to capture that alert posture, when the hare pricks up his wonderful, huge ears and keeps an eye out for trouble. The sun is coming from behind him, it fills his fur with warm, golden light and throws his lilac shadow out in front of him.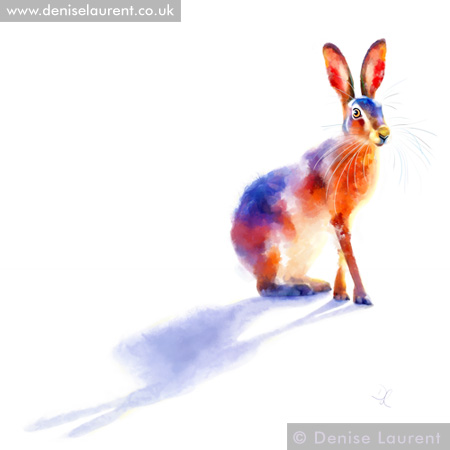 This new print is available here…
A beautiful red kite soaring on the thermals with those gorgeous long fingered primary feathers spreading on the wind. Love those feathers! They look so expressive, you can almost see the wind as you watch them. Red kites are such beautiful, graceful birds. I loved doing this one, a semi abstract red kite in flight.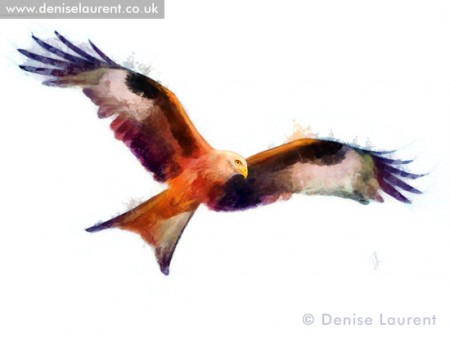 Touching The Wind
22×16 inches acrylics on canvas
This one is already sold but I do have prints in the gallery.
If you'd like a similar painting do email me, I am taking bookings for more of these semi abstract animal and bird paintings.
A new Christmas card based on my recent painting 'Life Is Sweet'. This is Ceaser enjoying himself, catching snowflakes on his tongue so it's called Snowflake Kisses.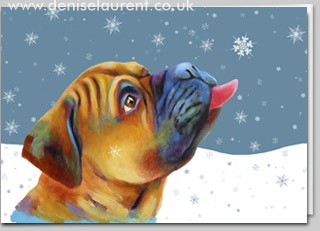 The cards are hand printed, on white mat or satin high quality card, complete with envelopes. Get them
in the shop.
..
This is a view I often get of the local nut thief! :-) The nuts are in a feeder on the window so when he swings from the feeder to eat the nuts through the wire I can study him from quite close up. Squirrels have amazing whiskers when you see them at close range, almost as good as hares.
Nut Raider
6×6 inch oil painting on board
Get him here
if you'd like him or
email me direct
.
This painting is all about the sweetness in life. Sometimes humans can be pretty cruel to animals. We are a savage lot. But there are many of us who spend time, money and not a little heartache rescuing cats, dogs and other animals in distress. It makes me think how wonderful it must be to come from cruelty and neglect and to find love and companionship. It's something I've tried to capture in a painting but without much success.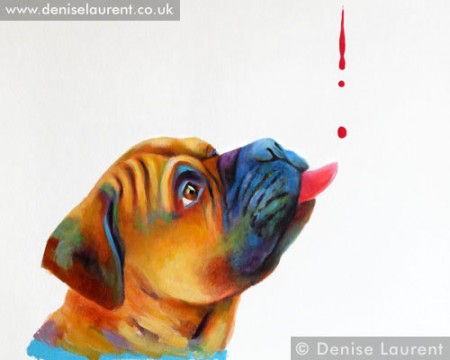 Life Is Sweet
50×40 cm acrylic on paper
Then I saw Ceaser enjoying himself, catching snowflakes on his tongue and I saw the possibility of this painting. I wanted to create a drip running down the painting, like ice cream or strawberry jam. Something sweet and lovely that he puts his tongue out to lick. It represents for me the wonder of finding joy in life after cruelty and pain. There is nothing sweeter!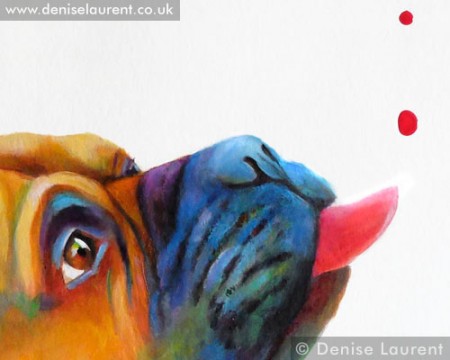 I painted him in acrylics on Cornwall paper in a fairly abstract style. I wanted to concentrate on colour and the beauty of his eyes. He has such a gentle expression! The drips are drips of acrylic paint running down the paper.
Caesar belonged to one of these wonderful people and I want to thank Lindy for letting me paint him.
A small guinea pig oil painting. I wanted this to be a soft painting with pastel colours but somehow it changed to something much more rock and roll. He has a great spiky hairstyle and that seemed to influence the painting, it gradually got more Punk Piggy than Pastel Piggy. It must be his feisty attitude!
Pink Punk Piggy
6×6 oil on board
This is a quick portrait of a pretty greyhound. Such beautiful eyes. She is a lovely dog. I wanted to explore an explosion of colour against her black and white coat.