A Maine Coon tortoiseshell cat sitting in the sun. As she turns to look at me her fur is blown by the wind. So many colours! I thought she looked windswept and interesting with those long strands making a halo around her. She is painted in watercolour and inks on Fabriano Artistico paper, which has a lovely texture.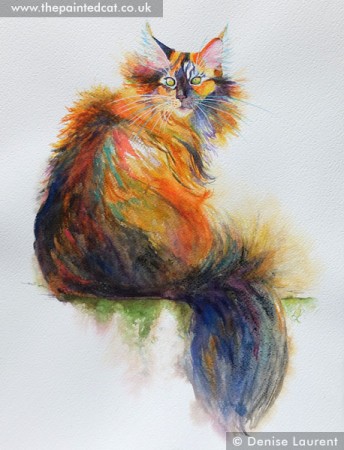 Ghengis is a a new chicken painting. This amazing lad is a Reza Asil cock. A fiesty gamefowl breed from India. He's quite a character and it shows in his posture. This is one chicken who'll defend his space! Painted in watercolour and drip pens on Saunders Waterford 16×12 inch paper, with some gold and bronze in those feathers, and a glint in his eye.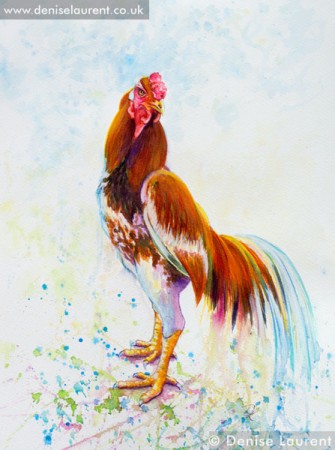 A Ring-necked Parakeet painting. These birds are now regular visitors to the gardens here in Central London. It's amazing to seem them living wild here. We have a small flock who come to eat the pods of a particular tree, I think it's an Indian Bean Tree. The parrots love it and i get to paint them. :-)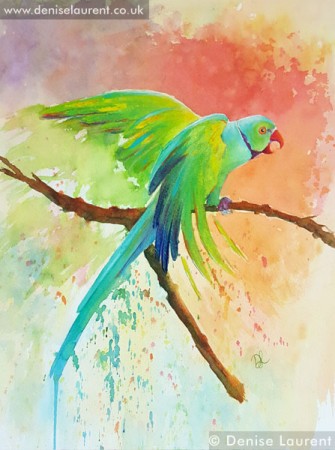 A new starling painting, Splashy Starling. It was raining but he was full of the joys of spring, parading around in his mating plumage.Very fine he looked too, all those iridescent colours in his feathers.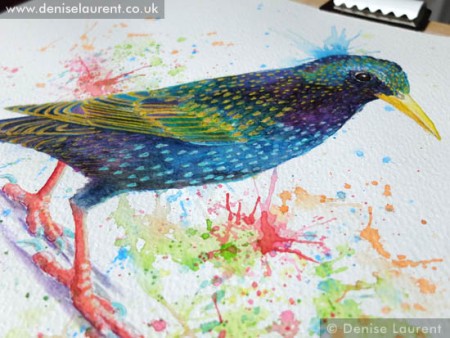 A red Cardinal sitting on a branch. What amazing birds they are, the males look splendid in their red feathers.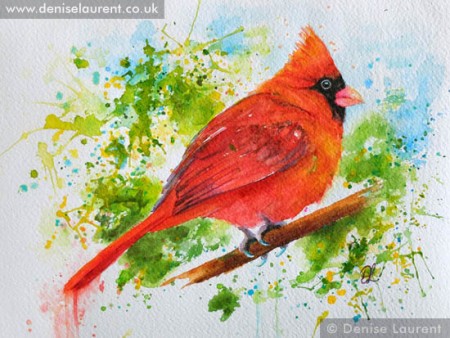 He is a 12×9 inch watercolour and ink painting on Saunders Waterford paper.
Exciting! I've just finished my first watercolour painting on my new Two Rivers paper. It's handmade artists rag paper, it's a heavy weight and has a random surface texture and four deckle edges, love those deckle edges.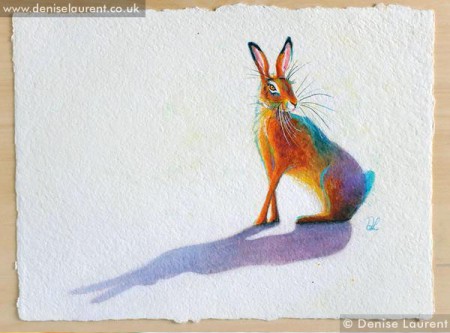 I love painting hares so what better subject to use on this gorgeous paper? This hare pricks up his ears and twitches those lovely whiskers, he's keeping an eye out for trouble. The sun streams past and throws his soft lilac shadow in front of him. He is painted in watercolour and acrylic inks.
A beautiful Afghan Hound was jumping after bubbles and I loved the way her coat flew around her like the hair of a super model. She was having so much fun but she was so elegant at the same time. I wanted to capture the feeling of her flying hair.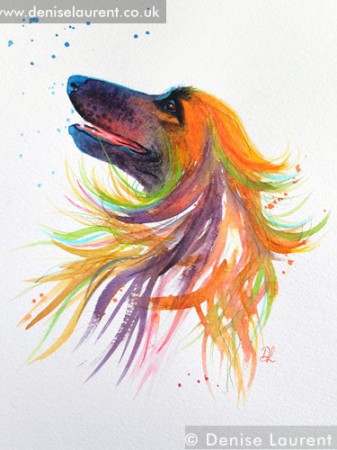 She's painted in watercolour on Bockingford paper.
It's Spring, the season of love. With his long lashes and big whiskers this cheeky hare won't be on his own for long. He has his eye on on the ladies.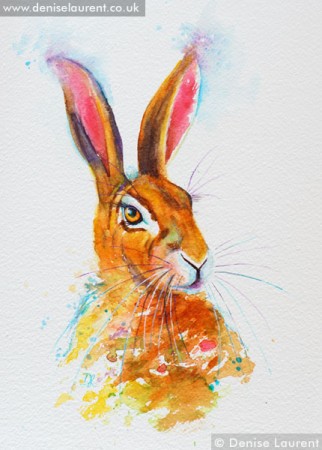 He is painted in watercolour and watercolour pastels on 12×9 inch beautiful Fabriano Artistico paper.
It's Spring, the season for hares in love. This lovely lady is Ostara and she's on the look out for romance. I'm sure she has her eye on a lovely lad.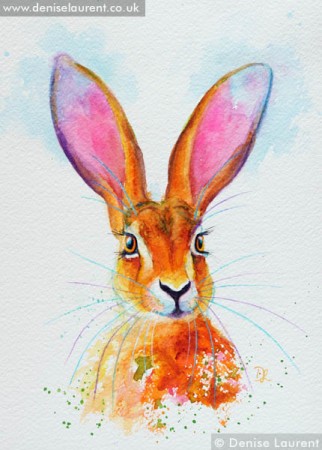 She is painted in watercolour and watercolour pastels on 12×9 inch beautiful Fabriano Artistico paper.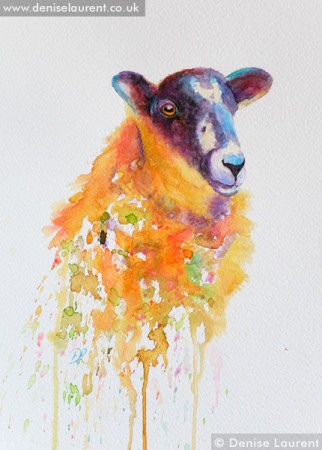 A pretty  little ewe, I think she is a Masham. She has such a cute black and white face and black knees, (which you can't see in the painting). I painted her with with reds and purples in the darks and blues in the whites. It contrasts with her fleece, full of golds and yellows.

She's painted in watercolour on 12×9 inch Fabriano Artistico rough watercolour paper, with watercolour pastels. I love the texture in this paper.