A portrait of Harry. He was looking very comfy and I decided to do a quick painting of him to try and capture that expression. This is an 8×8 inch oil painting on panel. I love his black fur against those hot colours.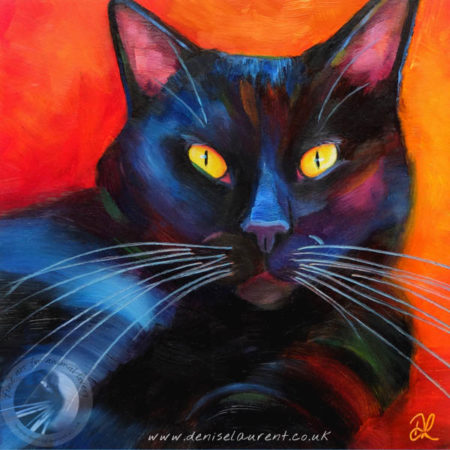 He sold at the Cats Protection – National Cat Adoption Centre exhibition last week.
The Feline Art Exhibition is now open if you'd like to visit, it's above the cafe, at Cats Protection – National Cat Adoption Centre, Haywards Heath in Sussex until the 7th of May. Do drop and and have a look. Here's some of my work on the wall.
The cakes are excellent too! I tested them specially! :-)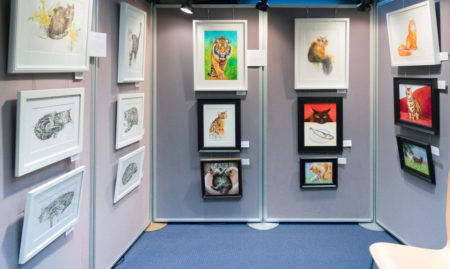 Spring is here and I've been working on my window boxes. This is Mulberry, a brown spotted Bengal cat, sleeping in a hanging basket. Now, I know cats love odd places to sleep and they have a thing for baskets and boxes, but this is taking it to the next level!
Luckily my three prefer the sofa. :-)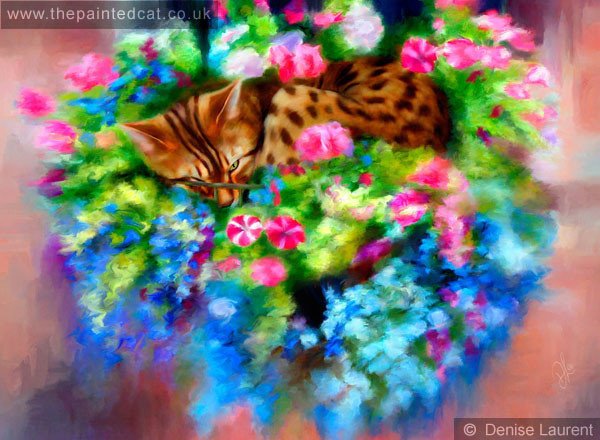 This painting is sold but you can get a print here…
I will be exhibition at the Feline Art Exhibition at the National Cat Centre in Sussex In April. This is one of the paintings going to the show.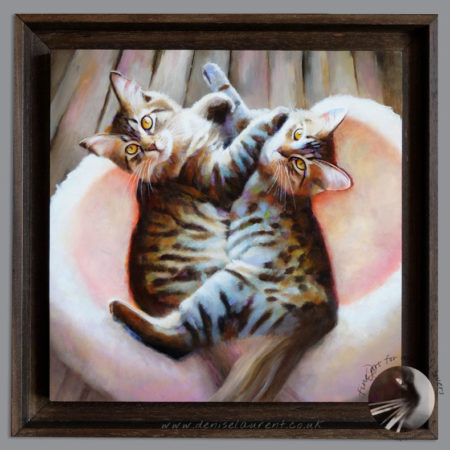 The Society Of Feline Artists is holding a new feline art exhibition at Cats Protection in Sussex as part of Cats Protection's 90th Anniversary celebrations. S.O.F.A. has always supported Cats Protection with yearly donations and the charity will benefit from each sale made at the show. So this is a great way of buying some art and helping cats at the same time.
The show will run from the 28th of April to the 7th of May 2017 at the National Cat Centre.
The Feline Art Exhibition
Cats Protection Visitors Centre,
National Cat Centre,
Chelwood Gate,
Haywards Heath,
Sussex
RH17 7TT
Another exciting post. This is an international collaboration. I've been working on a painting of Burre, a gorgeous Burmese cat who lives in Finland. I've painted him as a star cat walking through the dark, starry Finnish night. Once he was finished last year he went off to his new home in Finland to hang on the wall.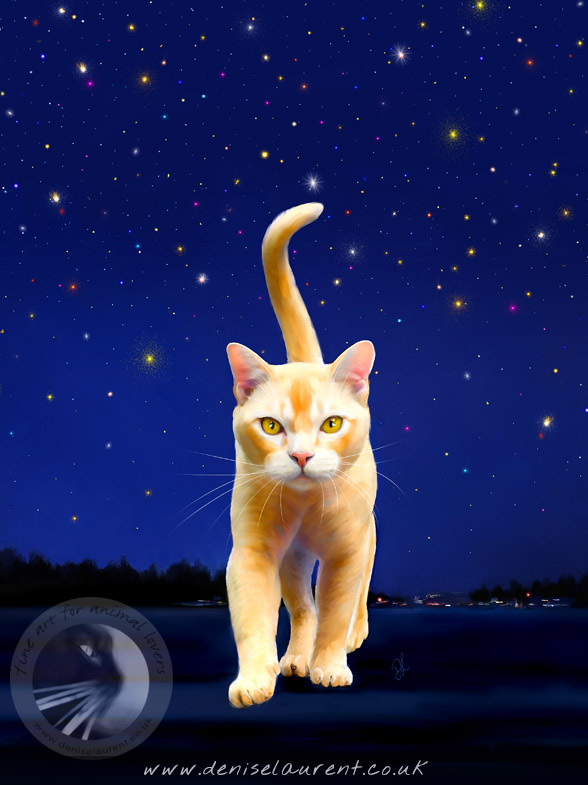 But a photo of him went to Kapsch Cases in Croatia to be used on a new cello case for his owner's cello. And here is a photo of the finished cello case with the model himself posing in front of it. :-)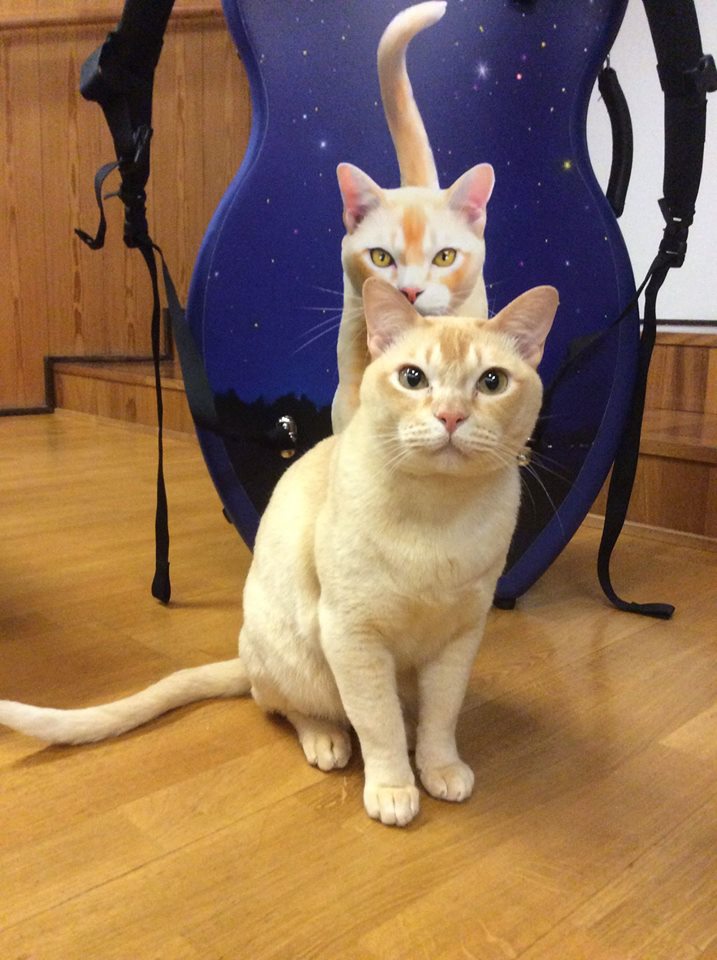 A big red Maine Coon cat sitting in the sun. I do love painting big ginger fluffballs! This lad is full of colour with pinks, yellows and greens in his coat and teal whiskers.He is painted in watercolour and paint pens on 16×12 inch Fabriano paper.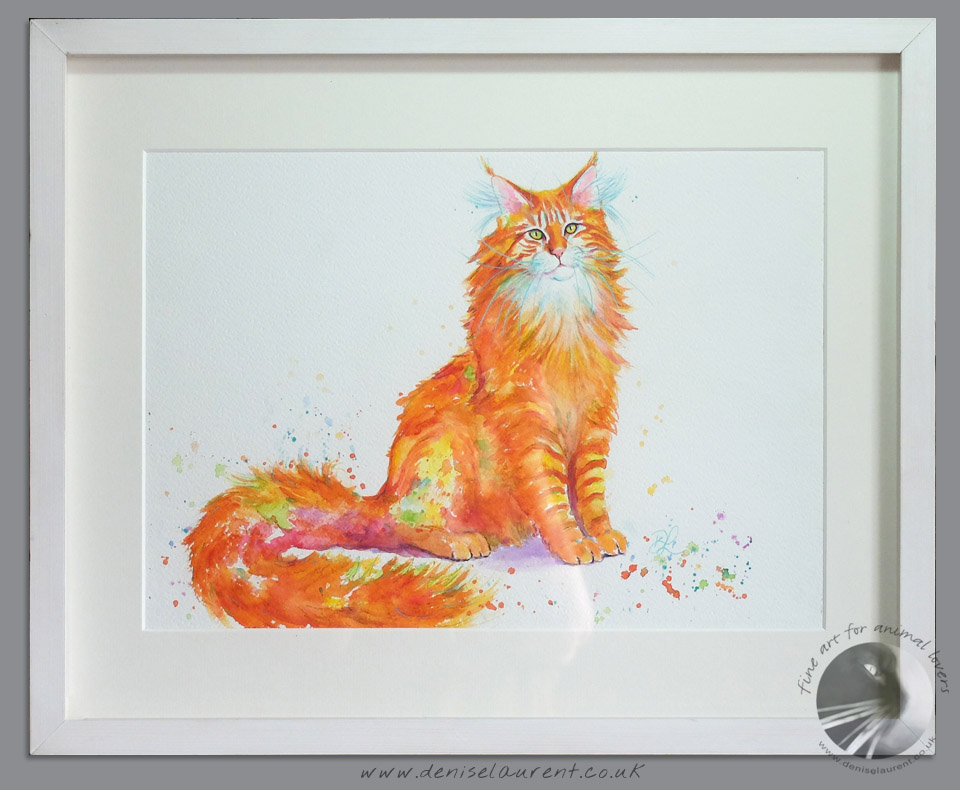 He comes in a 20×16 inch single mount and a shabby chic frame. The frame is a box frame in wood, lightly painted white and distressed to create a shabby chic style. It's has acrylic glass to make it safe to ship
A beautiful spotty bengal cat. He's painted in watercolour with paint pens and some metallics too. After all, a bengal needs a touch of glitter in his coat. The photos don't show it but some of the his fur has metallic copper watercolour in places and in certain light it gives a beautiful shimmer. He is painted on a sheet of 40x30cm Cornwall paper in watercolour and paint pens.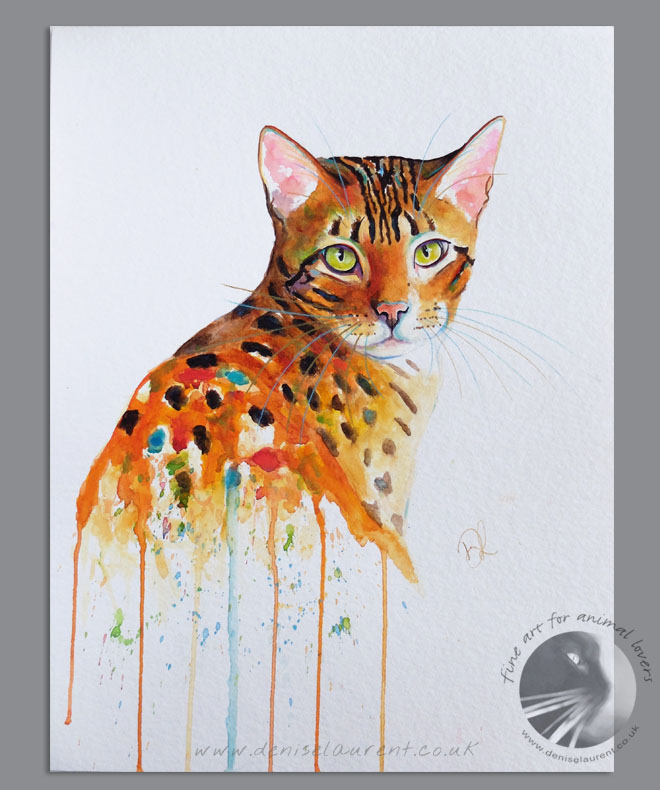 Two beautiful tabby maine coon sisters curled up together in their basket. They are painted in oils on a wood panel and framed in a stained oak wood floater frame.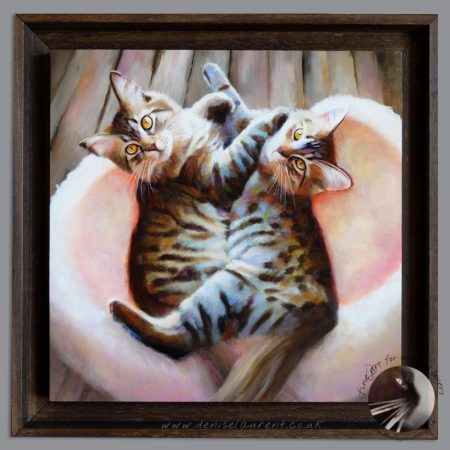 A 12×12 inch oil painting on panel framed in a stained oak floater frame.
A walking cat in resin. He is black, red and gold with touches green and blue in him and swirls of gold running through his coat. The resin is right across the piece giving a poured glass effect and the metallics in him really sparkle in the light. He changes from a dark cat to a bright golden cat depending on the light, almost as if the painting breathes in sunlight.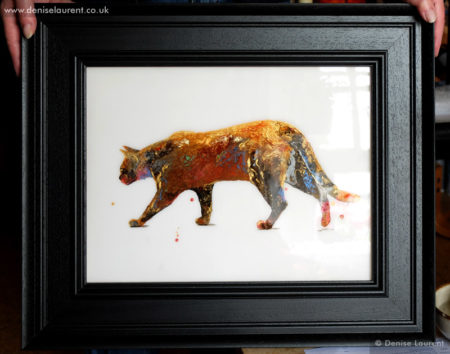 He is an 16×12 inch resin painting on a canvas panel in a black wood frame.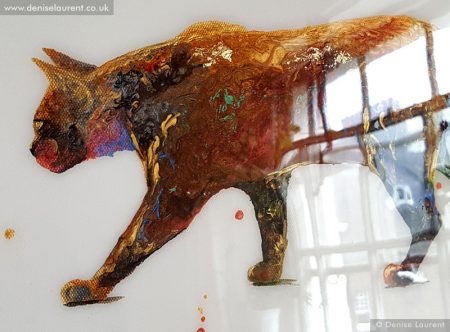 A new painting, this black cat has been painted on a red and gold ground using resin and pigments. This is the same process I use for my jewellery.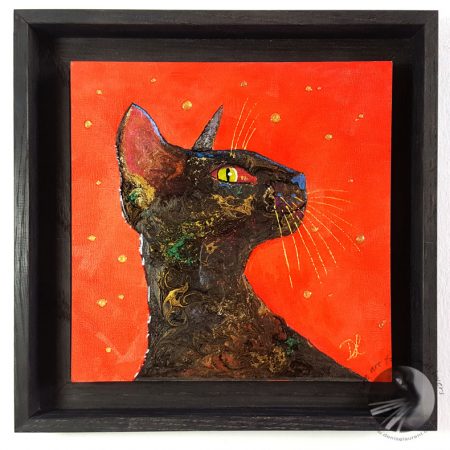 I love the way the resin looks like poured glass and the way the gold sparkles through him. He has touches of green and blue through him. The gold dots in the background are also resin and stand out from the red ground.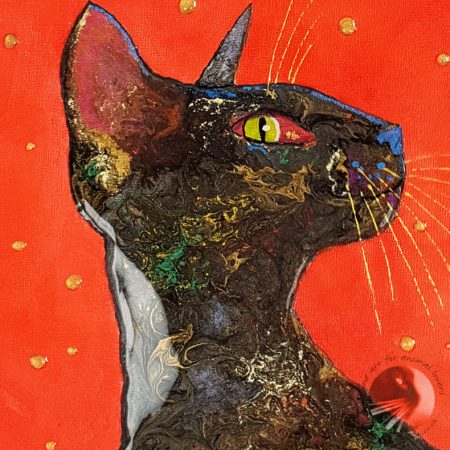 He is an 8×8 inch painting on panel in a black floater frame.