A little Blue Tit sitting on a branch in the tree outside my window. there are so many Blue Tits and Great Tits around at the moment. Filling up on the berries of Autumn.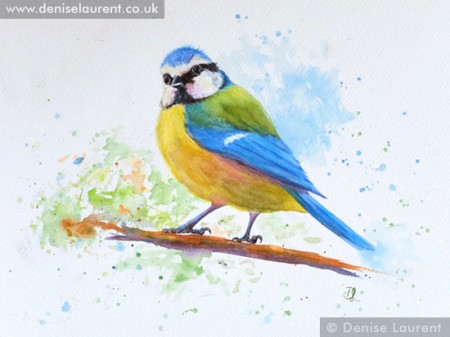 He is painted in watercolour on Saunders Waterford watercolour paper.
Another lovely surprise  this week. Eframe have used my painting 'On The Sofa' as their Framed Art of the Week. Thank you eframe, for a wonderful article.
The rose mount and teak frame they picked as a framing idea for the painting looks lovely against the colours in 'On The Sofa'. This is turning into quite a week for the dogs.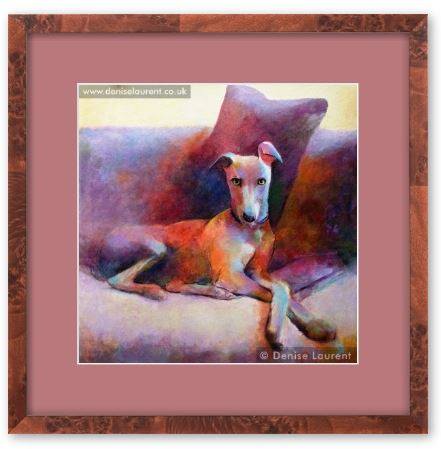 What a lovely surprise I found in my inbox. :-) There's an article on my dog paintings on the
Rescue Dog News blog
. Including Zonda, Life Is sweet and Jumping For Joy. Thank you Rescue Dog News!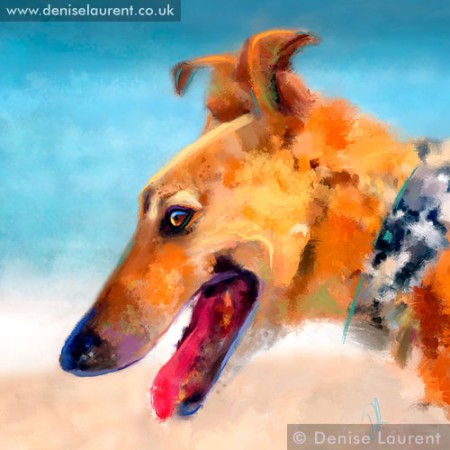 Rescue Dog News is dedicated to bringing you interesting dog related articles, news, stories, holistic healthcare, great training ideas, and informative and fun videos and photos. Their mission is to promote the bond between dogs and humans through education and entertainment.
I love trying to capture movement. This time I wanted to explore a cat in motion and what better cat than a cheetah with their amazing 70 mph sprints? I wanted him to feel like he's moving so fast that the brush can't keep up with him and the paint smears behind him.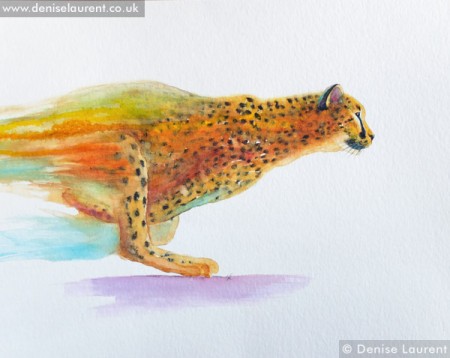 It's also a great reason to use some wonderful Autumn colours, golds, oranges and yellows with just a touch of teal.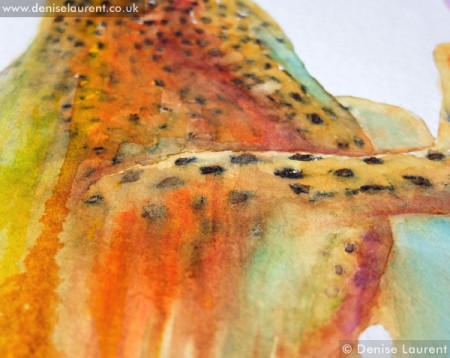 He is painted in watercolour on 16×12 inch Hahnemuehle Cornwall watercolour paper.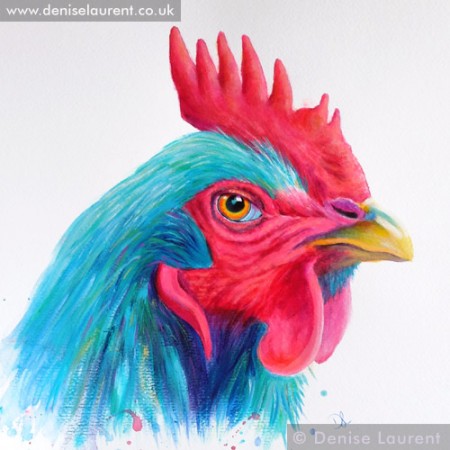 A large acrylic painting on Pittura paper. There are pinks and reds in her comb and blues and teal greens in her feathers. She's a very colourful hen. I'm calling her Sargent Peck because of the look in her eye. Chickens are birds of real character.
Another of my pigeons in flight series. This is 'Whoosh', a pigeon flying past my window. I like the speed and control he has over the wind and the thermals.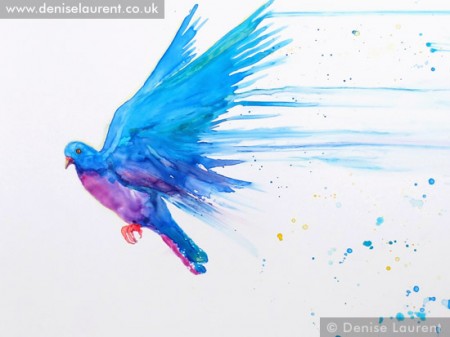 He is painted in watercolour on 16×12 inch Lana paper. Lana Vanguard paper from France is a synthetic paper designed for artists. It's a bright white, very smooth surface and non-absorbant, so the watercolour sits on top. With no loss of paint into the surface the colours of the watercolour remain brilliant, they don't fade as they dry, wonderful for colour lovers. You also get unusual effects in the paint as it drys.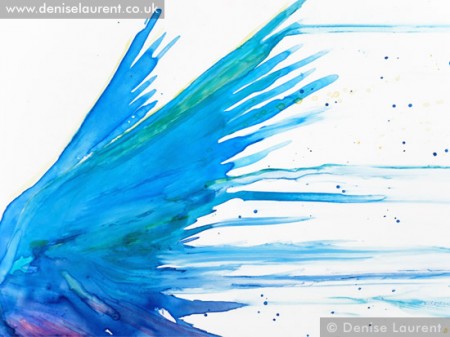 A little blue hen. I hope to do a series of different chicken characters. They have such wonderful faces and are such fiesty birds. She is painted on Fabriano paper in watercolour.
Here she is framed and ready to go to The South Galleries in the Royal Star Arcade Maidstone.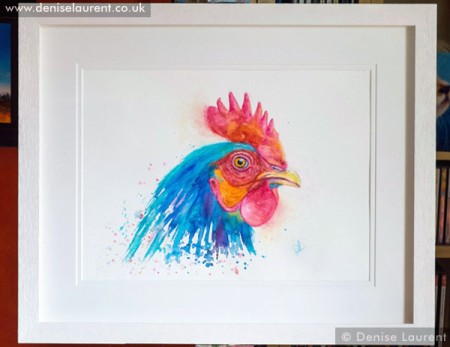 This is an Indian Runner Duck doing what comes naturally. They are unusual ducks, they stand very upright and they don't waddle along like other ducks, they're in much more of a hurry and they run.  She's painted in watercolour.
A hare sitting in the grass. Hares are a favourite subject of mine and I do love the colours in this boy. And those eyelashes! They have the most beautiful eyes! He is painted in watercolour on Fabriano paper.