A new walking fox brooch with reds, golds and pearls. I now, finally,  have some of the brooches in the shop.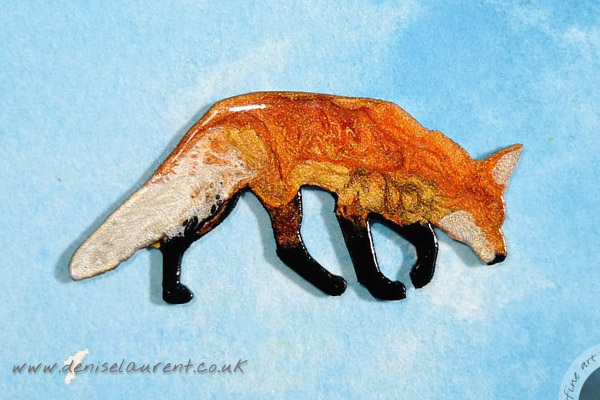 I am lucky to have a new line of greetings cards being produced by a publisher and the first set have arrived. They look amazing, the colours are brilliant! They are all square and a little bigger than the ones I make myself at just over 6 inches square or 160mm. Here they are along with my 3 cards.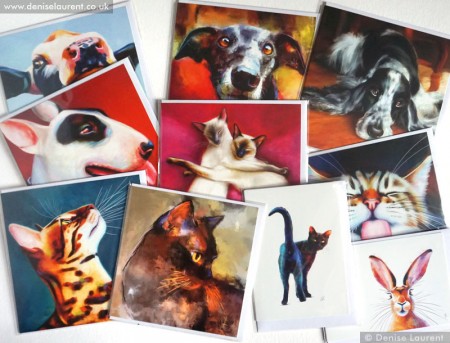 My other set of new cards are Elli, just under 6 inches square or 145mm, Black and Proud and Peak A Boo! Both a6 in size.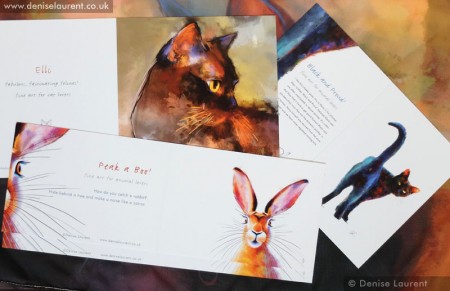 They are now in the shop. They'll are £2.50 each or 4 for £9.99. I can do mixed packs.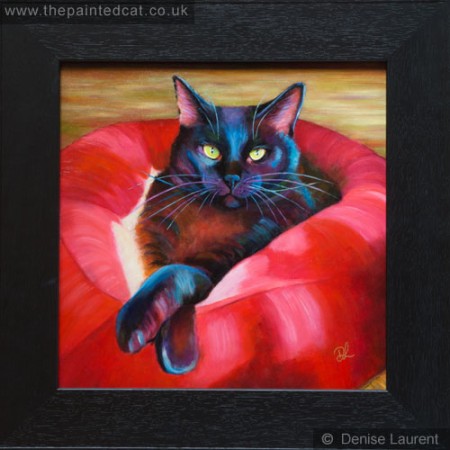 This is a new oil painting, Harry, who is a little on the plump side in his fat pink cushion bed. He loves it! So I called this one Plumptious. It's on show at this years Society Of Feline Artists Exhibition at the Llewellyn Alexander gallery, Waterloo, London until the 18th of September.
There are lots of wonderful paintings on display. Do come along and have a look. The gallery is just across the road from the Old Vic Theatre.
Another snow leopard, this time in water media with lots of messy splashing around and loads of colour. I love her profile and thought I'd add a splash of pink and gold vanishing out of the picture. I'm imagining an exotic bird beating a hasty retreat!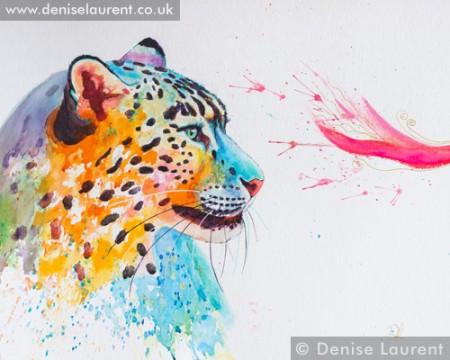 She is quite large, she's painted on 22×16 inch Cornwall paper in watercolour, inks, and paint pens. Here's a close up of the surface….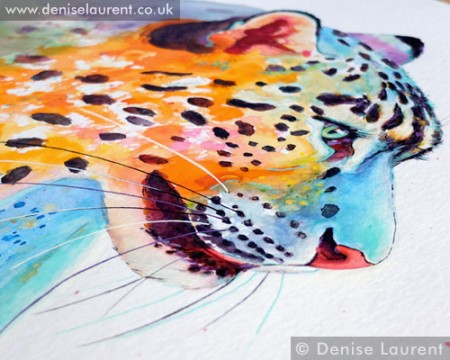 I've just about finished this new painting of a snow leopard Mum and her cub in profile. It's a 12×12 inch oil on canvas board. The last snow leopard I painted had warm fur against a cold blue green backdrop so this time I wanted to reverse that and try cool grey/lilac/blue fur against a soft, warm background. Now they just need varnishing.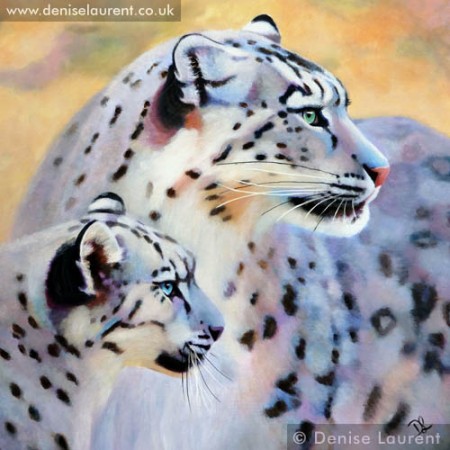 I saw a fox a while ago, sitting on the garden wall with the summer flowers around his paws. That's what inspired this watercolour painting. he sat for quite a while enjoying the sunshine. It's wonderful to see foxes in the city.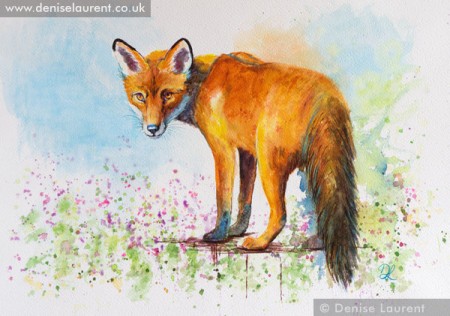 A Maine Coon tortoiseshell cat sitting in the sun. As she turns to look at me her fur is blown by the wind. So many colours! I thought she looked windswept and interesting with those long strands making a halo around her. She is painted in watercolour and inks on Fabriano Artistico paper, which has a lovely texture.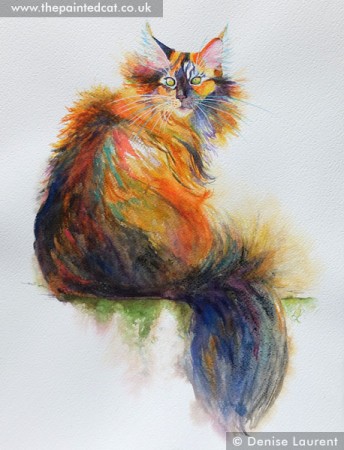 Ghengis is a a new chicken painting. This amazing lad is a Reza Asil cock. A fiesty gamefowl breed from India. He's quite a character and it shows in his posture. This is one chicken who'll defend his space! Painted in watercolour and drip pens on Saunders Waterford 16×12 inch paper, with some gold and bronze in those feathers, and a glint in his eye.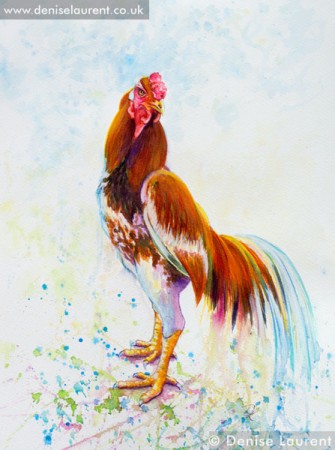 A Ring-necked Parakeet painting. These birds are now regular visitors to the gardens here in Central London. It's amazing to seem them living wild here. We have a small flock who come to eat the pods of a particular tree, I think it's an Indian Bean Tree. The parrots love it and i get to paint them. :-)