I recently finished a very unusual parrot painting. It's not the composition that's unusual but my idea to use the same materials on the painting as I do on the brooches. He looks quite amazing although it's hard to capture as the surface changes as you move him. The paint has an enamelled/metallic finish and it moves quite actively once you apply it so you can never be sure how the piece will turn out. I love the uniqueness of it and the way the colours spread into and around each other. I just had to do a larger piece!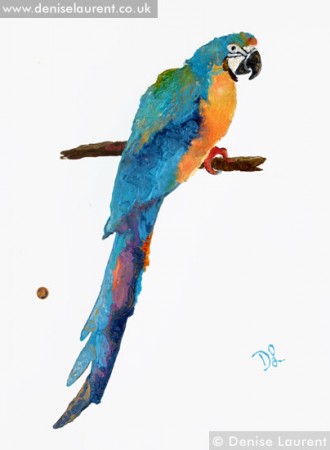 And here are some details photos of the finish. I painted him on Lanavanguard, an unusual and innovative artists paper. It's non absorbent, the paint sits on the surface rather than sinking into the fibres, and it seemed perfect for this technique, the paint won't affect the paper.
Another flying crow painting. It was a hot, sunny day and the crows were looking for food on the beach. The air is the hot and as the crow flies down through the thermals his wings create cooler swirls of air behind him, marking his flight.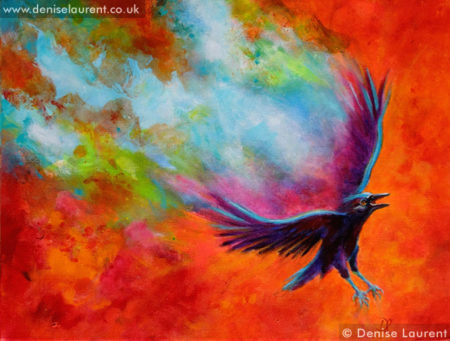 This is a 16×12 inch painting on canvas using acrylics, acrylic inks and oil pastels. Here's a detail of his wing.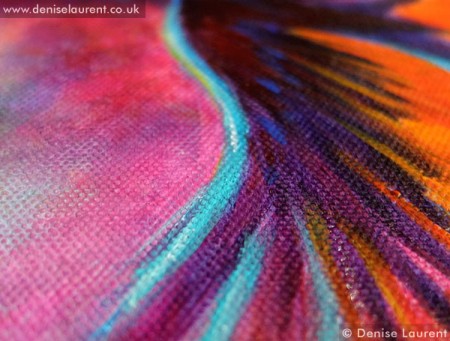 Just finished a new boxing hare pair. Just need to find it a title. This is an 18×14 inch watercolour on Saunders paper with a bit of watercolour pastels.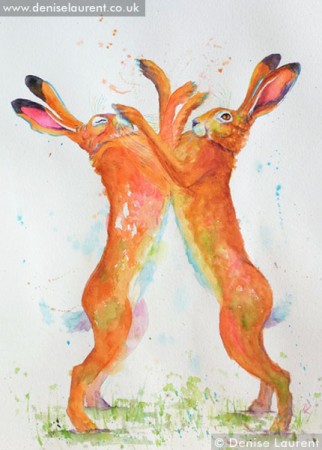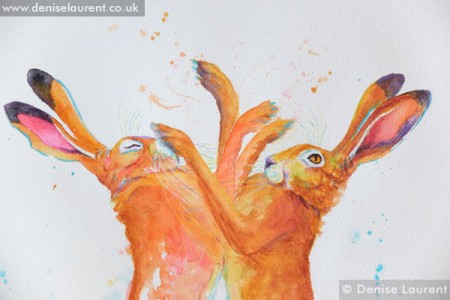 A pair of boxing hares leaping through the grass. A real sign that spring is on it's way. Hare courtship involves boxing, and is usually reluctant females fending off amorous males. In this painting she's giving him a smack in the eye to cool his ardour.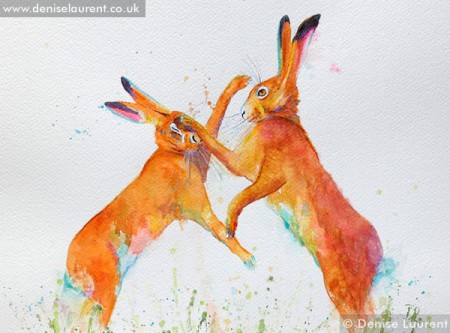 Painted in watercolour on Fabriano paper with watercolour pastels and drip paints.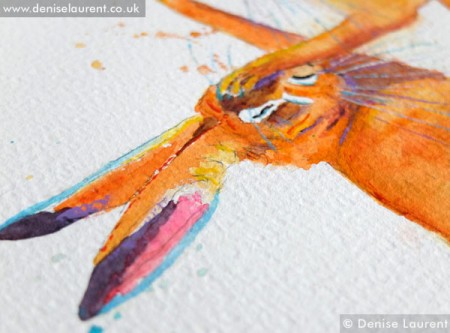 Recently I've started making brooches. I've been posting them on my facebook page, but I thought it was about time I posted a couple of them here on the blog.
It's a bit of a departure for me but I wanted to experiment with some interesting colour effects on a small canvas. So I made myself some animal and bird shapes to work on. I was so pleased with they way they turned out I made them into brooches. I like the idea of wearable art. :-) This once I've just finished is a parrot. There are lots of blues and golds in him.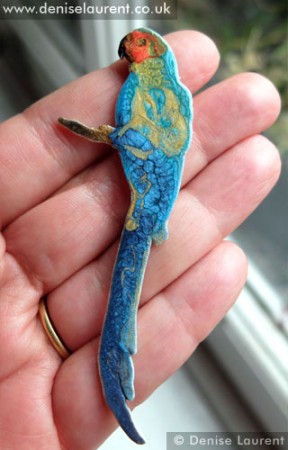 And here is a close up…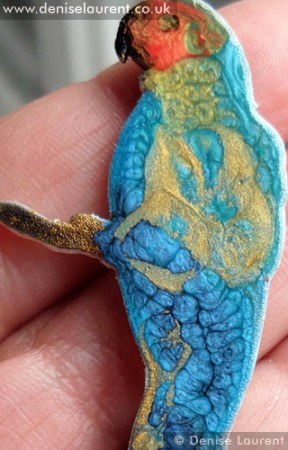 This crow is sailing down the thermals heading for the ground. It was a hot, sunny day and the crows were looking for food on the beach. As I watched them I was imagining the swirls of hot air flowing through their feathers as they banked and turned above the sands.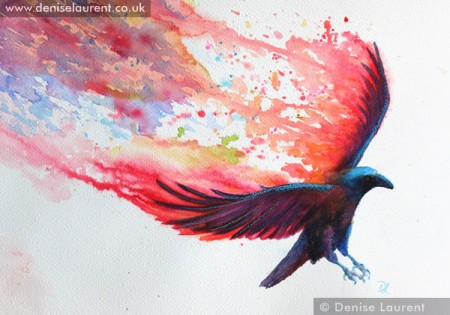 He's painted in watercolour and pastels on Fabriano watercolour paper.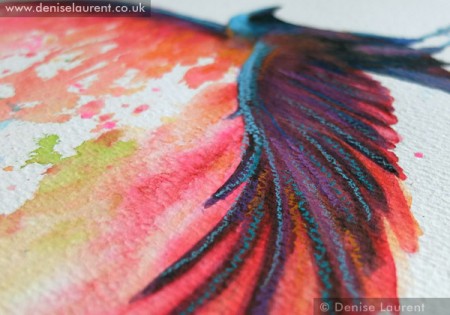 I've been working on this painting for a while. This is Tara, a snow leopard. I met her a few years ago at Santago Leopard Project, a truly beautiful cat and a privilege to see her so close. Those eyes are just amazing!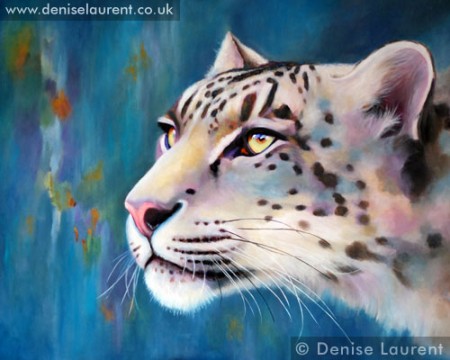 She's painted in oils on canvas board.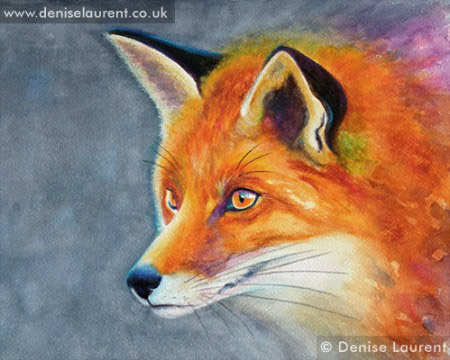 Fabulous Mr Fox, walking through the city streets. We get quite a few foxes here in London. I see them late at night walking the streets or exploring the back gardens. It's amazing to see them so close. He's painted in watercolour and watercolour pastels on paper. The pastels allow thick colour and texture over the watercolour washes.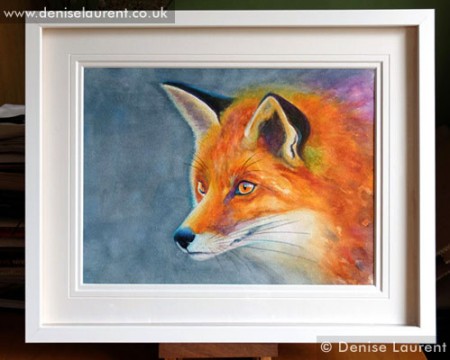 Another adventure in framing. This one also came from eframe. I love this pewter frame for Rose In the Snow. It seems to have the softness and elegance of a white frame but adds something to the picture I think.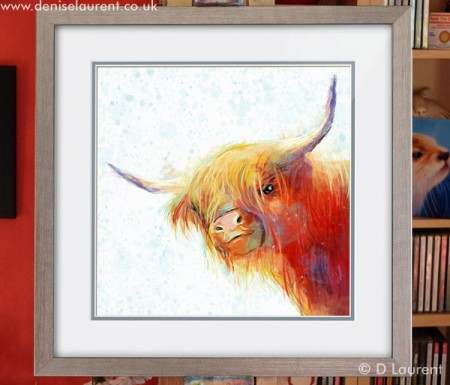 My customer agreed, so it has already gone of to its new home. She's an 12×12 inch print in a 16×16 inch frame by the way, sitting on my easel
A robin portrait in watercolour from earlier this year. The original has sold but now I have prints of him available.