Ring-tailed lemurs are very distinctive with their amazing black and white stripped tails and their beautiful eyes. They don't use these amazing tails to cialis url href online grip the trees like their primate cousins do. They have a smellier role to play in lemur life. Lemurs use scent to mark their territories and during the mating season the males use scent to establish their dominance over other males. They do this by rubbing their tails with the delaware caverta generic viagra veega secretions from their scent glands in their wrists and then waving them in the air in an attempt to out stink each other. The smelliest lemur wins!  :-)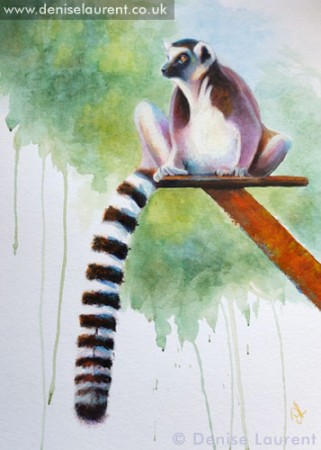 This is a 40 x 30 cm acrylic painting on Cornwall paper, partly painted in a watercolour style and cialis consultation delivery discount health man partly with thicker paint and a knife, giving a mix of texture.
Ring-tailed Lemurs are beautiful and it would be a shame if we lost them. Sadly they are endangered because of a loss of their habitat. Hopefully breeding programs will help them survive.
I have finally managed to make a print from my Young Starling painting! It's taken me a long time to wrestle it into submission but I've now got the very first print out of the printer. Available in the animal art gallery.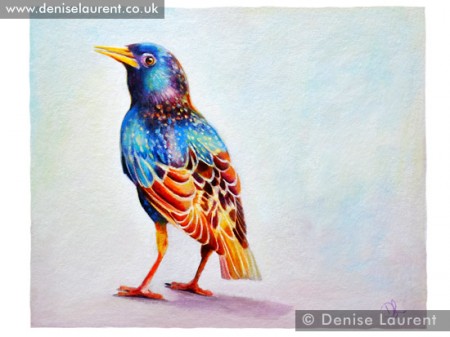 A new red kite. This is 'Lunch'. So named because he's sat in a tree waiting for food to go out on the lawn. Having done a couple of flying kites I wanted to focus in on those amazing eyes.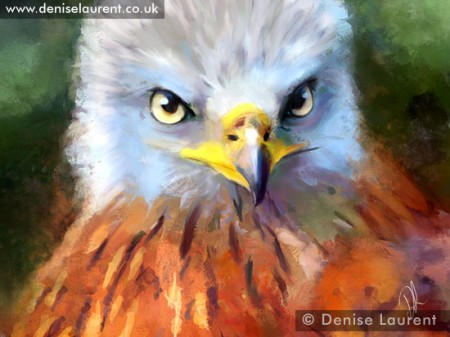 Another hare with amazing whiskers, a favourite subject of mine. He's sketched on 16×12 inch Cornwall paper using pencils, and painted with acrylics. He's such a lovely golden colour with hints of lilac and green and touches or turquoise.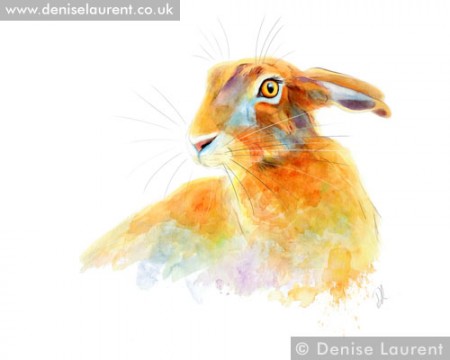 This is Dooku a handsome chocolate tabby oriental, staring at something that's just splashed into the pool. I love that profile and his wonderful colouring with the light coming from behind him. He is a very elegant cat.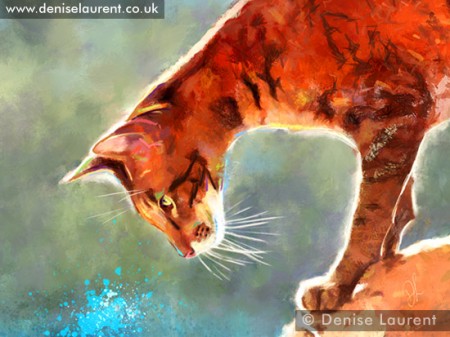 A new siamese! About time I did some more siamese work! This is an old favourite of mine. I've sketched this pose before but finally I've done something with it. The model is Kennedy who reminds me so much of Sass, a siamese who stole my heart many years ago.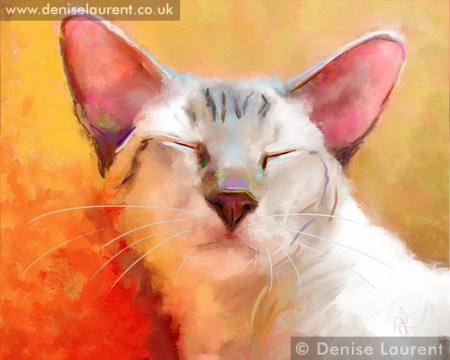 Chihuahuas may be small dogs but they're full of energy. This little dog is jumping for joy. Racing around, full of the joys of spring with the sun on her golden coat and many puddles to jump in. What more can a little dog ask for? :-)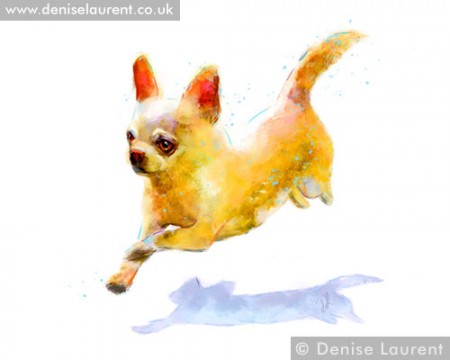 This is Zonda printed as a 16×16 inch aluminium print. I love these aluminium prints! They look stunning and the colours come up so beautifully under the glossy finish. With the hidden fittings on the back it seems to float on the wall. It looks amazing.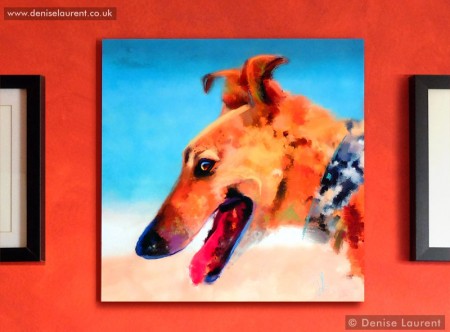 It's printed on an aluminium Dibond base and laminated with a fine, glossy, UV film.   It's strong but surprisingly light weight so it can hang on the wall easily.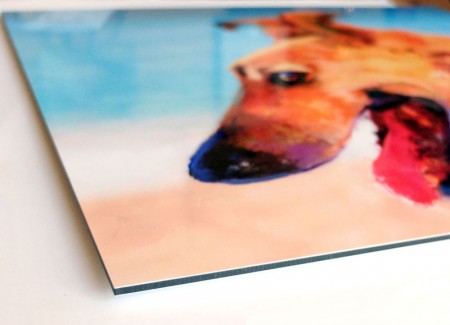 The edges of the print.
This is Rose, a gorgeous Highland Cow. She was peering out from behind a cart on a snowy winter's day and I loved the expression of friendly curiosity on her face. I was going to keep it to a white background but I added some soft turquoise snowflakes as well. It was snowing on the day and I think the colour suits her.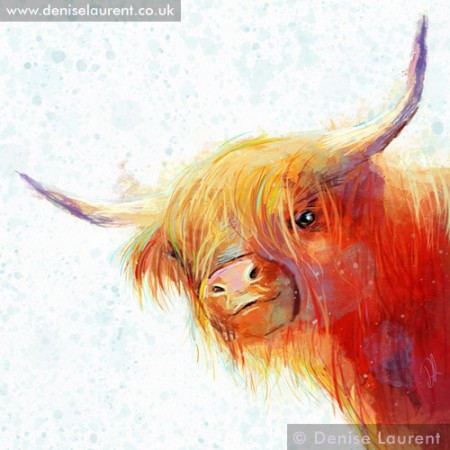 Prints available in the gallery.
This is one of the Christmas commissions and I loved painting him. Meet Kimble, a red kite.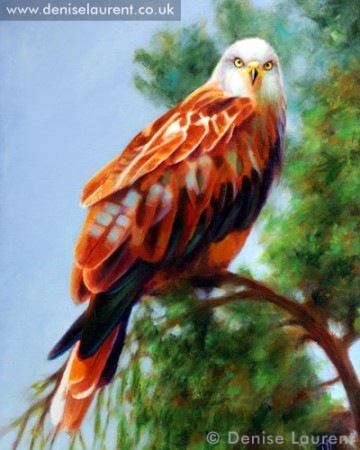 He's an amazing bird and a regular visitor to the garden. He often sits in the trees for a break in his busy day. He comes so often they've named him Kimble.
He is a 16×12 inch acrylic painting on stretched canvas.