I was sitting at the vets one day, looking out of the window at this beautiful tree, all in bloom, just across the road.  I really want to paint that tree I thought. It's such a beautiful shape and looks glorious in its blossom. I love trees but as you know, buildings are really not my usual  thing but I decided to give it a go. Just for fun :-)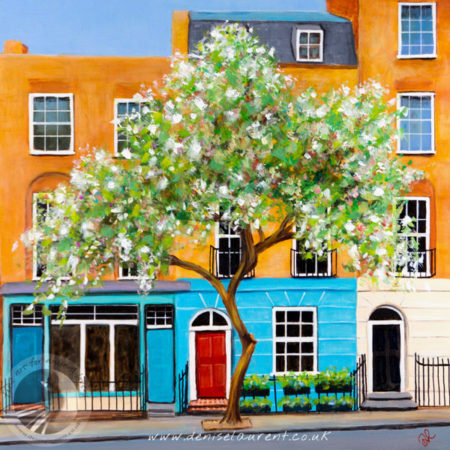 It's a 12×12 inch acrylic painting on a gessoboard. Maybe it isn't finished, I'm wondering if I should add a dog walking along the pavement? So iy might just evolve a little more. :-)
Spring is here and I've been working on my window boxes. This is Mulberry, a brown spotted Bengal cat, sleeping in a hanging basket. Now, I know cats love odd places to sleep and they have a thing for baskets and boxes, but this is taking it to the next level!
Luckily my three prefer the sofa. :-)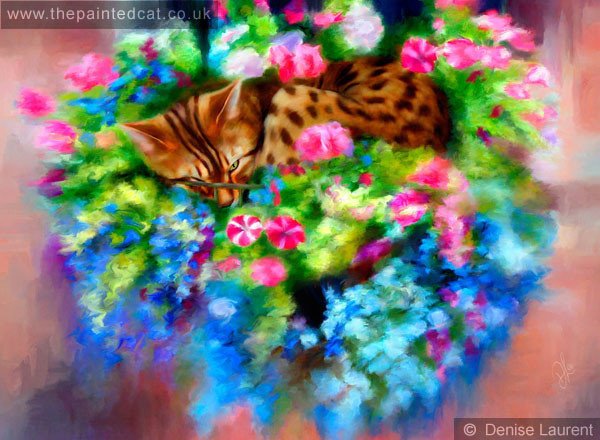 This painting is sold but you can get a print here…
Meet Claude, a gorgeous pheasant who regularly comes to the garden to help himself to the bird food. But who could object when he's just so handsome with all those iridescent feathers? This is a commissioned painting, the idea was to capture him in action tackling the feeder.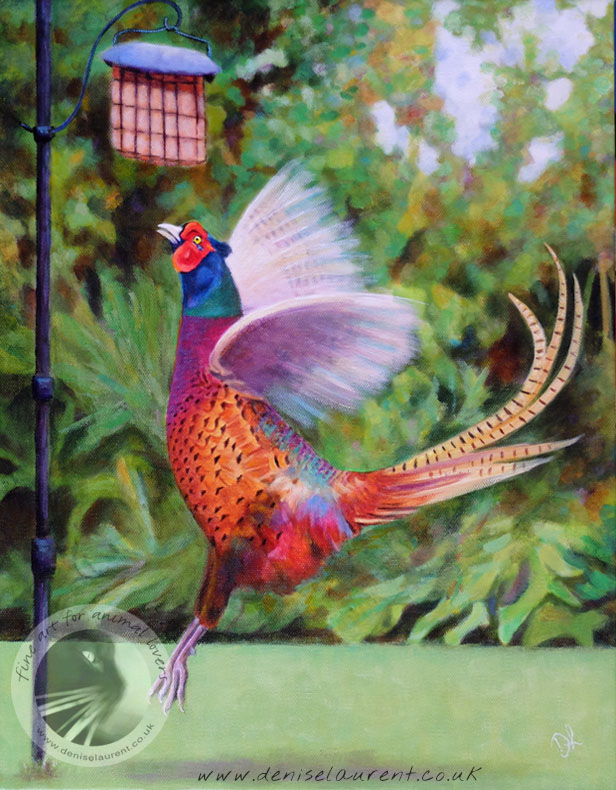 He is a 16×12 acrylic painting on stretches canvas. The photo doesn't show it but there are iridescent colours in his feathers in blues, greens and purples, gold and coppers.
I've been working on a small Puma painting. I'm thinking of some large paintings of big cats but wanted to start with something a bit smaller with a good excuse to play with lots of colour. So a glorious golden cougar with a blue green background seemed like a great place to start. She is a very colourful girl, a 10×10 inch acrylic painting on a panel. Now I just have to decide on what colour frame to get for her.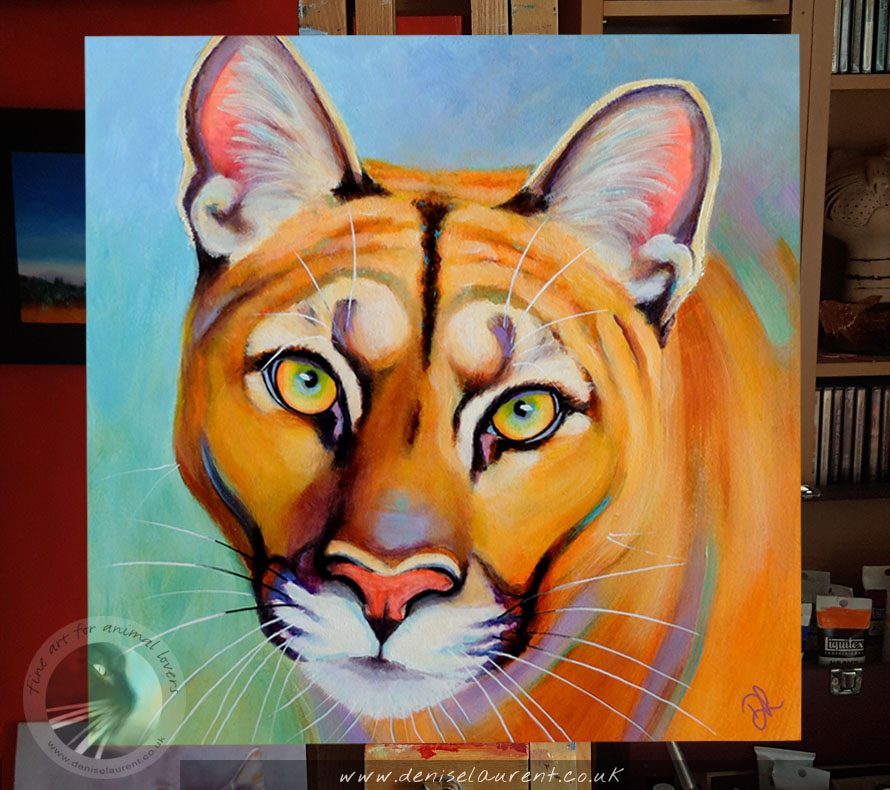 This handsome black maine coon cat has is staring hopefully at the fish on the table. He really hopes it's for him and is thinking about just helping himself. No-one would notice, would they? He's painted in acrylics with colourful whiskers and a warm red background.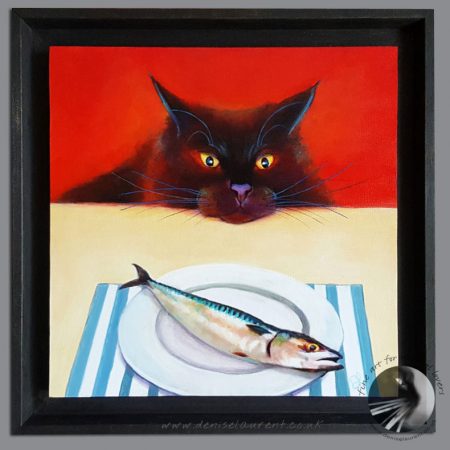 A big red Maine Coon cat sitting in the sun. He's a gorgeous big ginger fluff ball with a soft and cuddly personality so I wanted the painting to be lively a colourful, just like him. He is painted in acrylics 20×16 inch Cornwall, which has a lovely texture.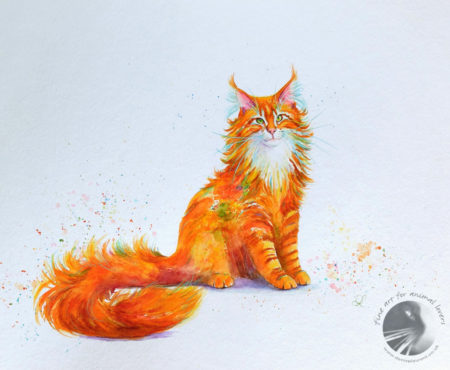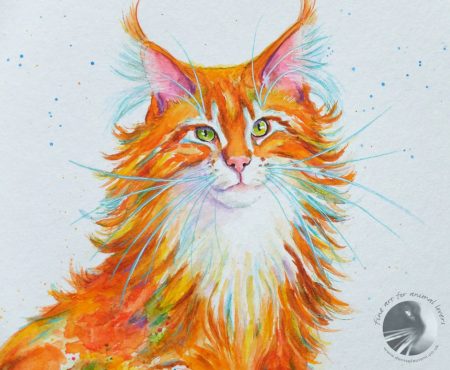 He comes in a 24×18 inch double mount, ready for you to frame as you'd like. Or he can come without the mount if you'd like to mount him yourself. He ships wrapped in tissue paper in a strong gift box, so he will reach you in perfect condition.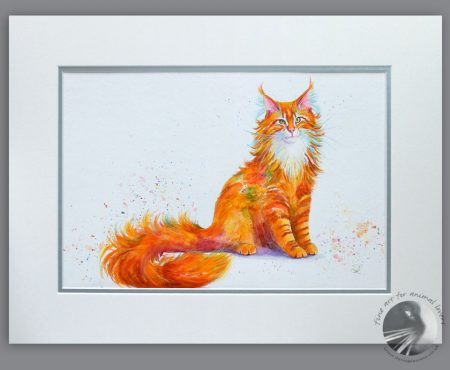 Oh those ears and whiskers! I had fun with this boy, he is painted with liquid paints and paint pens on 16×16 inch Fabriano paper. Or I should say scribbled with liquid paint and drip pens in hot colours, red, orange and yellows with teal and green whiskers. A really colorful character. :-)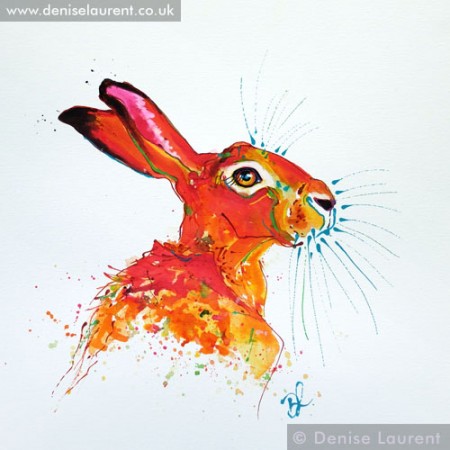 A new painting, this is the lovely Stanley. Doesn't he look like an elegant dog? Especially the way he's sitting with his paws crossed. But how do you paint a grey dog on a grey sofa? With colour of course. :-)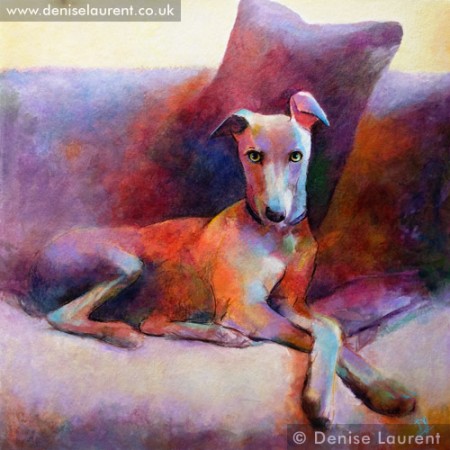 There's a warmth in his coat and a lovely soft light coming from the side, so I wanted to play with that theme. I started with warm colours for the underpainting and then added soft lilacs and blues for the final layers. The result is a painting that  glows when the light is warm and sunny. It does make it quite hard to photograph though!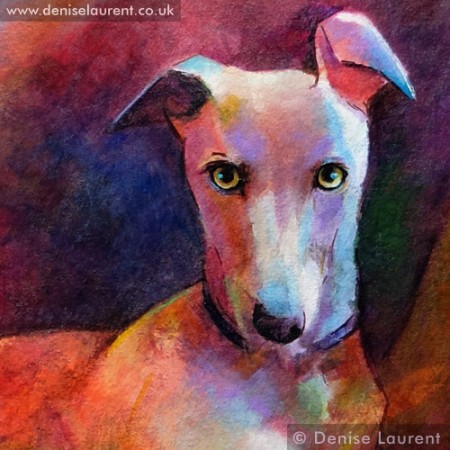 He's a 16×16 inch painting in acrylics on Cornwall paper, painted using a brush, a knife and paint pens.
Rocky the Rockhopper penguin diving beneath the waves. I adore penguins and for this painting I really wanted to get a feeling of the water itself, the space he's flying through with such ease. When you watch penguins under water they move so amazingly well, like bird shaped torpedoes.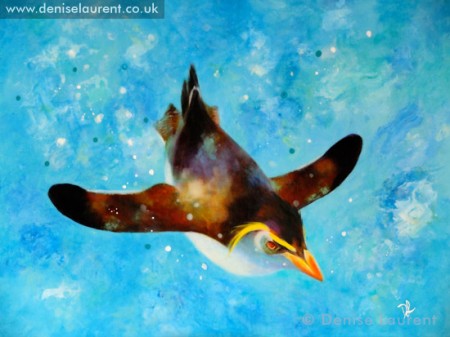 Flying Beneath The Waves
16×12 inches acrylic on board
Sold
So the idea started with trying to capture him 'in flight'  under water. Once Rocky was painted I wanted to add some extra dimensions to the painting. I started by adding drops of acrylic paint to form bubbles. I let them set fully as nice distinct drops and then I added several layers of clear acrylic gels so that Rocky really appears to be under water.
I also used some photo luminescent crystals in the paint so that Rocky would glow in the dark. As light levels fall they glow blue. It's very hard to photograph though.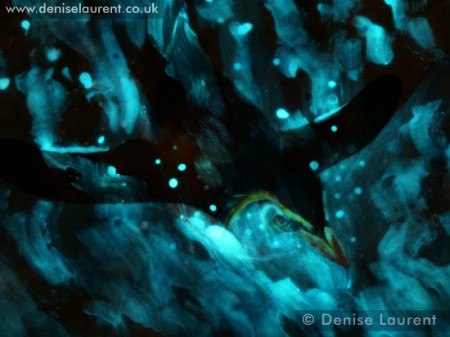 I loved painting this one and I loved rocky so much I would happily have kept him. But he's already gone to his new home.
This little painting of an otter was a joy to do. I love watching otters. They really seem to enjoy themselves, diving in and out of the water, playing, fighting and racing around through their environment.  They seem to know how to enjoy life.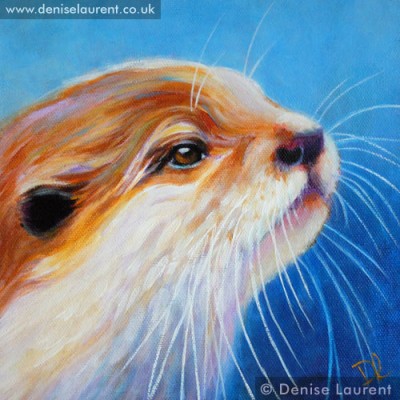 Otter
6 x 6 inches acrylics on board
£65
Buy him here or contact me.