A great tit painting. I'm thinking of calling it The Local Cafe. :-) Snowy weather but the birds come for their grub at the feeder and can do a bit of house shopping while they're there, checking out the bird boxes for the spring season. :-)
This is an 8×8 inch acrylic painting on panel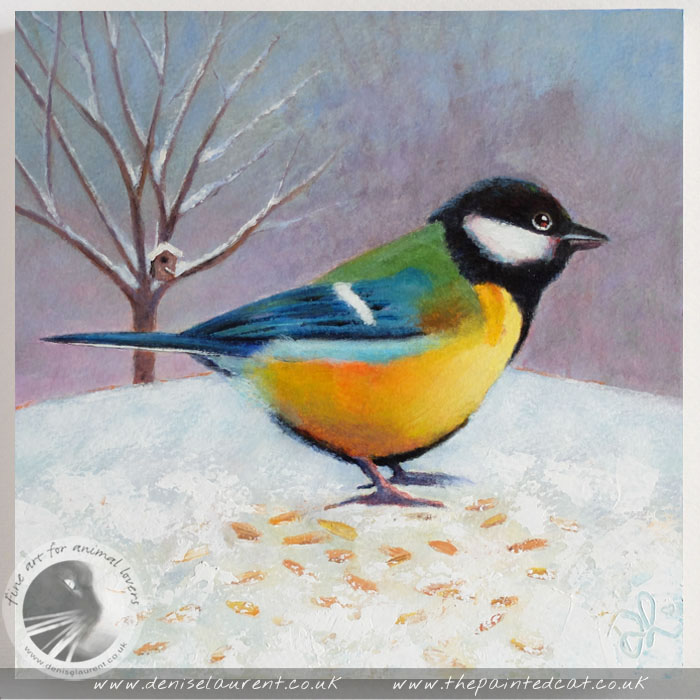 Very exciting! Musician Greg Sover is using my crow painting 'Coming In To Land' on the back of his new album cover Songs Of A Renegade. I'm thrilled that he chose it, what do you think?
You can find the album on itunes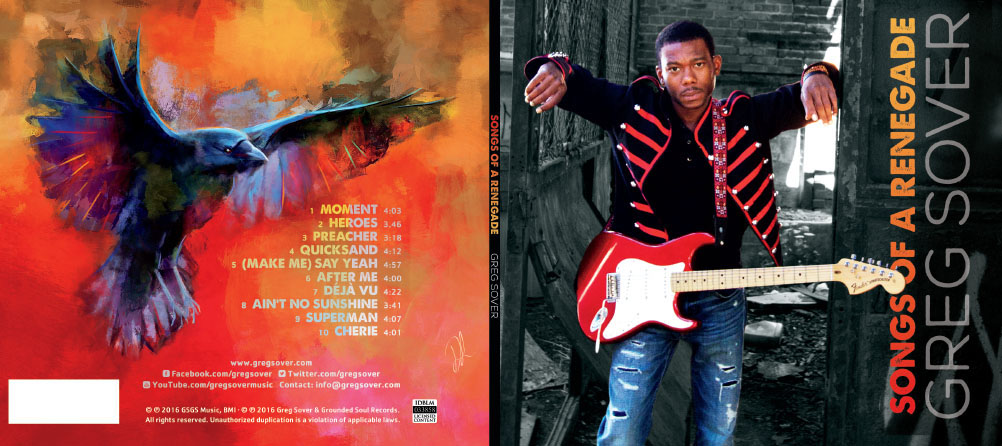 Or the web site here https://www.gregsover.com/
A sparrowhawk is such a beautiful bird with those gunmetal blue feathers and that fierce orange eye. Very beautiful. He is painted on Fabriano Artistico 12×9 inch paper in watercolours with some paint pens too.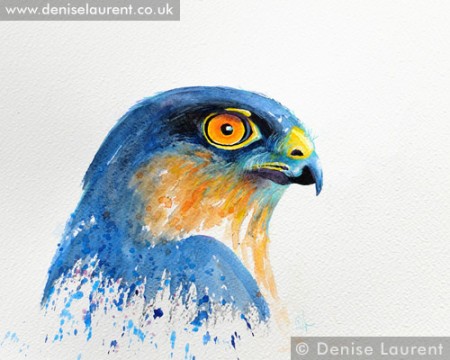 He comes in a 14×11 inch double mount, ready to frame.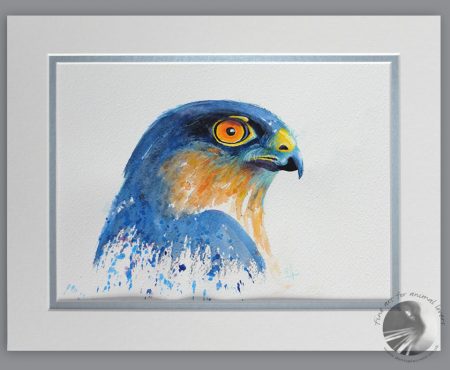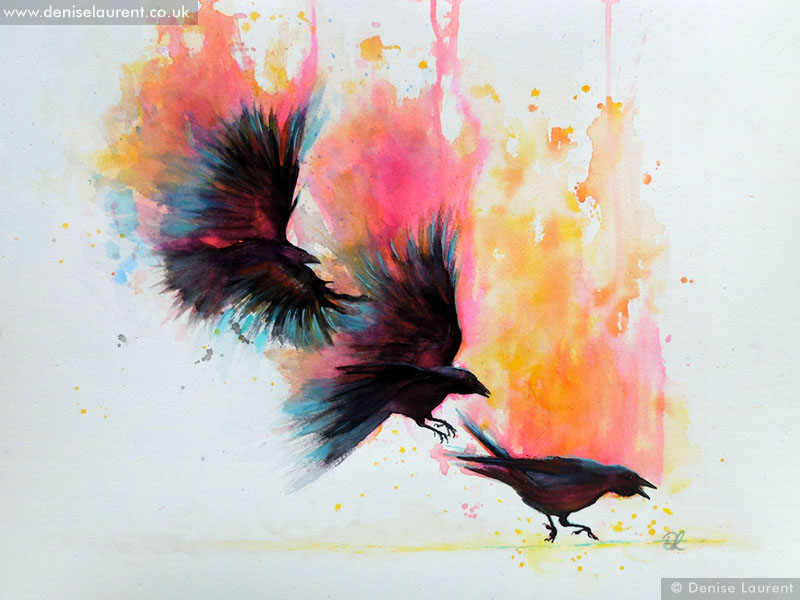 One day in my local park and I noticed a family of crows, The Gracks, flying around and coming down to land at a particular spot. I wondered what they were up to so I stayed put and watched them for a while. Was it food I wondered? But no, I realised that this was a game! The crows would take off, circle for a while and then all three would chase down the wind and attempt to land at the same spot. They did it over and over, shrieking and cawing as they came, I swear they were laughing. I think these were lessons in fast landings for the kids.
Crow school does look like fun!
This is watercolour and paint pens on 22×14 inch Fabriano Artistico paper.
The Gracks are a family of crows who live nearby and I often see them in the local park. Usually they keep their distance from humans but in summer, when the kids are growing up fast, they bring them down into the park to forage. There's usually only one adult to keep an eye on the youngsters (and a careful eye on us humans). I imagine the other bird is taking a well earned rest! The kids do what all kids do, squabble and beg for food and run around having fun and the adult intervenes occasionally and tries to keep them working on their lessons, scavenging for food in the grass.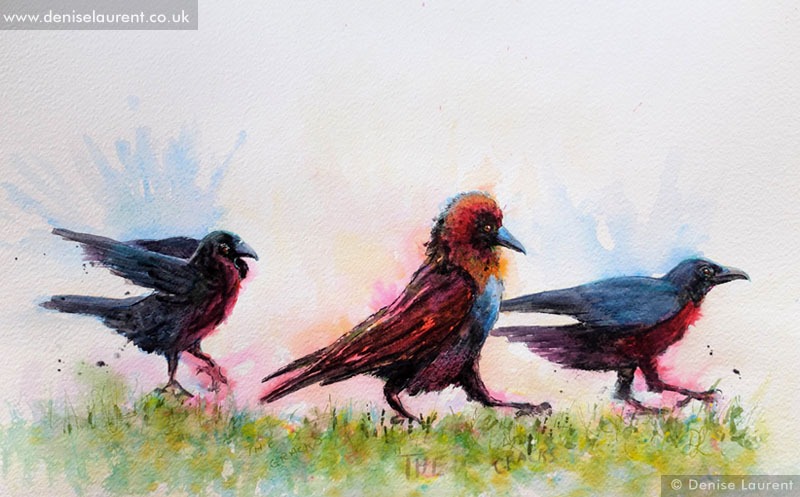 They are in the Bird Gallery.
Ghengis is a a new chicken painting. This amazing lad is a Reza Asil cock. A fiesty gamefowl breed from India. He's quite a character and it shows in his posture. This is one chicken who'll defend his space! Painted in watercolour and drip pens on Saunders Waterford 16×12 inch paper, with some gold and bronze in those feathers, and a glint in his eye.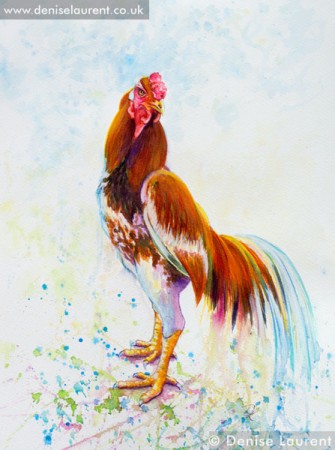 A Ring-necked Parakeet painting. These birds are now regular visitors to the gardens here in Central London. It's amazing to seem them living wild here. We have a small flock who come to eat the pods of a particular tree, I think it's an Indian Bean Tree. The parrots love it and i get to paint them. :-)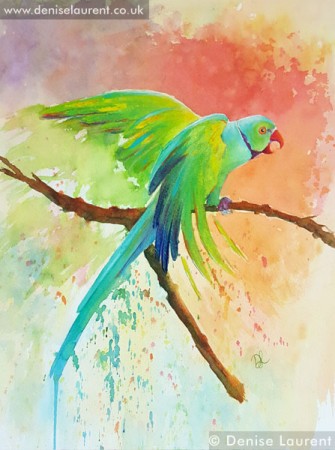 A new starling painting, Splashy Starling. It was raining but he was full of the joys of spring, parading around in his mating plumage.Very fine he looked too, all those iridescent colours in his feathers.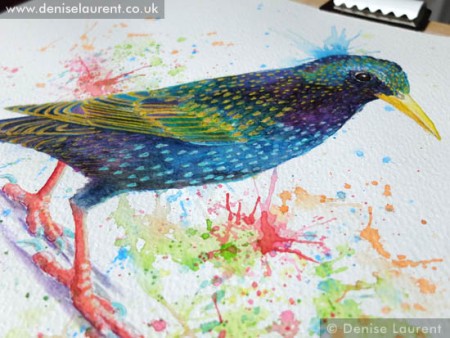 A red Cardinal sitting on a branch. What amazing birds they are, the males look splendid in their red feathers.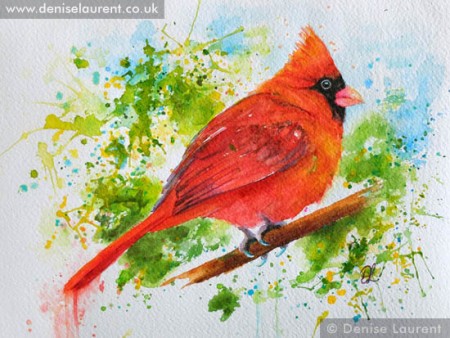 He is a 12×9 inch watercolour and ink painting on Saunders Waterford paper.