I love goldfinches. There are so many here in Central London, you hear them singing from high above and watch them flying in groups from tree to tree. So pretty and such lovely singers too. If there's a sweet song in the air and small birds perched on the tv aerials. you can bet they're goldfinches.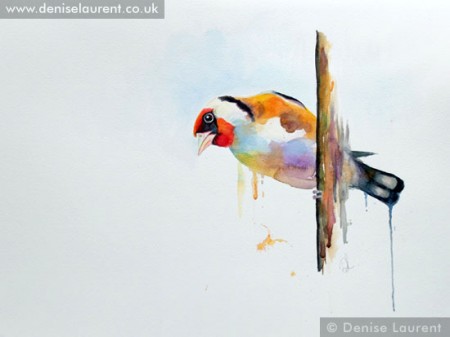 This one is perched on a post checking out a feeder. He is painted in watercolour on Saunders Waterford watercolour paper.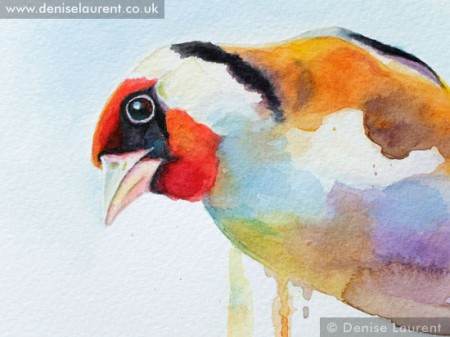 I saw these two pigeons in the park while I was feeding the robins. They were having an argument and one pigeon effectively punched the other with his beak! I guess it's the only way to get your point across forcefully if you're a pigeon. :-)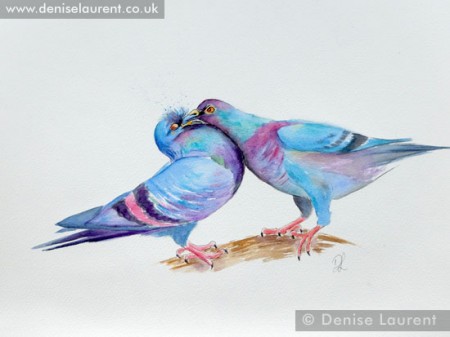 I loved the cross expression on his face! I think that's called getting beak slapped.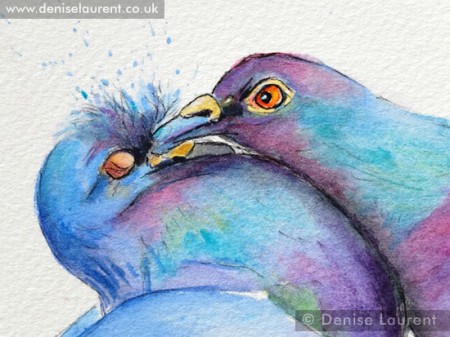 It's a 16×12 inch painting in ink and watercolour on Saunders Waterford watercolour paper.
A robin portrait in watercolour. He is a regular visitor in the gardens here and has just had a nest full of fledglings. Such a lovely sound, all those baby robins singing in the hedge. He and the wife have been coming for food to help feed the family and I've been able to watch them close up. A real privilege.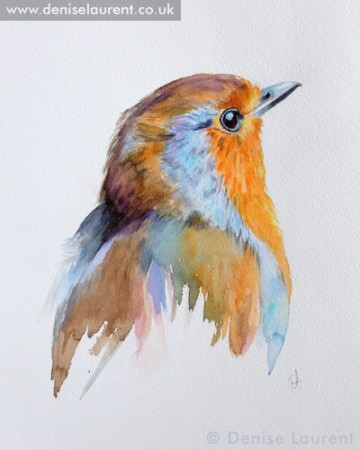 Some little sketches of Blue tits. they come most days to the feeder on the window. These two sat in the tree ouside and seemed very fluffy. I think they must be new fledglings.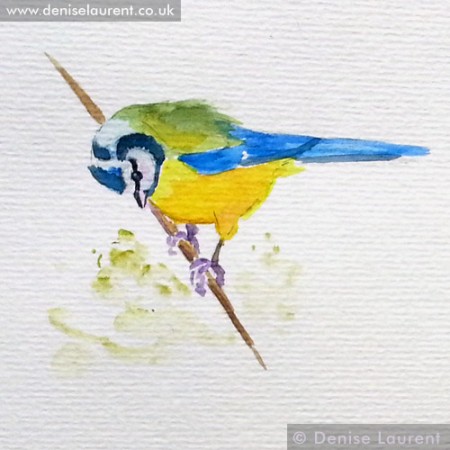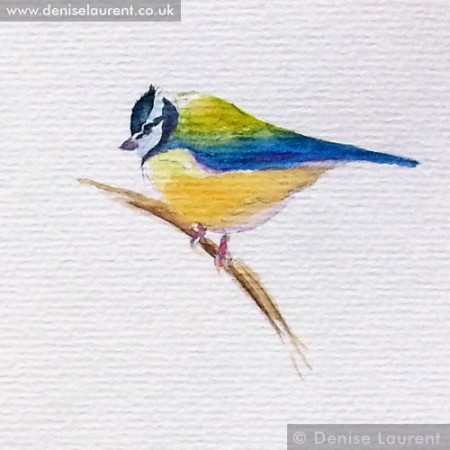 This is a watercolour sketch os a Waldrapp Ibis. Amazing looking birds.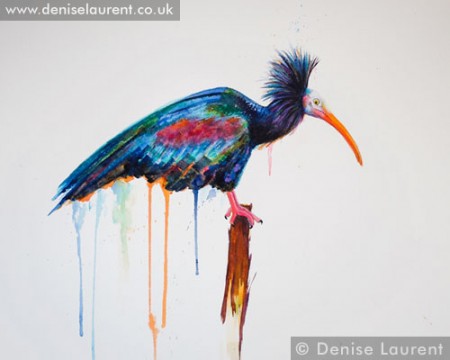 I love his hat. :-)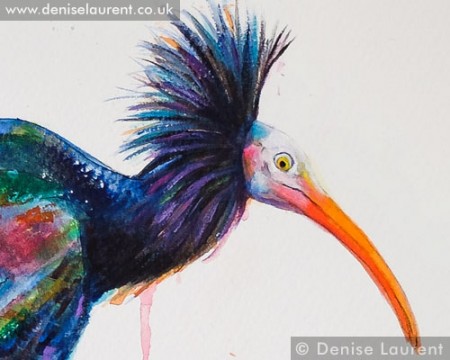 I've been playing with ideas for a flying pigeon painting and enjoying the process of sketching him. The first sketch I wanted to try the shapes he makes in the air.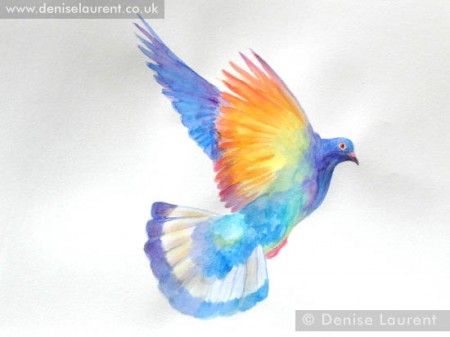 The second sketch I wanted to have some fun with washes of colour.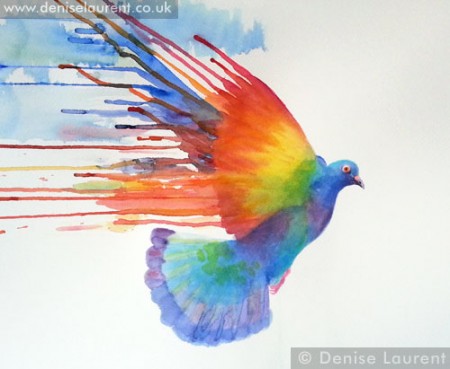 I have finally managed to make a print from my Young Starling painting! It's taken me a long time to wrestle it into submission but I've now got the very first print out of the printer. Available in the animal art gallery.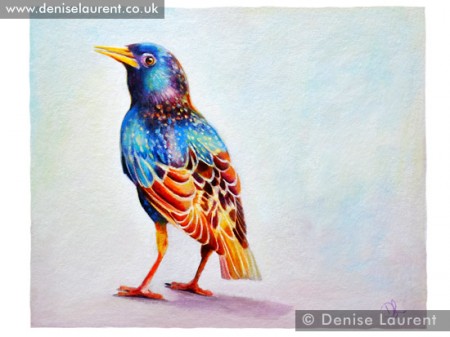 A new red kite. This is 'Lunch'. So named because he's sat in a tree waiting for food to go out on the lawn. Having done a couple of flying kites I wanted to focus in on those amazing eyes.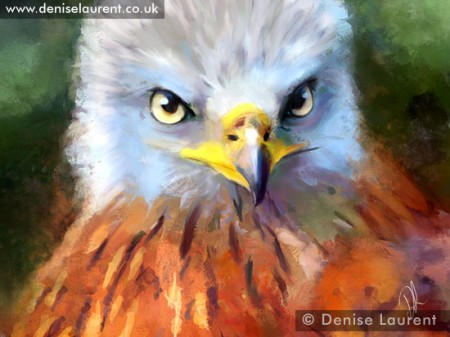 This is one of the Christmas commissions and I loved painting him. Meet Kimble, a red kite.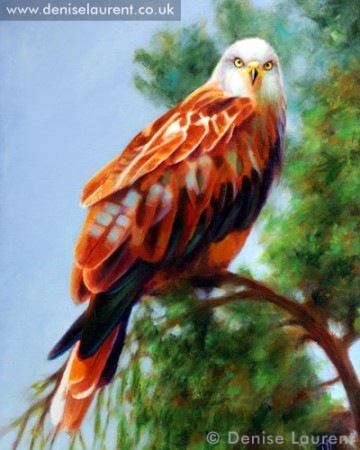 He's an amazing bird and a regular visitor to the garden. He often sits in the trees for a break in his busy day. He comes so often they've named him Kimble.
He is a 16×12 inch acrylic painting on stretched canvas.
Rocky the Rockhopper penguin diving beneath the waves. I adore penguins and for this painting I really wanted to get a feeling of the water itself, the space he's flying through with such ease. When you watch penguins under water they move so amazingly well, like bird shaped torpedoes.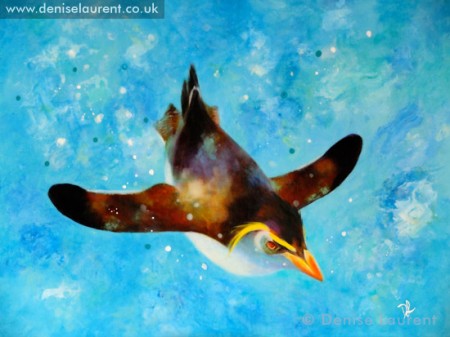 Flying Beneath The Waves
16×12 inches acrylic on board
Sold
So the idea started with trying to capture him 'in flight'  under water. Once Rocky was painted I wanted to add some extra dimensions to the painting. I started by adding drops of acrylic paint to form bubbles. I let them set fully as nice distinct drops and then I added several layers of clear acrylic gels so that Rocky really appears to be under water.
I also used some photo luminescent crystals in the paint so that Rocky would glow in the dark. As light levels fall they glow blue. It's very hard to photograph though.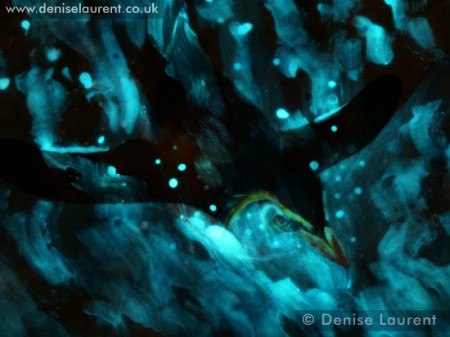 I loved painting this one and I loved rocky so much I would happily have kept him. But he's already gone to his new home.