Ghengis is a a new chicken painting. This amazing lad is a Reza Asil cock. A fiesty gamefowl breed from India. He's quite a character and it shows in his posture. This is one chicken who'll defend his space! Painted in watercolour and drip pens on Saunders Waterford 16×12 inch paper, with some gold and bronze in those feathers, and a glint in his eye.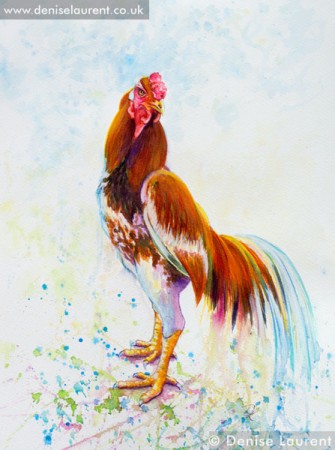 A Ring-necked Parakeet painting. These birds are now regular visitors to the gardens here in Central London. It's amazing to seem them living wild here. We have a small flock who come to eat the pods of a particular tree, I think it's an Indian Bean Tree. The parrots love it and i get to paint them. :-)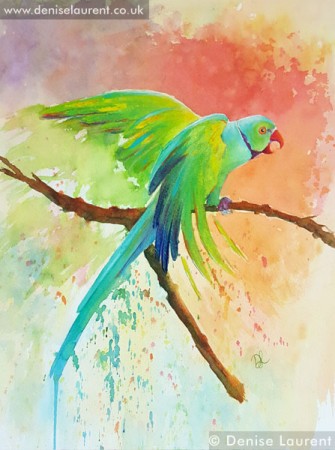 A new starling painting, Splashy Starling. It was raining but he was full of the joys of spring, parading around in his mating plumage.Very fine he looked too, all those iridescent colours in his feathers.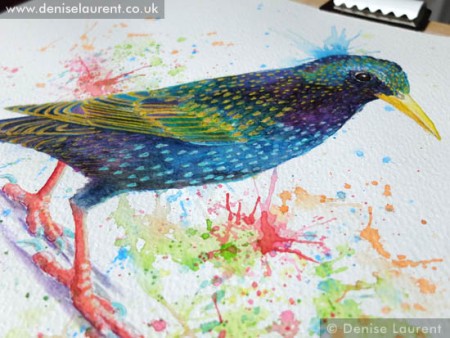 A red Cardinal sitting on a branch. What amazing birds they are, the males look splendid in their red feathers.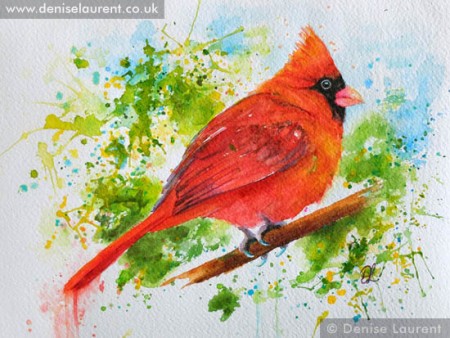 He is a 12×9 inch watercolour and ink painting on Saunders Waterford paper.
Another gloriously colourful parrot. Painting him has really cheered me up on a grey, gloomy day. Such beautiful birds. He is a 10×8 inch watercolour painting.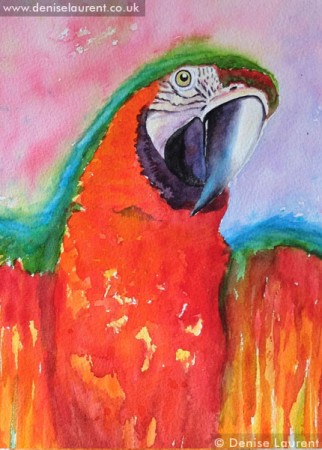 Last weekend I was lucky enough to be in the Artfinder Popup exhibition at The Foundry in Camden Stables Market. It was a lovely show and I met some lovely folks. During the show I did a painting demo and, continuing my parrot obsession, the piece I wanted to paint was a Harlequin Macaw. I just adore their fabulous colours!
Here is the painting underway at the show.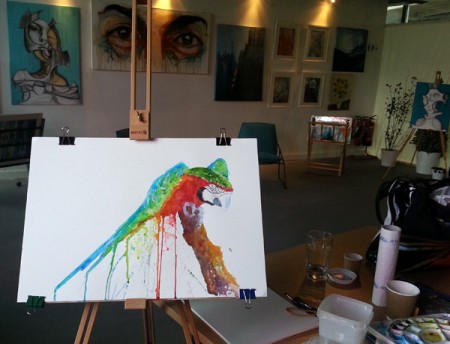 Here is the finished painting. He's paintied in watercolour on 20×14 inch Fabriano paper.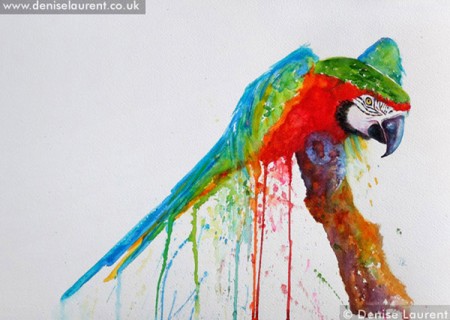 And a close up of his face.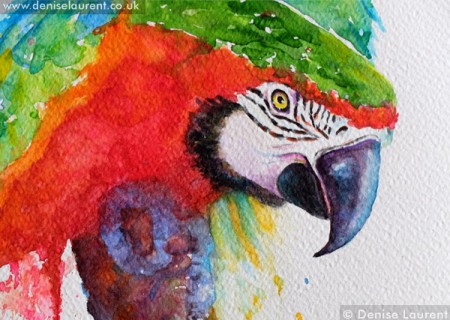 I recently finished a very unusual parrot painting. It's not the composition that's unusual but my idea to use the same materials on the painting as I do on the brooches. He looks quite amazing although it's hard to capture as the surface changes as you move him. The paint has an enamelled/metallic finish and it moves quite actively once you apply it so you can never be sure how the piece will turn out. I love the uniqueness of it and the way the colours spread into and around each other. I just had to do a larger piece!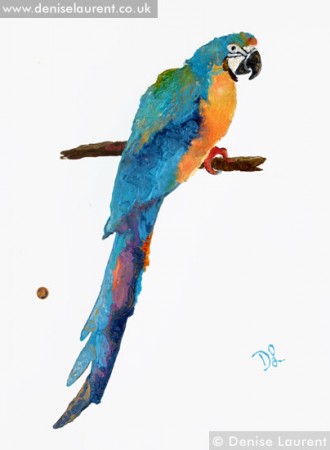 And here are some details photos of the finish. I painted him on Lanavanguard, an unusual and innovative artists paper. It's non absorbent, the paint sits on the surface rather than sinking into the fibres, and it seemed perfect for this technique, the paint won't affect the paper.
Another flying crow painting. It was a hot, sunny day and the crows were looking for food on the beach. The air is the hot and as the crow flies down through the thermals his wings create cooler swirls of air behind him, marking his flight.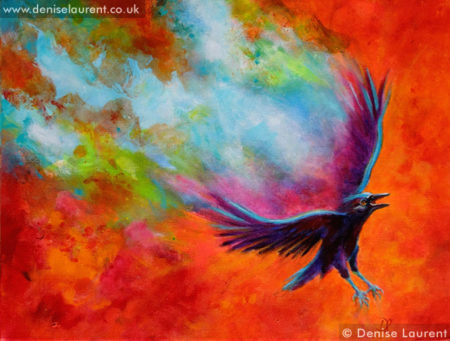 This is a 16×12 inch painting on canvas using acrylics, acrylic inks and oil pastels. Here's a detail of his wing.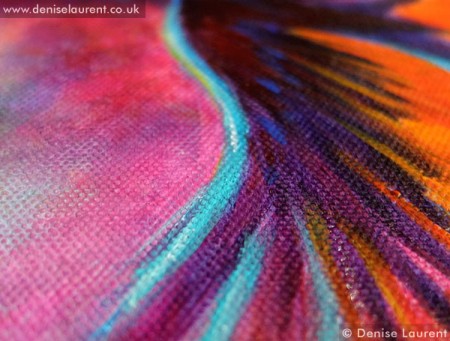 Recently I've started making brooches. I've been posting them on my facebook page, but I thought it was about time I posted a couple of them here on the blog.
It's a bit of a departure for me but I wanted to experiment with some interesting colour effects on a small canvas. So I made myself some animal and bird shapes to work on. I was so pleased with they way they turned out I made them into brooches. I like the idea of wearable art. :-) This once I've just finished is a parrot. There are lots of blues and golds in him.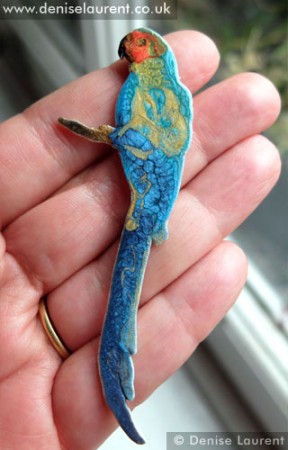 And here is a close up…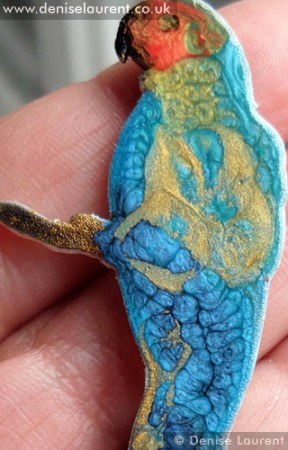 This crow is sailing down the thermals heading for the ground. It was a hot, sunny day and the crows were looking for food on the beach. As I watched them I was imagining the swirls of hot air flowing through their feathers as they banked and turned above the sands.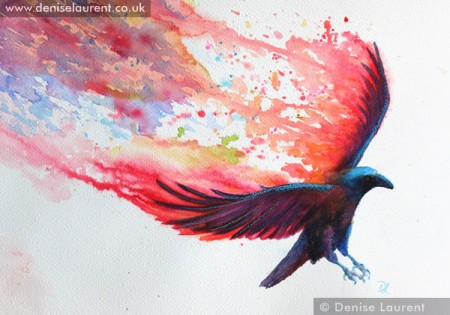 He's painted in watercolour and pastels on Fabriano watercolour paper.