A beautiful red kite soaring on the thermals with those gorgeous long fingered primary feathers spreading on the wind. Love those feathers! They look so expressive, you can almost see the wind as you watch them. Red kites are such beautiful, graceful birds. I loved doing this one, a semi abstract red kite in flight.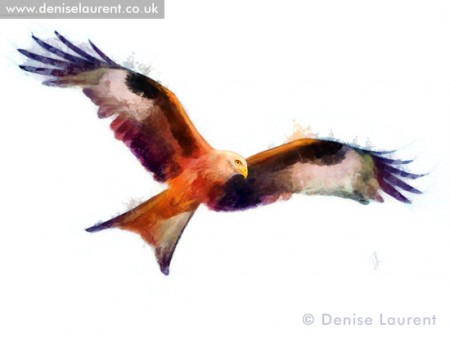 Touching The Wind
22×16 inches acrylics on canvas
This one is already sold but I do have prints in the gallery.
If you'd like a similar painting do email me, I am taking bookings for more of these semi abstract animal and bird paintings.
I met this crow on the beach this summer in Guernsey. There were lots of crows working alongside the seagulls, sifting through the sand for food. I don't know what they were finding but maybe human leftovers. He kept an eye on me as he worked. I think he was waiting for the ice cream I was eating! :-)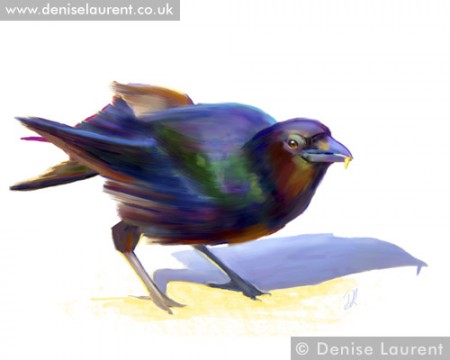 This is one of my neighbours. A young Great Tit peaking in the window. They spend the summer in the tree outside and come across to eat seeds from the hopper on my window. So I get to watch them as they arrive in the spring, breed and raise their families. Once the kids have grown they stay around for some time, hunting insects and coming to the feeder for the occasional snack.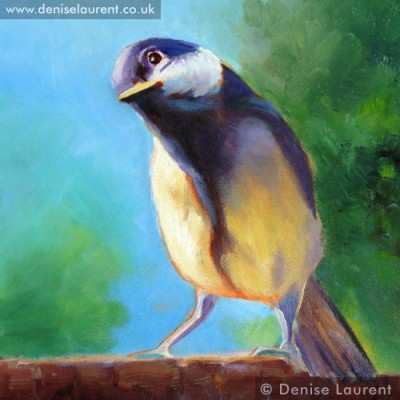 Young Great Tit
6 x 6 inches oil on board
£65


These two love birds are my neighbours. They're part of the flock that circles our street and are often sat on my window ledge. The male bird is white and I've watched him strutting his stuff with great machismo! He's a youngster and I think this is his first breeding season. He set his eye on a girl and set about wooing her, chasing her up and down the rooves and believe me, pigeons can run! They have quite a turn of speed as they race past my window.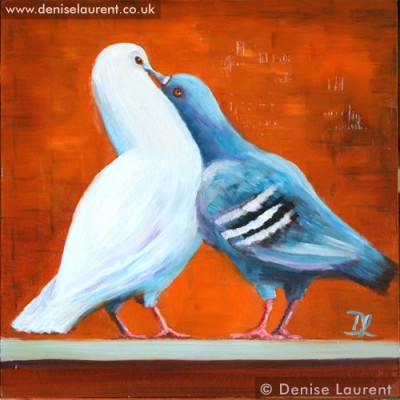 Well finally he caught her and now they're a couple. But I think he got more than he bargained for. I often see them exchanging a pigeon kiss, but she usually wants more than he does. I watched her back him up against the wall and insist on many beak nibbles. They do make me laugh and cheer up my day.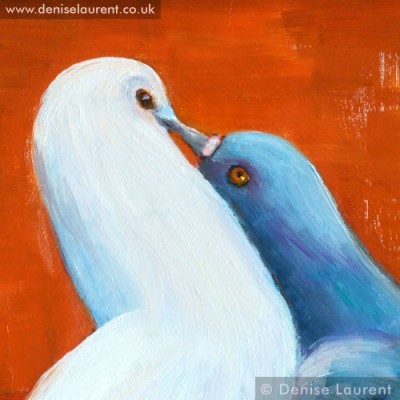 That's what inspired this painting. The lovers are painted in oils on a 6×6 inch board.
Give Us A Kiss
6 x 6 inches oil on board
Buy it here or contact me direct if you'd like it.
When we went to deliver the paintings to Obsidian Art for the Cats And Dogs exhibition the other day we stopped for lunch along the river. There were lots of ducks, moorhens and coots and of course we threw some bread for them. This one was like a feathered torpedo! It got to the bread first or it simply grabbed the food straight out of the ducks beaks. He was so fast!
Moorhen
32 x 27 cm acrylics on paper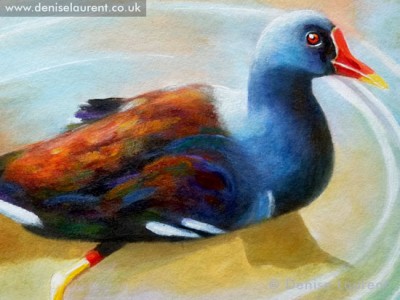 Buy it here
or
contact me
direct if you'd like him.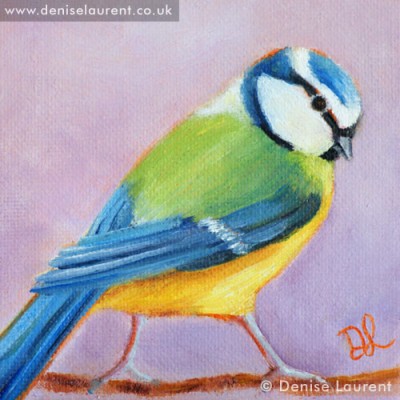 Little Blue Tit
4×4 inch oil on board
SOLD
I felt inspired by the blue tits living in the gardens to do a little 4×4 inch oil painting. They're really busy starting their families and they regularly come to my window feeder for a snack, so I get a close look at them. Such pretty little birds. I love their bandit style eye masks and their cheeky, confident attitude.
 A new bird painting. This time it's a robin. I watch these guys breeding every spring in the gardens around here. They come quite close and even sit on the railings just outside the house, waiting for me to weed the plants on the doorstep so they can get at the insects in the disturbed earth. This is one of last years youngsters.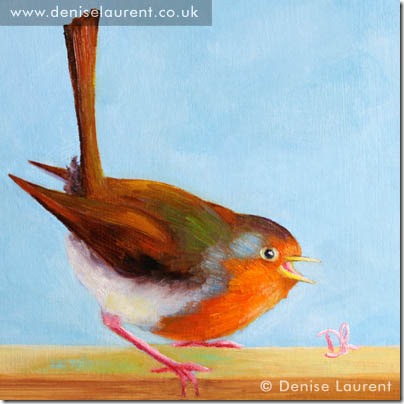 Little Robin
6×6 inch oil on board
£65 for sale
Buy it here or contact me direct if you'd like him.
This is a quick little oil painting of a Great Tit on a branch. It's a sight I see a lot, all I have to do is look out of my window and there they are, beautiful little birds, singing in the trees and going about their feathery business.
Great Tit
8×8 inch oil on board
SOLD
Here is today's singer. I just hope the weather warms up for him  very soon. At least there was some warm sun for a couple of hours.
Starlings are such gorgeous birds, those iridescent feathers shining in the sun! I watched a small flock of starlings at Camden Lock in the summer, picking up scraps that the tourists by the canal. It's a lovely place to be on a hot sunny day for both humans and birds.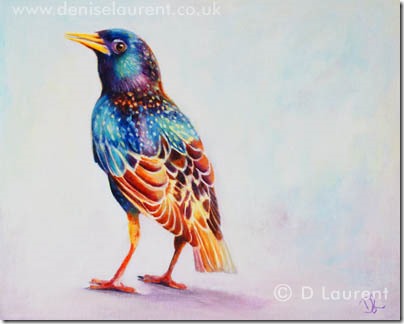 Starling

30×24 cm acrylic on paper
This starling was a juvenile who seemed to be part way between his brown baby plumage and his fabulous adult coat. He was a glorious mix of colour.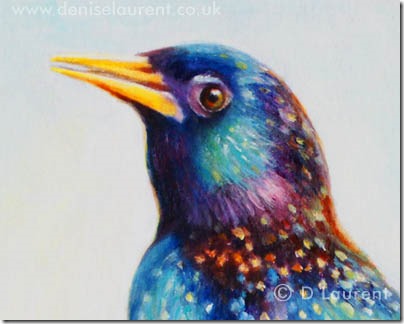 We used to think of them as pests here in London, years ago. There were so many starlings and house sparrows in those days, yelling nosily in the trees with big flocks of starlings flying overhead in the evenings, heading for their beds. We thought they'd always be there. But we were wrong. We lost our sparrows and starlings and the skies were silent for many years. It's true, you don't know what you've got until it's gone.
Recently the starlings have started to come back to the centre of the city and we've even see a small flock living not too far from the house. They're back and it's wonderful to see them again. Maybe the house sparrows will be back one day too.
The goldfinches have been around all morning, feeding in the trees and singing from the rooftops. Such a pretty song and such pretty birds too. Makes it feel like spring. :-) So here's a little sketch of one of my visitors….