A new hare limited edition print. I love hares and I wanted to capture that alert posture, when the hare pricks up his wonderful, huge ears and keeps an eye out for trouble. The sun is coming from behind him, it fills his fur with warm, golden light and throws his lilac shadow out in front of him.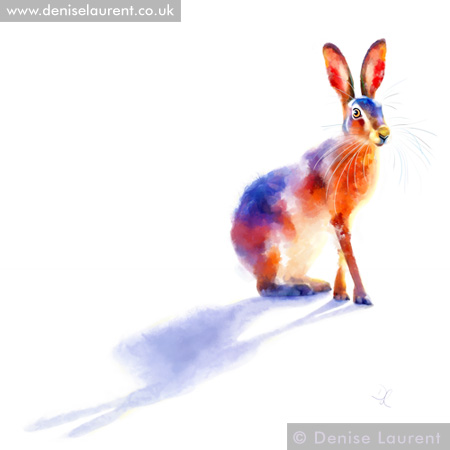 This new print is available here…
This is a view I often get of the local nut thief! :-) The nuts are in a feeder on the window so when he swings from the feeder to eat the nuts through the wire I can study him from quite close up. Squirrels have amazing whiskers when you see them at close range, almost as good as hares.
Nut Raider
6×6 inch oil painting on board
Get him here
if you'd like him or
email me direct
.
This cheeky squirrel is often on my window ledge looking for nuts. He's a grey squirrel but it seems they are more of a golden ochre colour, at least in summer. I think this one is a youngster. He was quite happy to sit and eat a nut I put out for him and to let me watch him from pretty close too. He's a great model, will work for food! :-)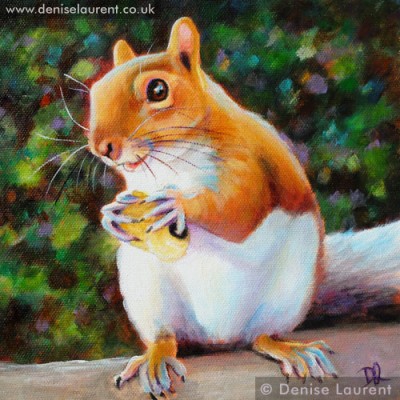 Squirrel Nutkin
6 x 6 inch acrylic on canvas board
£65
Squirrel Nutkin is my painting for day 18 of the 30 day painting challenge. I'm amazed I've made it this far!

Get him here if you'd like him or email me direct.
This little painting of an otter was a joy to do. I love watching otters. They really seem to enjoy themselves, diving in and out of the water, playing, fighting and racing around through their environment.  They seem to know how to enjoy life.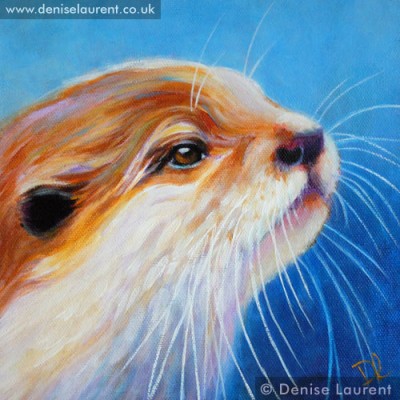 Otter
6 x 6 inches acrylics on board
£65
Harry likes to sit in the window and watch the world go by. The world is usually made up of pigeons and small song birds but occasionally a squirrel strolls past. One day the squirrel peaked in the window just as Harry was looking out and got quite a surprise.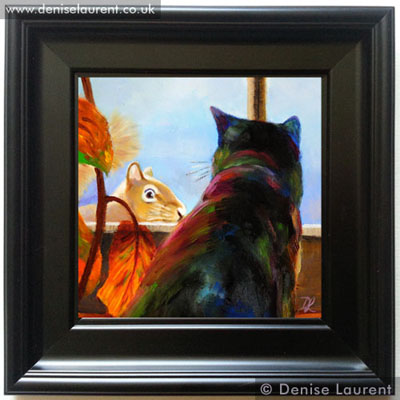 Eek!
6 x 6 inch oil on board
£65 unframed
This is day 10 of the 30 paintings in 30 days challenge. I'm amazed I've made it this far! I think Harry will have to model for me again. :-)

Buy it here or contact me if you'd like it.
A bear portrait. For day 8 of the 30 paintings in 30 days challenge I wanted to do a bear because I've been longing to paint one, but somehow I've never had the time. So this was the perfect excuse to spend some time sketching and painting bears. I've really loved it!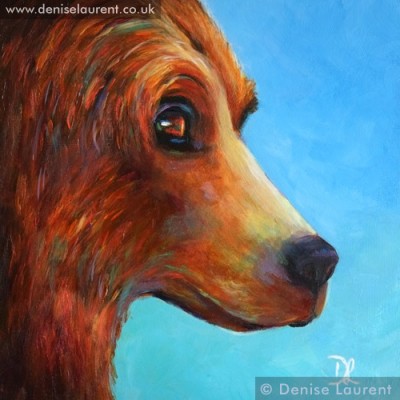 Bear On Blue
6×6 inch acrylic on board
Sold
I like his profile, its strong shape against the blues and greens in the background and the warm oranges and browns in his coat. I tried to capture the expression in his eyes too.
A little hare oil painting. I wanted to try out this colour combination, the organgey colours in his fur against the blue/greens of the background. I love the contrast, really zingy! And hares are such fun to paint.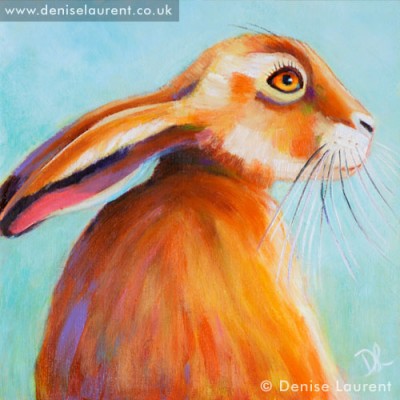 Little Hare
6×6 inch oil on board
£65 for sale
Buy it here or contact me direct if you'd like him.
Not quite the Easter Bunny, he's a brown hare, but it seems appropriate that I've finished him at Easter. But don't you love that face? I adore his big ears and his amazing whiskers! I've been wanting to paint him for some time and had this idea floating around in my head. I wanted to have that face popping up over the frame looking out at you, with all those amazing whiskers on show.
Peak A Boo
16×12 inch acrylic on board
He's a 16×12 inch acrylic painting on board. Now I just need to choose the right frame for him. Here's a close up of his face…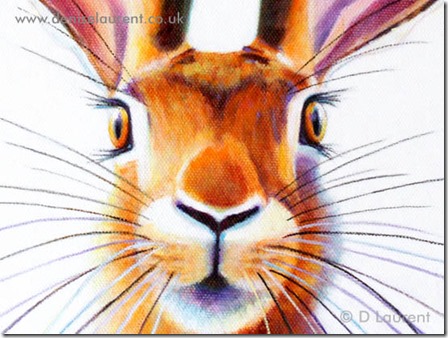 I've been calling him Peak A Boo in my head all this time, so that's got to be the title. :-)
I keep hoping spring will come soon! Maybe that's why I'm so inspired by hares at the moment. This is a sketch for a 16×12 inch painting I'm working on. I just love the shapes and the expression on his face. And all those wonderful whiskers!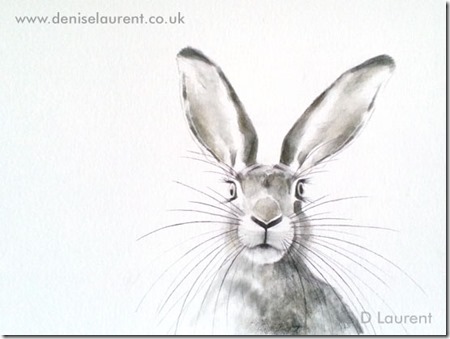 Starlings are such gorgeous birds, those iridescent feathers shining in the sun! I watched a small flock of starlings at Camden Lock in the summer, picking up scraps that the tourists by the canal. It's a lovely place to be on a hot sunny day for both humans and birds.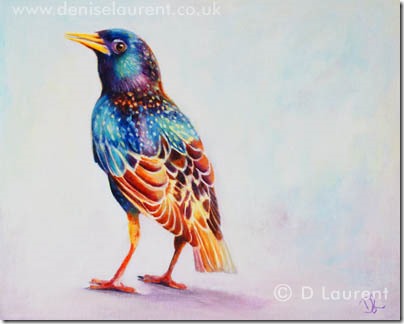 Starling

30×24 cm acrylic on paper
This starling was a juvenile who seemed to be part way between his brown baby plumage and his fabulous adult coat. He was a glorious mix of colour.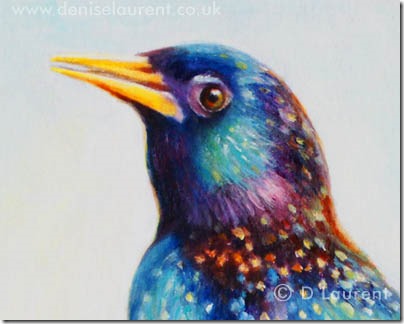 We used to think of them as pests here in London, years ago. There were so many starlings and house sparrows in those days, yelling nosily in the trees with big flocks of starlings flying overhead in the evenings, heading for their beds. We thought they'd always be there. But we were wrong. We lost our sparrows and starlings and the skies were silent for many years. It's true, you don't know what you've got until it's gone.
Recently the starlings have started to come back to the centre of the city and we've even see a small flock living not too far from the house. They're back and it's wonderful to see them again. Maybe the house sparrows will be back one day too.