Lovely Lucy Long Eared Lady sitting in the summer meadow, the blue summer sky above her and it's a beautiful day. :-)
She's a colourful hare, she is painted in oils on a 12×9 inch panel.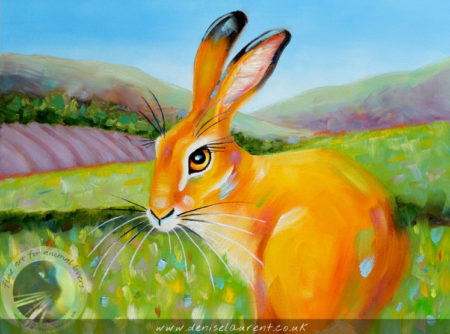 Another watercolour painting of an Amur Tiger profile. She is painted on Fabriano Artistico watercolour paper, which has a lovely rough surface. The paper is 20×14 inches.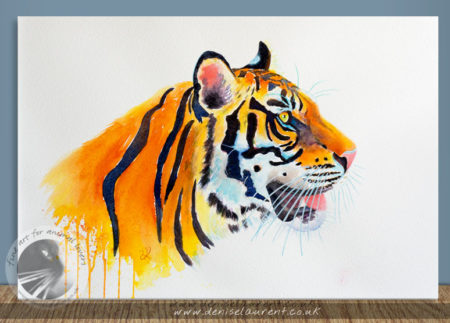 She will be going to Woburn Safari Park to help raise funds for the Amur Leopard and Tiger Alliance. Woburn are holding a fundraising event in support of the Amur Leopard and Tiger Alliance on Saturday 29th and Sunday 30th July, so do go along.

A tiger profile. I love this strong head, it makes you realise how large and powerful tigers are. It would be a tragedy if we drove them into extinction. She is painted in watercolour and inks on 20×14 inch Fabriano Artistico paper, which has a lovely texture.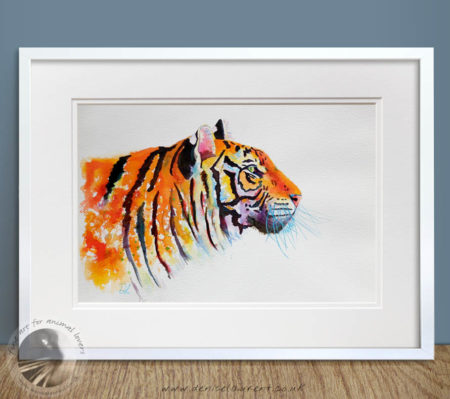 Here's a new hare painting, Little Spring Hare. This one is off to the #twitterartexhibit TAE17 UK – a charity art auction to raise money for Molly Olly's Wishes in Stratford upon Avon 1-19 April 2017.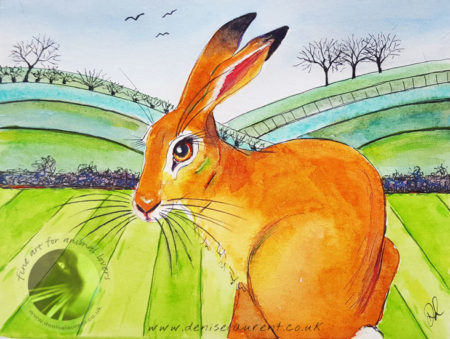 I've been working on a small Puma painting. I'm thinking of some large paintings of big cats but wanted to start with something a bit smaller with a good excuse to play with lots of colour. So a glorious golden cougar with a blue green background seemed like a great place to start. She is a very colourful girl, a 10×10 inch acrylic painting on a panel. Now I just have to decide on what colour frame to get for her.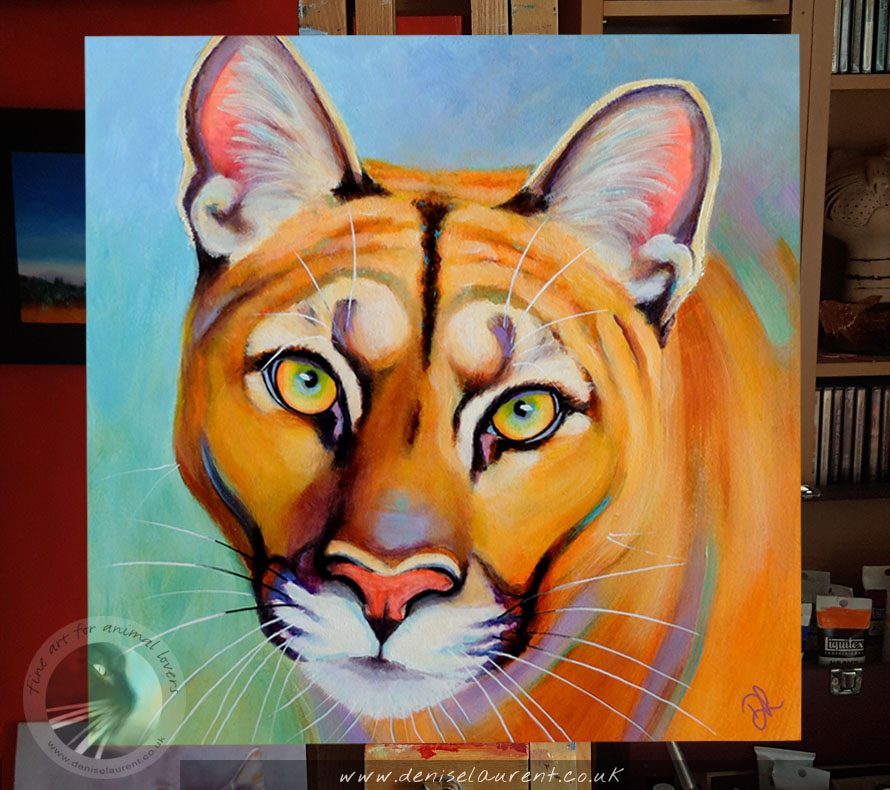 I had fun with this one. :-) I wanted to do a big hare with thick juicy paint. I like this standing pose with the light coming from behind him and his shadow in front of him. He's painted with thick acrylics using a knife and a brush on a 24×24 inch stretched canvas. I enjoyed it so much I'm tempted to do another large painting soon.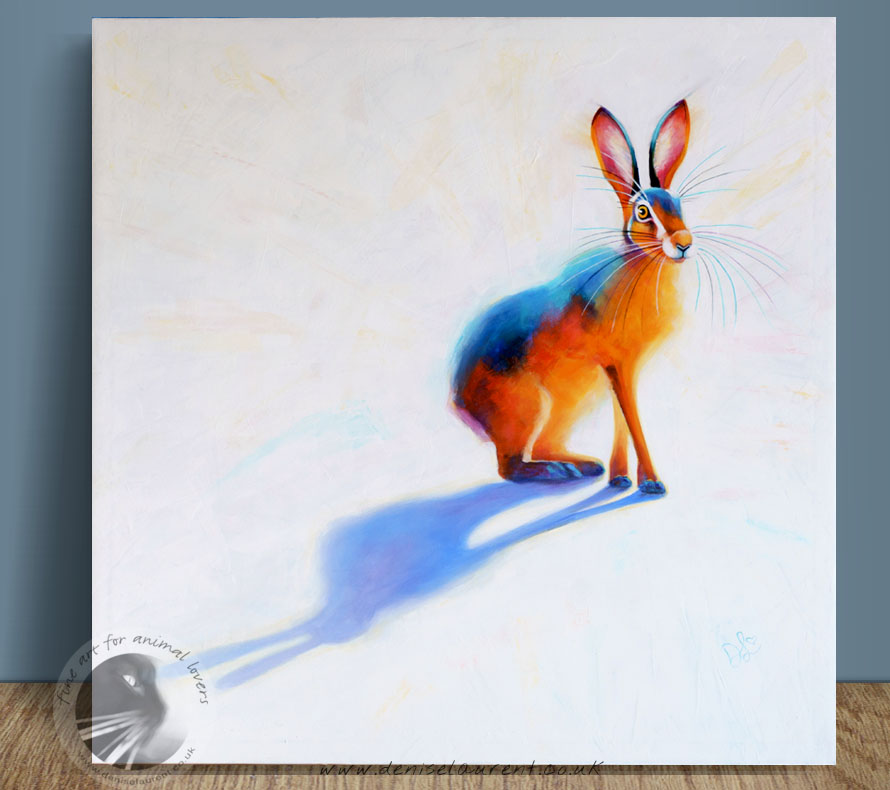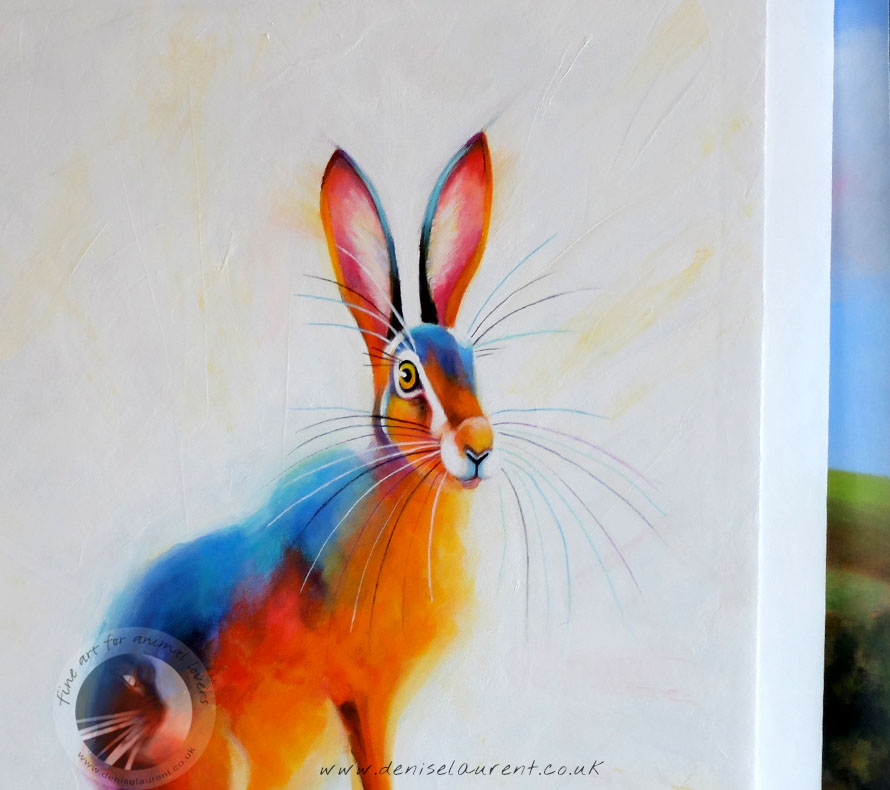 I am not just making jewellery, I am doing a lot of painting too. This one is tiger out for a stroll. I love this head on view of him, you really see what a powerful cat he is as he strolls along the bank.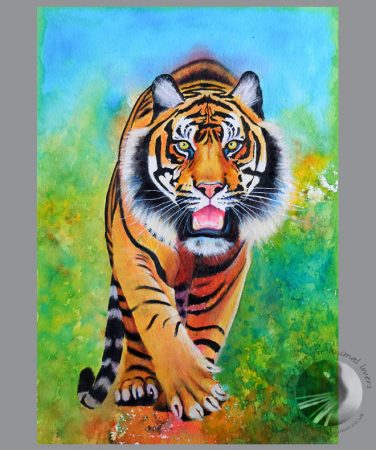 He is painted in watercolour and inks with a touch of thicker acrylic paint, on 20×14 inch Fabriano Artistico paper, which has a lovely texture. He comes in a 24×18 inch double mount.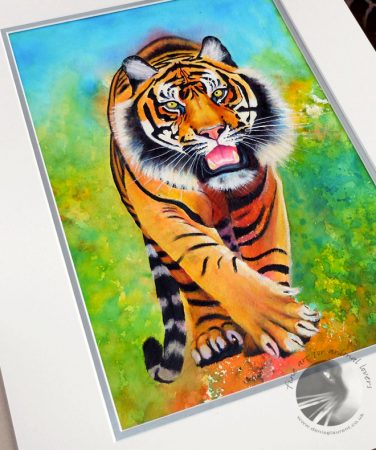 My new resin piece is a hare by moonlight. He sits in the grass with a huge pearly moon behind him. I have some new metallic pigments and I wanted to use them in this piece. I like the way they look in his coat, the rusty colour in his body is gorgeous.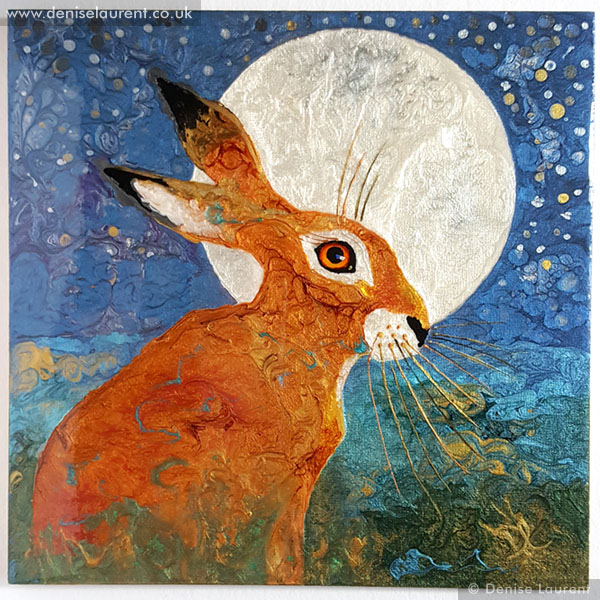 One of the new golds has an almost mirror like finish along his ears.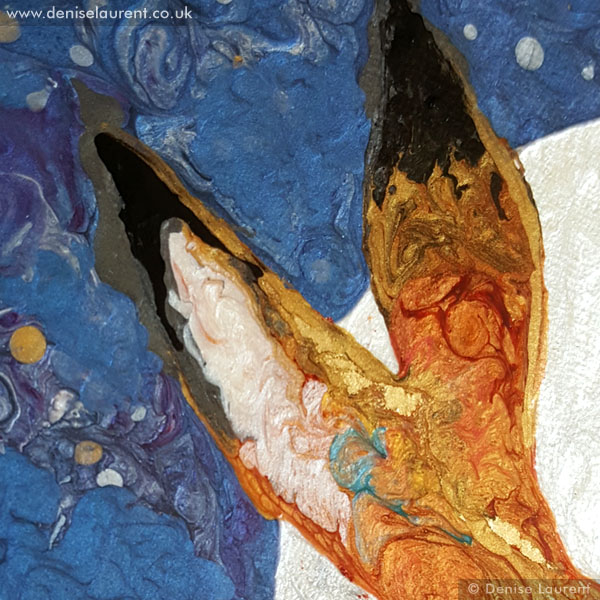 You can see the lovely glass like finish of the resin.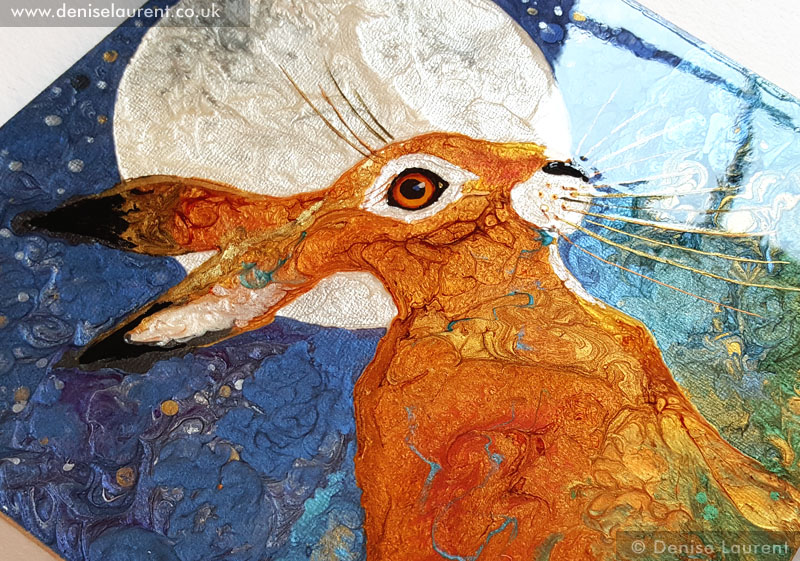 He is an 8×8 inch resin painting. Sold.
A hare hopping through the fields is a sign that spring is on it's way. This hare is painted in watercolour and paint pens on Saunders Waterford 16×12 inch paper. His whiskers are gold, lilac and teal.