Another snow leopard, this time in water media with lots of messy splashing around and loads of colour. I love her profile and thought I'd add a splash of pink and gold vanishing out of the picture. I'm imagining an exotic bird beating a hasty retreat!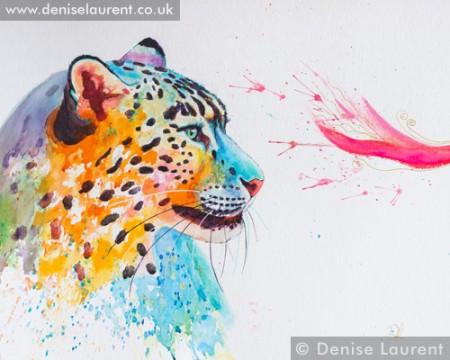 She is quite large, she's painted on 22×16 inch Cornwall paper in watercolour, inks, and paint pens. Here's a close up of the surface….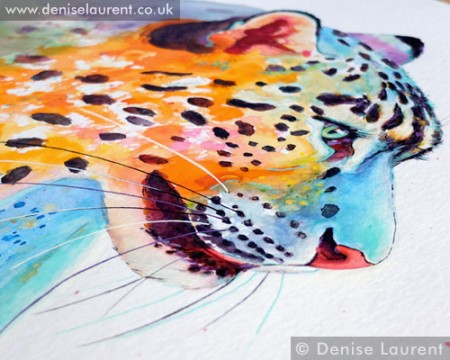 I've just about finished this new painting of a snow leopard Mum and her cub in profile. It's a 12×12 inch oil on canvas board. The last snow leopard I painted had warm fur against a cold blue green backdrop so this time I wanted to reverse that and try cool grey/lilac/blue fur against a soft, warm background. Now they just need varnishing.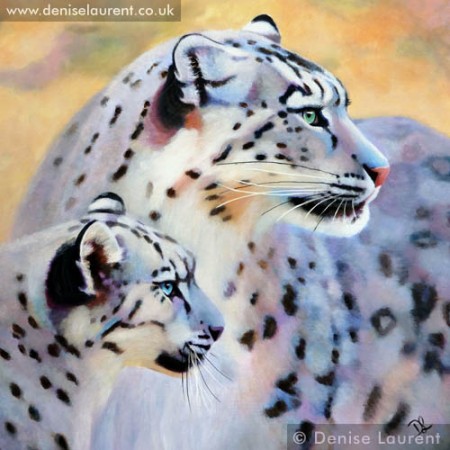 I saw a fox a while ago, sitting on the garden wall with the summer flowers around his paws. That's what inspired this watercolour painting. he sat for quite a while enjoying the sunshine. It's wonderful to see foxes in the city.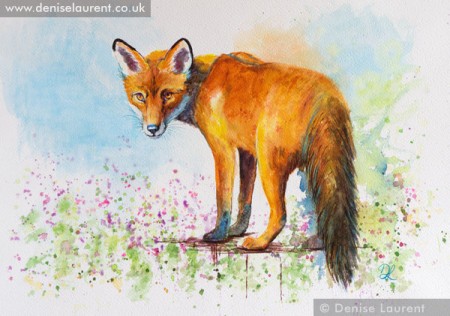 Exciting! I've just finished my first watercolour painting on my new Two Rivers paper. It's handmade artists rag paper, it's a heavy weight and has a random surface texture and four deckle edges, love those deckle edges.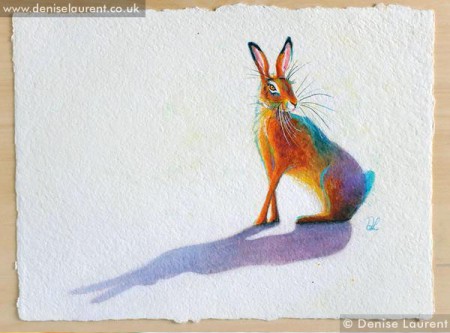 I love painting hares so what better subject to use on this gorgeous paper? This hare pricks up his ears and twitches those lovely whiskers, he's keeping an eye out for trouble. The sun streams past and throws his soft lilac shadow in front of him. He is painted in watercolour and acrylic inks.
It's Spring, the season of love. With his long lashes and big whiskers this cheeky hare won't be on his own for long. He has his eye on on the ladies.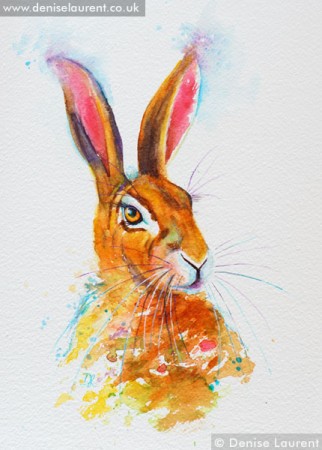 He is painted in watercolour and watercolour pastels on 12×9 inch beautiful Fabriano Artistico paper.
It's Spring, the season for hares in love. This lovely lady is Ostara and she's on the look out for romance. I'm sure she has her eye on a lovely lad.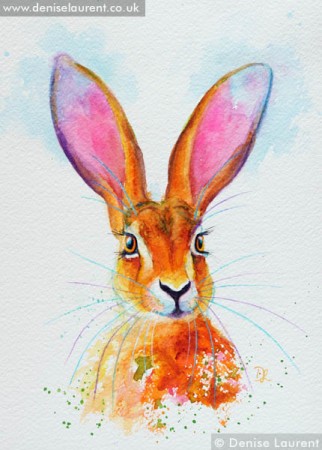 She is painted in watercolour and watercolour pastels on 12×9 inch beautiful Fabriano Artistico paper.
Just finished a new boxing hare pair. Just need to find it a title. This is an 18×14 inch watercolour on Saunders paper with a bit of watercolour pastels.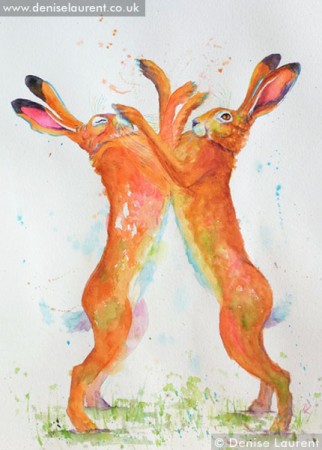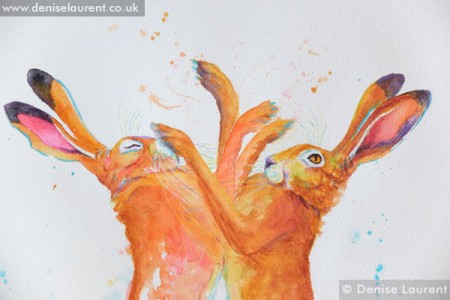 A pair of boxing hares leaping through the grass. A real sign that spring is on it's way. Hare courtship involves boxing, and is usually reluctant females fending off amorous males. In this painting she's giving him a smack in the eye to cool his ardour.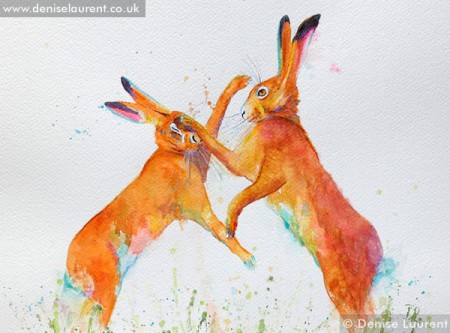 Painted in watercolour on Fabriano paper with watercolour pastels and drip paints.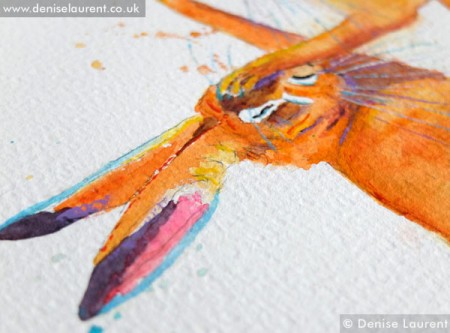 I've been working on this painting for a while. This is Tara, a snow leopard. I met her a few years ago at Santago Leopard Project, a truly beautiful cat and a privilege to see her so close. Those eyes are just amazing!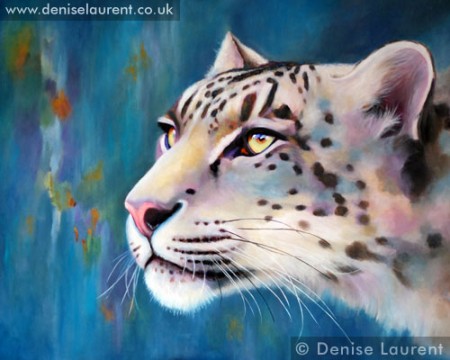 She's painted in oils on canvas board.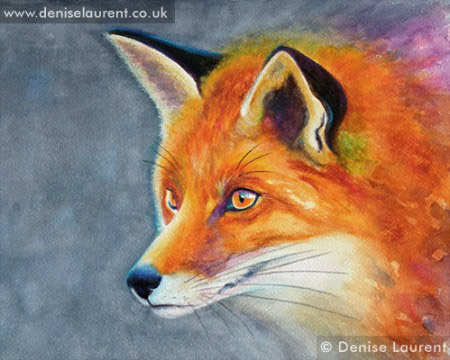 Fabulous Mr Fox, walking through the city streets. We get quite a few foxes here in London. I see them late at night walking the streets or exploring the back gardens. It's amazing to see them so close. He's painted in watercolour and watercolour pastels on paper. The pastels allow thick colour and texture over the watercolour washes.