I've been working on this painting for a while. This is Tara, a snow leopard. I met her a few years ago at Santago Leopard Project, a truly beautiful cat and a privilege to see her so close. Those eyes are just amazing!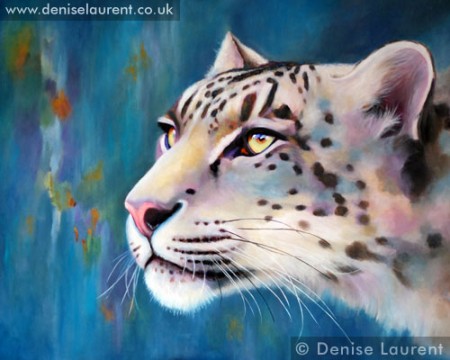 She's painted in oils on canvas board.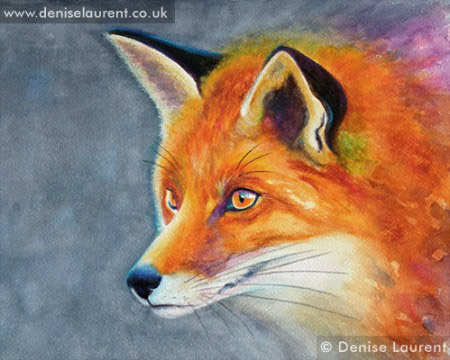 Fabulous Mr Fox, walking through the city streets. We get quite a few foxes here in London. I see them late at night walking the streets or exploring the back gardens. It's amazing to see them so close. He's painted in watercolour and watercolour pastels on paper. The pastels allow thick colour and texture over the watercolour washes.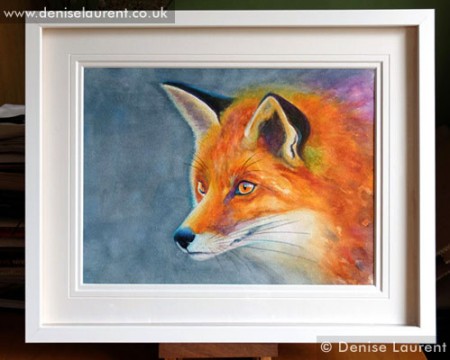 I love trying to capture movement. This time I wanted to explore a cat in motion and what better cat than a cheetah with their amazing 70 mph sprints? I wanted him to feel like he's moving so fast that the brush can't keep up with him and the paint smears behind him.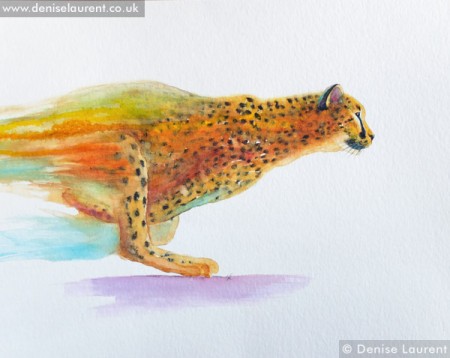 It's also a great reason to use some wonderful Autumn colours, golds, oranges and yellows with just a touch of teal.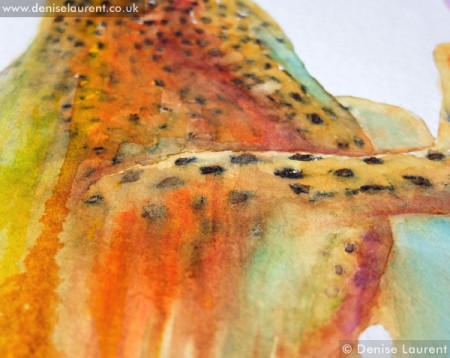 He is painted in watercolour on 16×12 inch Hahnemuehle Cornwall watercolour paper.
A hare sitting in the grass. Hares are a favourite subject of mine and I do love the colours in this boy. And those eyelashes! They have the most beautiful eyes! He is painted in watercolour on Fabriano paper.
Ring-tailed lemurs are very distinctive with their amazing black and white stripped tails and their beautiful eyes. They don't use these amazing tails to grip the trees like their primate cousins do. They have a smellier role to play in lemur life. Lemurs use scent to mark their territories and during the mating season the males use scent to establish their dominance over other males. They do this by rubbing their tails with the secretions from their scent glands in their wrists and then waving them in the air in an attempt to out stink each other. The smelliest lemur wins!  :-)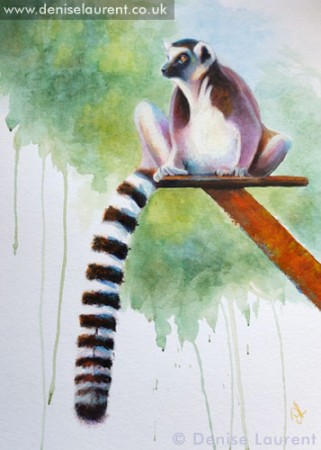 This is a 40 x 30 cm acrylic painting on Cornwall paper, partly painted in a watercolour style and partly with thicker paint and a knife, giving a mix of texture.
Ring-tailed Lemurs are beautiful and it would be a shame if we lost them. Sadly they are endangered because of a loss of their habitat. Hopefully breeding programs will help them survive.
Another hare with amazing whiskers, a favourite subject of mine. He's sketched on 16×12 inch Cornwall paper using pencils, and painted with acrylics. He's such a lovely golden colour with hints of lilac and green and touches or turquoise.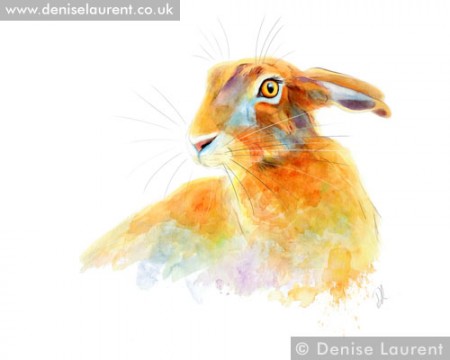 This is one of the Christmas commissions and I loved painting him. Meet Kimble, a red kite.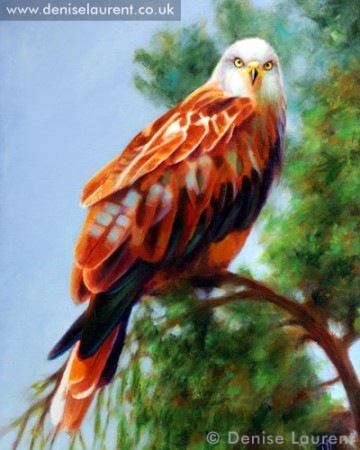 He's an amazing bird and a regular visitor to the garden. He often sits in the trees for a break in his busy day. He comes so often they've named him Kimble.
He is a 16×12 inch acrylic painting on stretched canvas.
A tigress soaks in the cool water of a forest pool under the trees.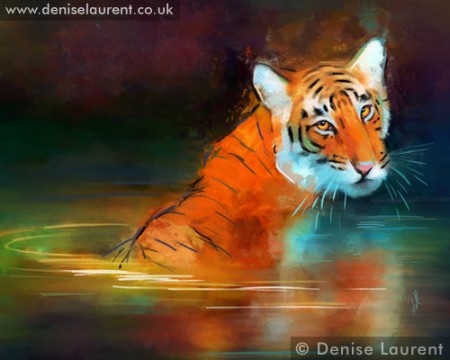 Rocky the Rockhopper penguin diving beneath the waves. I adore penguins and for this painting I really wanted to get a feeling of the water itself, the space he's flying through with such ease. When you watch penguins under water they move so amazingly well, like bird shaped torpedoes.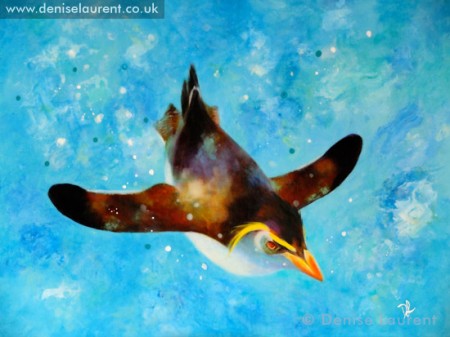 Flying Beneath The Waves
16×12 inches acrylic on board
Sold
So the idea started with trying to capture him 'in flight'  under water. Once Rocky was painted I wanted to add some extra dimensions to the painting. I started by adding drops of acrylic paint to form bubbles. I let them set fully as nice distinct drops and then I added several layers of clear acrylic gels so that Rocky really appears to be under water.
I also used some photo luminescent crystals in the paint so that Rocky would glow in the dark. As light levels fall they glow blue. It's very hard to photograph though.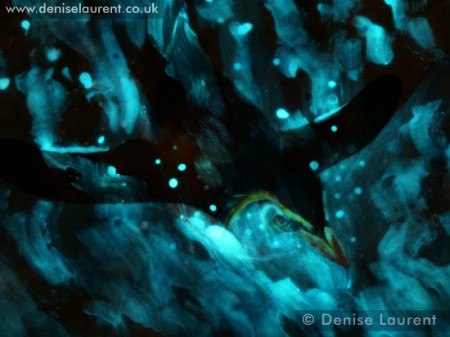 I loved painting this one and I loved rocky so much I would happily have kept him. But he's already gone to his new home.
A new hare limited edition print. I love hares and I wanted to capture that alert posture, when the hare pricks up his wonderful, huge ears and keeps an eye out for trouble. The sun is coming from behind him, it fills his fur with warm, golden light and throws his lilac shadow out in front of him.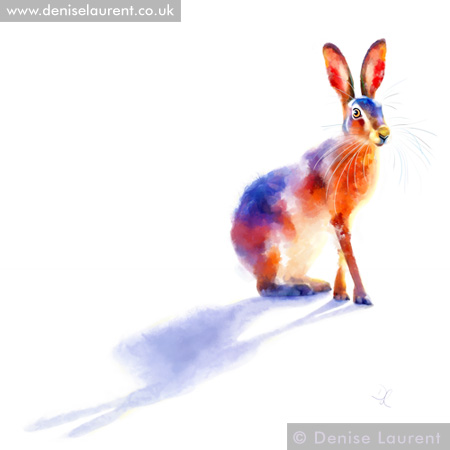 This new print is available here…