I had fun with this one. :-) I wanted to do a big hare with thick juicy paint. I like this standing pose with the light coming from behind him and his shadow in front of him. He's painted with thick acrylics using a knife and a brush on a 24×24 inch stretched canvas. I enjoyed it so much I'm tempted to do another large painting soon.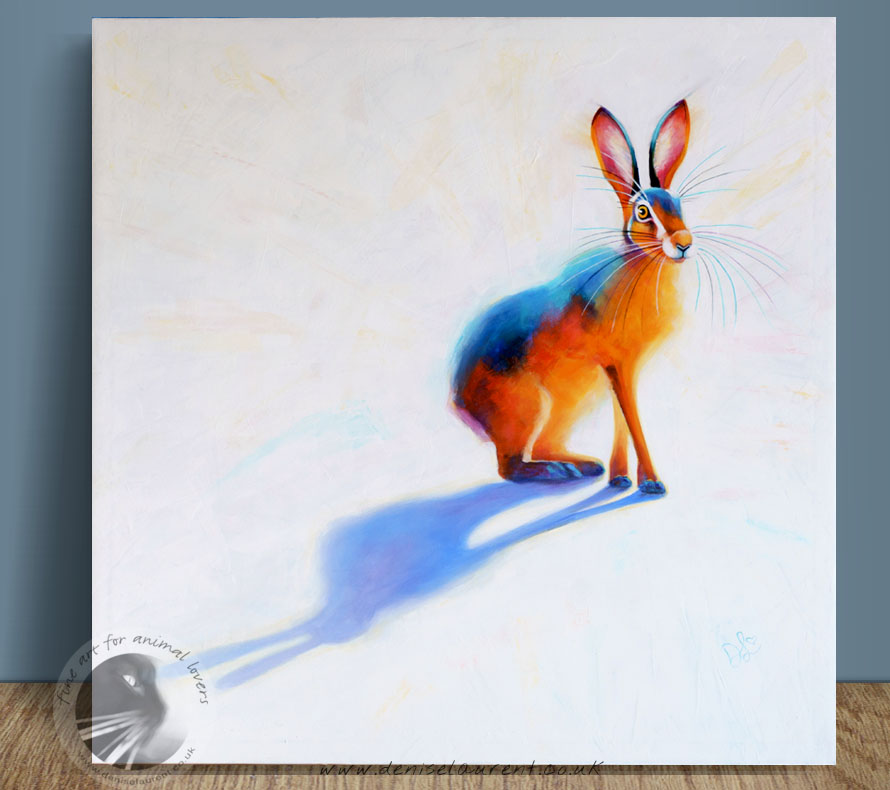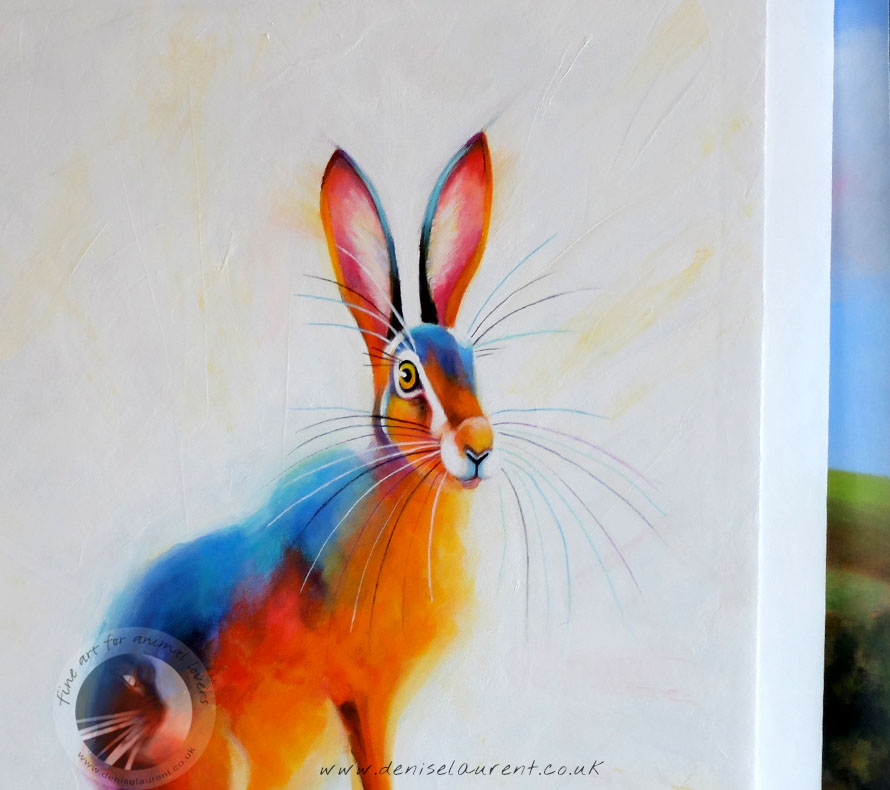 I am not just making jewellery, I am doing a lot of painting too. This one is tiger out for a stroll. I love this head on view of him, you really see what a powerful cat he is as he strolls along the bank.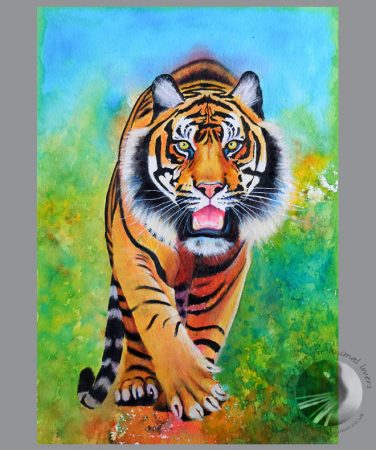 He is painted in watercolour and inks with a touch of thicker acrylic paint, on 20×14 inch Fabriano Artistico paper, which has a lovely texture. He comes in a 24×18 inch double mount.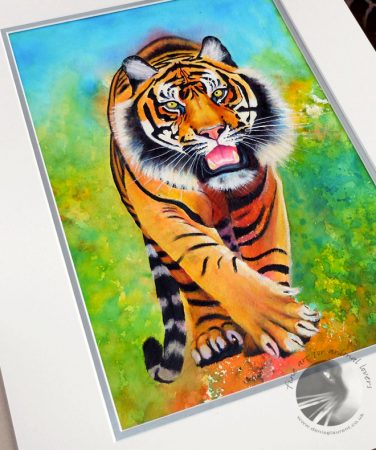 My new resin piece is a hare by moonlight. He sits in the grass with a huge pearly moon behind him. I have some new metallic pigments and I wanted to use them in this piece. I like the way they look in his coat, the rusty colour in his body is gorgeous.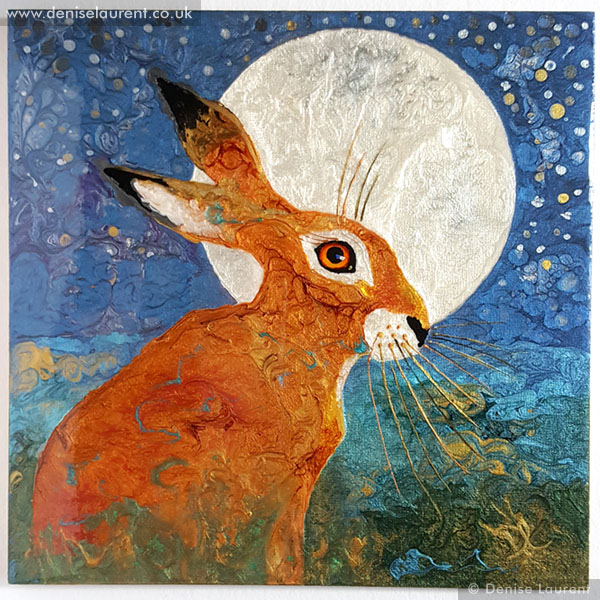 One of the new golds has an almost mirror like finish along his ears.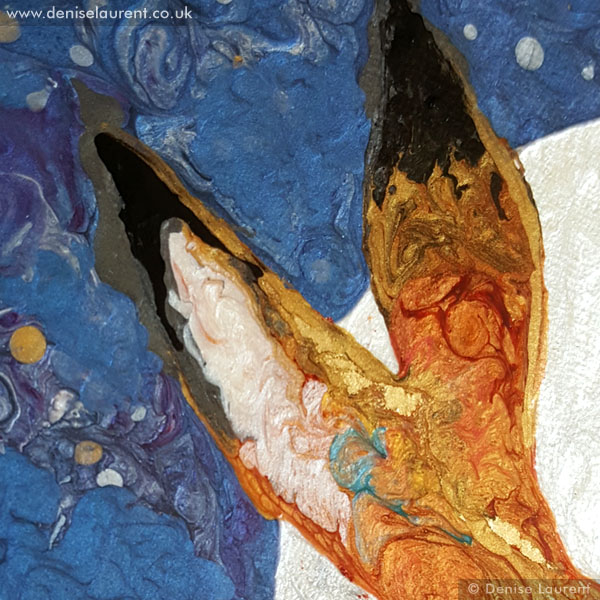 You can see the lovely glass like finish of the resin.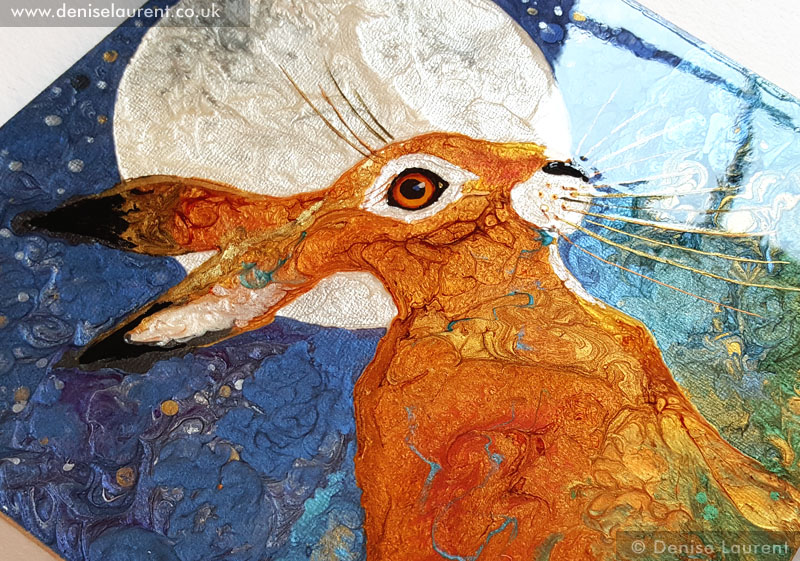 He is an 8×8 inch resin painting. Sold.
A hare hopping through the fields is a sign that spring is on it's way. This hare is painted in watercolour and paint pens on Saunders Waterford 16×12 inch paper. His whiskers are gold, lilac and teal.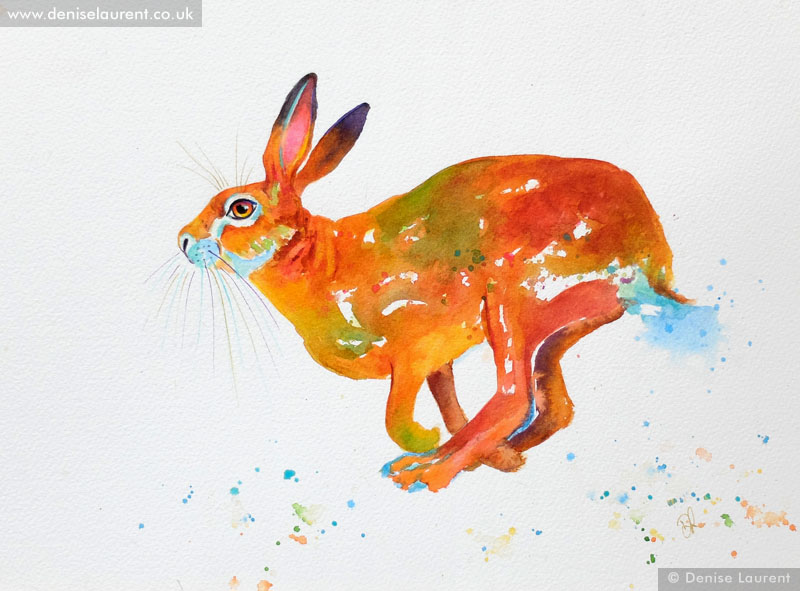 Oh those ears and whiskers! I had fun with this boy, he is painted with liquid paints and paint pens on 16×16 inch Fabriano paper. Or I should say scribbled with liquid paint and drip pens in hot colours, red, orange and yellows with teal and green whiskers. A really colorful character. :-)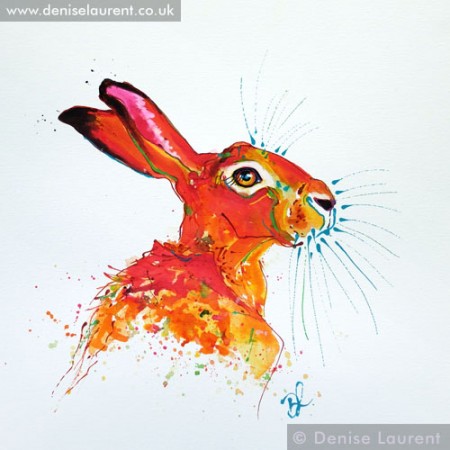 A flying hare coming in to land through a cloud of colour, twitching his teal and gold whiskers. He is painted on 16×12 inch Saunders Waterford paper using watercolour, a touch of ink and paint pens.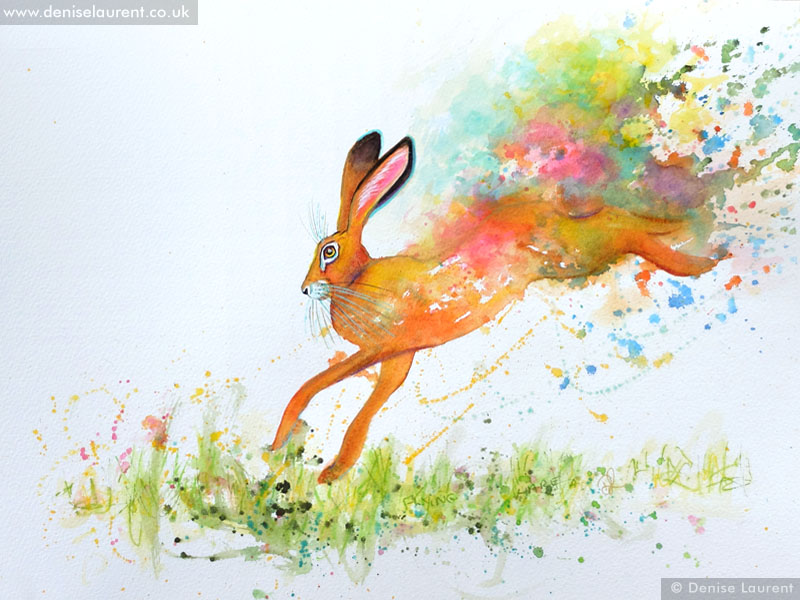 A new hare print available, One In The Eye, a pair of boxing hares leaping through the grass.
Another snow leopard, this time in water media with lots of messy splashing around and loads of colour. I love her profile and thought I'd add a splash of pink and gold vanishing out of the picture. I'm imagining an exotic bird beating a hasty retreat!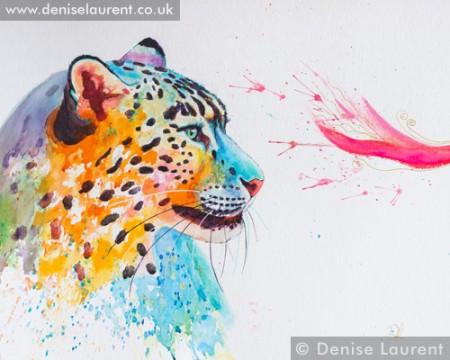 She is quite large, she's painted on 22×16 inch Cornwall paper in watercolour, inks, and paint pens. Here's a close up of the surface….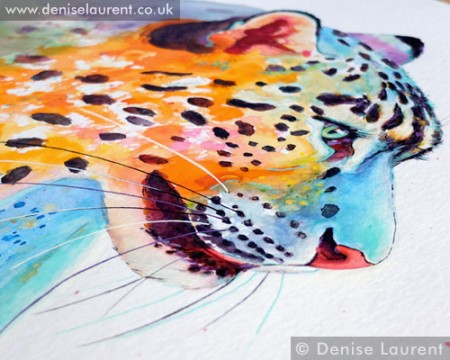 I've just about finished this new painting of a snow leopard Mum and her cub in profile. It's a 12×12 inch oil on canvas board. The last snow leopard I painted had warm fur against a cold blue green backdrop so this time I wanted to reverse that and try cool grey/lilac/blue fur against a soft, warm background. Now they just need varnishing.